A new feature in Google Calendar – Focus Time – that can auto decline meetings, make you more productive, among other things. Here's how to enable.
As the world gets busier and smarter, Google finds ways to make it easier, specially in this Pandemic driven days with work-from-home situations. With the launch of 'Focus Time' the latest update to its brainchild – Google Calendars, Google now lets users automatically decline meeting requests for a selected time slot. A focused time entry will allow users to block out incoming meetings during the specific time set by the user and let them focus on the task at hand.
Say Goodbye to excessive meetings and welcome time for your own personal project.
Aside from Google, we are seeing a lot of these productivity apps helping users manage their time in a healthier and efficient way, Google is ultimately hopping on the trend.
Google Calendar – Focus Time – How to Enable
Here is how you can add it to your Google calendar:
Open Google Calendar
Select when you want to schedule focus time.
At the top of the event, click Focus time and select the event starting time.
Click on the Save button
On how to enable for Android and others, visit this page.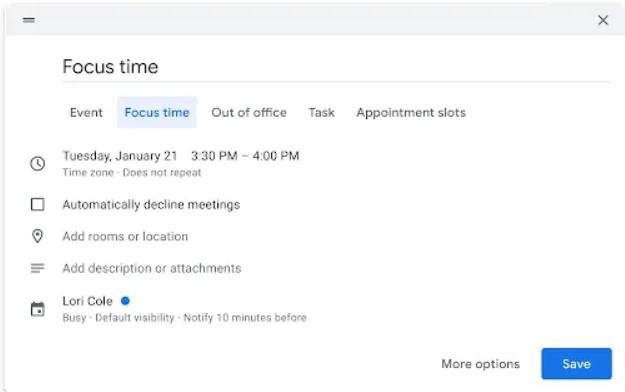 This could make the difference between a last-minute delay and meeting a deadline, as it should be rolling out soon and become handy for the professionals who are always on the go and can peacefully focus without any interruptions.
The update is supposed to roll out on – Google Workspace Business Standard, Business Plus, Enterprise Standard, Enterprise Plus, Education Fundamentals, Education Teaching, and Learning Upgrade, Education Standard, Education Plus.
As of writing this article, the feature is beginning to roll out for users. So, if you don't see it yet, wait for a couple of days it to arrive in your PC or Android device.
Using Mastodon? Follow us at floss.social/@debugpoint