GNOME 40 – the next major release of the GNOME Desktop environment is being developed at the moment. An array of features landing daily while many bugs are being fixed. Here we look at GNOME 40 Planned Features and Release Date.
The GNOME team changed the versioning scheme after the big GNOME 3.38 release. Earlier GNOME followed the "major.minor" versioning schemes which incremented the minor version by 1 for each release.
After a collaborative decision by the team, the next major release number is GNOME 40 with a new versioning scheme. The release cadence is also changed. The GNOME 40 development cycle consists of 3 iterations.
GNOME 40.alpha
GNOME 40.beta
GNOME 40.RC
And a final stable GNOME 40 release after the release candidate.
All the following bug fix releases increase the minor version by 1 i.e GNOME 40.1, GNOME 40.2, GNOME 40.3, and so on.
GNOME 40 Release Date
GNOME 40 release date is on March 24, 2021.
GNOME 40 alpha releases on January 09, 2021.
GNOME 40 beta releases on February 25, 2021.
GNOME 40 RC is due on March 13, 2021.
GNOME 40 Features
GNOME 40 – Planned Features
GNOME 40 currently is in heavy development and features are being merged. Some of them are getting visible as the development progresses.
Caution: These features may not eventually get into GNOME 40 final release and some of them are yet to be merged and tested properly.
1. Multiline Icon Labels in GNOME Shell Grid
GNOME Shell 40 shows multiline icon labels with full text on mouse hover. The application grid is a limited place with only a fixed-size available for each icon and text. If your application name/label is larger, then currently is shows with a "…". With GNOME 40 this might change. When you hover your mouse on such icons, the entire name of the application is visible.
This change is merged.
The heart of the GNOME Shell is the Application grid or App Grid. It gives you an entry point to search, launch applications installed in your system. App Grid is a modern way of finding your applications getting away from the transitional menu-based systems.
The App Grid today scrolls vertically with page indicators at the right. Like below.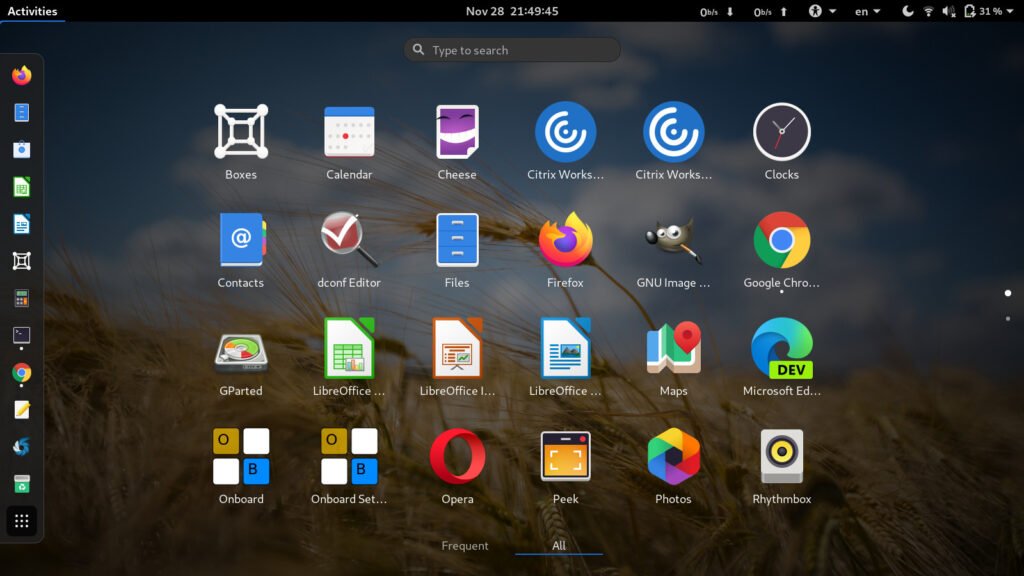 But with the new proposed change, the App Grid scrolls horizontally. See the below image.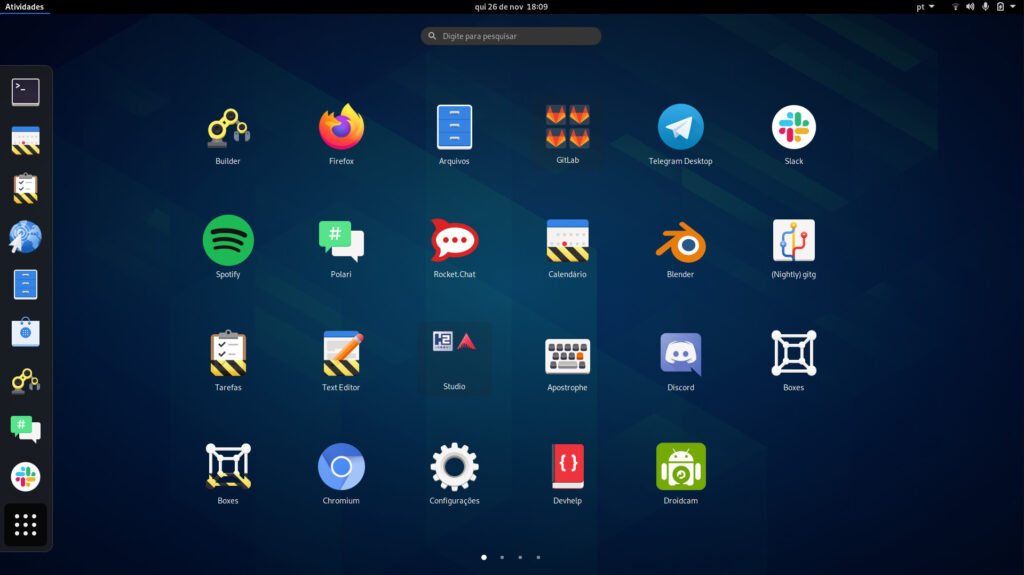 This change is in the WIP stage and yet to be merged into the branch. But from the usability perspective – some users may not like it due to the mouse scroll wheel. The mouse wheel is vertical and you scroll it up and down. With that, App Grid now scrolls horizontally. So, initially, users might feel it weird a bit. The good thing is, this change aligns well with the touch devices where horizontal scrolling is a preferred scrolling method.
This change is tentative apparently as of 12/29.
The native Extension app gets a nice search feature in GNOME 40. This feature adds a search button in the Extension ap at the top bar. If you have many extensions installed, you can easily search by keyword with keypress and navigate. Although this is a very small feature, can be handy at times.
And this is how it looks in GNOME 40.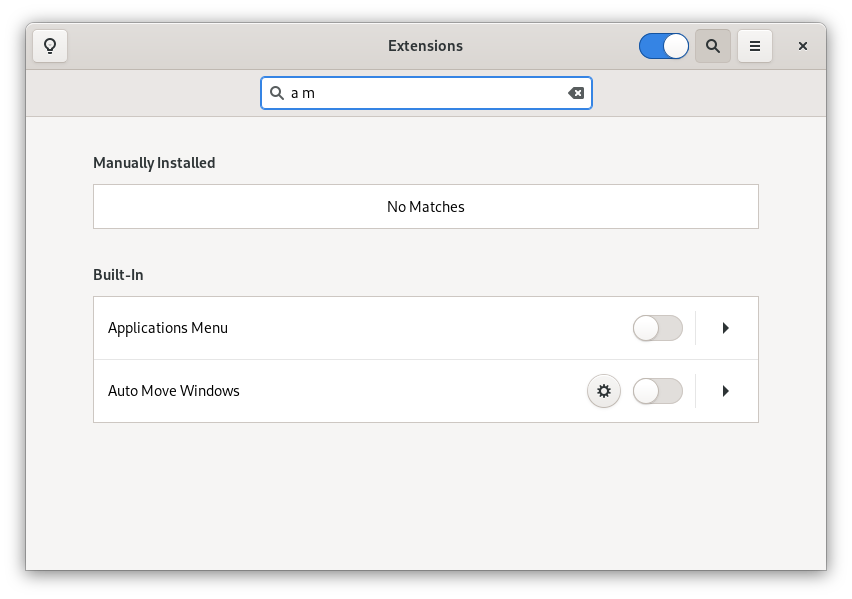 The important Activities overview and navigation of workspaces is horizontal in GNOME 40. This is also very easy to use for touch devices as well where it's natural to swipe left or right using gestures.
To compare, here is how the activities navigation works today in GNOME 3.38.
When you first click the Activities (or trigger via Super key) today, it shows the current workspace running applications in a grid. While the workspace switcher at the right side scrolls vertically. Clicking the Activities again brings up the last highlighted window.
Also while inside the Activities view, the application menu completely overlays the activities overview screen today.
This entire behavior changes now.
When you click on the Activities, the workspaces are arranged horizontally. And the running applications are shown in small blocks inside the active workspace. You can easily drag or scroll the workspaces left or right. For touch devices running GNOME, you can easily swipe left or right using fingers which is super cool.
Now, if you click on the Show Application icon while inside Activities Overview – magic happens. The Workspaces along with its running windows goes at the top and the Application grid comes up at the remaining space. Now the Application Grid itself also scroll horizontally which is another change from GNOME 3.38.
So, you have the Application Grid, Workspaces, Running applications inside the active workspace – all together in a single view. To me, this might be too good for productivity when you are working with many applications or a developer with many apps open.
Let's take a look at the demo video below (credit: GNOME Team).
And these all can move around left or right with keyboard shortcuts (Super + arrows).
5. Autocomplete in Files
The Files application did not see much improvement in the past couple of GNOME releases. Files in GNOME 40 might include auto-completing features of file and directory names in the address bar as you type. For example, if you type "/usr/share/ic", the Files autocompletes it with "icons" and might show the possible files/directory names in a dropdown. Something like this:
6. Extension Reboot
The GNOME Extensions are a major part of the user experience in GNOME desktop. Many important GNOME tweaks are only available via extensions as they are not available by base GNOME.
But the extension eco-system is unorganized in terms of builds, compatibility, testing, guidelines, etc. That is why many extensions break always after a major GNOME release. Then developers fix the issue. But with a properly controlled ecosystem, a developer can test their extensions before a release so that it doesn't break.
With that in mind, the "Extensions Rebooted" initiative is introduced to work on those issues. You can read more about this here.
7. Sorting of Wifi Connections
In the Wifi settings, the Wifi connections are not in sorted order at the moment. However this changes in GNOME 40. The Wifi connections are now sorted based on the below criteria order:
Connected connections
Configured connections
By strength
Take a look at the below image (Credit: GNOME team). This change is merged.
8. GNOME Calendar – reminder time
The Calendar now introduces a 15-minute reminder – which is not less or not more. It's balanced.
GNOME 40 released on March 24, 2021. You can read the coverage here.
Image credit: baby wogue
Using Mastodon? Follow us at floss.social/@debugpoint