Qalculate Desktop Calculator Brings Latest Release with Improvements.
Qalculate! the multi-functional GTK+ based desktop calculator released the latest version 3.12 with major features and improvements.
Those who are not aware, Qalculate is a versatile desktop calculator that is cross-platform and used by educational institutions, research labs, students due to its power to aid complicated math packages. Although it is perfectly fine for general desktop user and day to day uses.
Coming after a month since the previous release, Qalculate is bringing a handful of new improvements. Here's a quick summary of the changes.
It is loaded with features such as multi conversion, unit calculation, physical constants, symbolic calculations (integral, etc), plotting and many such features,
Qalculate Version 3.12.0 Changes
UI: You can now hide the left or right part of the keypad
Fraction mode combo box is replaced with a single toggle button.
Disable prefixes by default in scientific, engineering, and pure modes, and change behaviour of composite modes when user changes separate options
Auto completion for objects and properites in data set functions
Split long numerical results in two lines and show bit position for binary number that does not fit in window
Improved text layout in result
Improved exact simplification of roots (e.g. sqrt(2)-2/sqrt(2)=0)
Only apply negative exponents option to units, and always use negative exponents instead of division for unit expressions with only negative exponents
Support use of right arrow as alternative to "to" for conversion (e.g. 5m→ft)
Use middle dot instead of multiplication x in unit expressions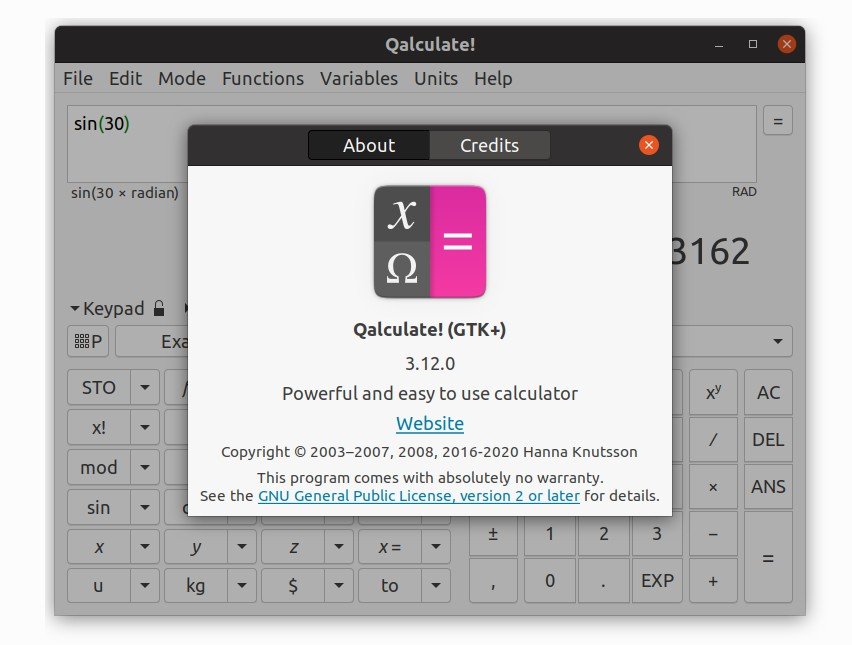 Install Qalculate in Ubunutu and Other Linux
Qalculate is available as both snap and Flatpak package which you can find via the below link. You need to set up your distro as per snap and Flatpak and run Qalculate.
Ubuntu universe repo has the older version of Qlaculate (2.8) which you can also install via running sudo apt install qalculate-gtk. 
You can also download the executable version directly from below link which is portable and can run anywhere.
Via announcement.
Using Mastodon? Follow us at floss.social/@debugpoint