Ubuntu team released the beta version of Ubuntu 20.10 code-named Groovy Gorilla. And it is available for download and test.
Ubuntu 20.10 will be released on Oct 22, 2020. The beta version provides you a glimpse of new features, performance updates, and enhancements that are incorporated in this release.
Groovy Gorilla is based upon the strong foundation by the Ubuntu 20.04 LTS Focal Fossa, with short iteration. This short term release is mostly to have the bleeding edge features, Kernel updates added to the Ubuntu upstream packages before these are put back to the current long term support release.
However, don't expect many feature updates in this short-term release. Let's take a look at what's new.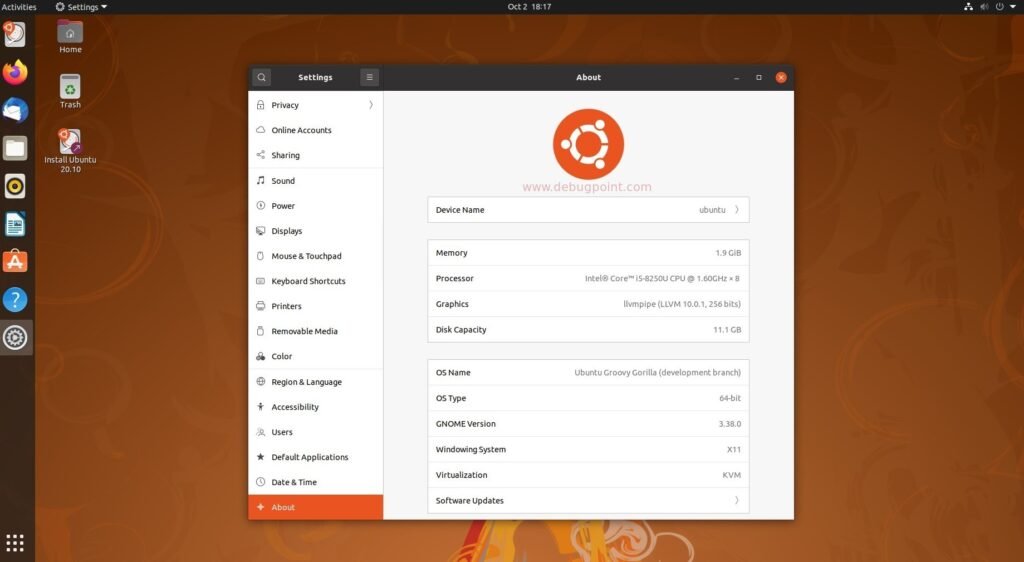 What's new in Ubuntu 20.10 (Beta)
Ubuntu 20.10 is powered by Linux Kernel 5.8. Linux Kernel 5.8 brings a huge list of changes. The important changes spread across drivers, new device supports, etc. Many AMD-related changes, the Spectre vulnerability is fixed in this Kernel version. Bunch of file system updates added as well in Ext4, Btrfs.
Graphics driver and other improvements added for Qualcomm Adreno 405-640-650, Intel Tiger Lake, AMD GPU TMZ, updates on Radeon driver.
Other improvements include a bunch of power management updates in Kernel, network support, support added to swap Fn and Ctrl keys for Apple keyboards, more optimized schedular, IO and cache updates.
Ubuntu 20.10 includes the latest GNOME 3.38 as the default desktop environment. GNOME 3.38 is the bleeding edge GNOME with many improvements and new features.
Although, Ubuntu tends to provide a modified strip down version of the GNOME. For example, the new Welcome tour feature of GNOME 3.38 is not available in Ubuntu 20.04. However, most of the important and new features of this desktop environment are available out of the box in Groovy.
GNOME 3.38 brings a customizable application list. Arranging icons is super easy now with drag-n-drop. Also, the icons inside folder groups can be re-arranged using drag-n-drop.
The frequent application menu is removed, instead, a multi-page application menu is introduced. This is visible when you scroll with a little indicator on the right to show how many pages you have.
On the settings section, a QR code feature is introduced to share the WiFi hotspot easily. In addition, parental control is introduced to protect kids from certain apps.
You may want to try Fedora 33 if you want a complete GNOME 3.38 experience.
All the major applications are updated with their latest release. Firefox 81, LibreOffice 7.0, and the latest Thunderbird 78.0 are included as well.
Overall, not much update in Ubuntu 20.10 apart from the major ones from GNOME 3.38.
Download
The beta .iso is available for download from the below link. You can burn it to a USB and try using a virtual machine. The final release is expected on October 22, 2020.
Featured image credit: sylviaritter
Using Mastodon? Follow us at floss.social/@debugpoint