Microsoft pulls the plug on Windows 7. Here's what you should do.
After a decade of service, Windows 7 finally retired, leaving millions of PC worldwide exposed to security vulnerabilities and hackers.
As per the information available, there are 200+ million devices that are still running Windows 7. The number might increase, as, it is difficult to estimate the offline devices which might be still running Windows 7.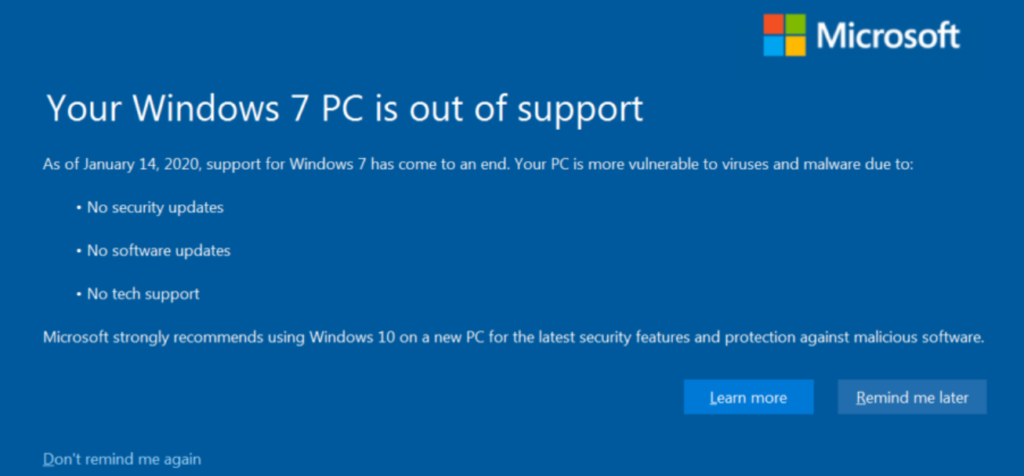 So, here's the summary for you.
Microsoft stopped support for Windows 7 on Jan 14, 2020. If you are running Windows 7 today, you will not be receiving free and default security update from Microsoft. You are exposed to internet threats, hackers and malware which might cost you data and money.
And here are the possible options you may have at the moment.
Buy New Devices
This is the option that Microsoft is chasing. Being a business they want their user base to migrate to their latest Windows 10. Hence, the leading desktop and laptop makers started selling pre-installed WIndows 10 long back.
The problem is your money/investment from a business standpoint. If you are running a business, home users, from a school, non-profit company – you might need to think about the total cost of upgrading your pool of desktops/laptops.
Another issue is, the devices run Windows 7 today, may not be capable of running Windows 10 due to it requires more processing power and memory. Even if you think to buy the windows 10 license and keep your old hardware, you might need to dig deeper to find out your inventory. Finding this out also time-consuming and would cost you money.
Keep the systems as is
This is a risky decision for you as an individual or a business. Keeping Windows 7 as is, not doing anything may or may not cost you a later stage. But it is still a risk, and, if you stick to the decision using a current device running Windows 7, you might well aware of the risks.
I would suggest, if it is a simple system that is disconnected from the internet, you use it for that couple of small tasks which never require any network, you might be okay to use it for now.
Keep Windows 7 and buy expended support
Microsft said they are proving Windows 7 Extended Security Update (ESU) for Windows 7 till January 2023. It costs approx $50 per device per year (might be more if you have a vendor). And that is not all, the cost would increase year on year from today.
Even if you are thinking to opt for this option, you might not be able to find any reseller or partner who is providing you the requires support to get the ESU renewed for next and subsequent years till 2023.
Switch to Linux
Whether you are an average desktop user, power user, hobbyists, photographer, teacher, from school ort running a business, – for everyone still there is another option to consider as a replacement for WIndows, completely – Linux. Linux is free and open-source and being a free operating system, you do not need to pay upfront for basic usage. If you are a large scale business house, running hundreds of PCs on-site or in virtual machines, you can still opt for Linux distributions which might serve you all purposes.
There's a catch though. There are hundreds of proprietary apps out their (e.g. Photoshop from Adobe etc) will not run in Linux. Ans there are Linux version alternatives as well which serve your purpose (e.g. Checkout the Photoshop alternatives in Linux).
Having said that, Linux is something can save you hundreds if not millions for all types of users in the long run. Linux brings stability, default security options and saves money (no need to install anti-virus, etc) among other things.
You have plenty of choices though. The mainstream popular Linux distribution is Ubuntu which is compatible with all types of need. Ubuntu us being used today in data centers, servers, average desktops, clouds and everywhere. It comes with Long term support release which provides you 5 years of free security updates and eventually you can upgrade to the next version for the next 5 years for free.
Other Linux distributions include Linux Mint (I would recommend this if you are an average user), Fedora and many more.
Summary
If you still thinking about what to do, consider any of the above choices and make a move, now. If you are a business user, you should definitely take a decision and move to the next step. Remember, any new security threat issued today in Windows 7 will not be patched for free.
Using Mastodon? Follow us at floss.social/@debugpoint