The Great and awesome beginners' distribution Linux Mint recently released Version 19 code name 'Tara' and here are 10 things which you should do after installing.

Linux Mint comes pre-configured in almost all aspects and it just works without anything extra tweaking after installation. However there are certain tweaks, configurations which we recommend and you might want to give it a try.
This list is based on our recommendation and you may have a different opinion on the list of 10 items that we are going to present.
1. Updates
The first thing that you should do and is recommended for all users after installing Linux Mint is to make sure you are up-to-date and having all the latest patches.
Open update Manager from Menu. Then from the Edit menu, click Software Sources. We are going to choose the best Mirrors available for Base and Main packages for Official Repositories.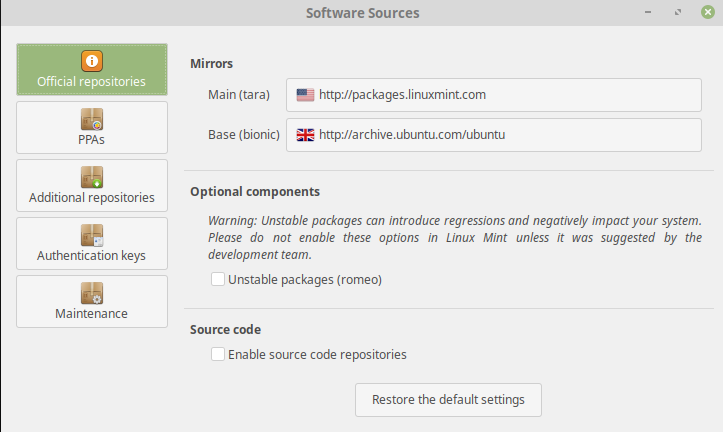 Click the Main package selected and choose the top mirror which is having highest speed. Do the same for Base packages as well.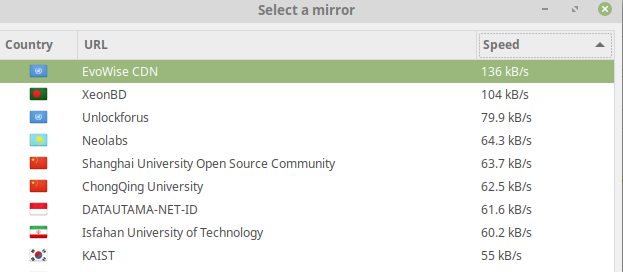 Press OK and in the update manager main window click Refresh.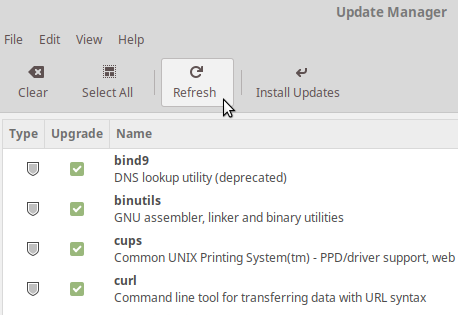 Click to install updates to start the update process.
2. Install Drivers
From the menu, open driver manager. It will show you list of available drivers based on your hardware. Click apply changes after installing the drivers.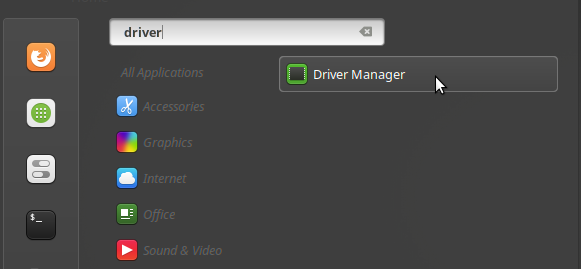 3. Setup Backup
In any system, setting up backup and restore point is important. In Linux mint there is an app called Timeshift which can help to create System restore point and backups.
4. Configure swap for low-end machines
If you are running Linux Mint in a low-end hardware having RAM 2GB or less; they might be too slow while running Linux Mint. The reason is Linux Mint accesses virtual memory i.e. swap area too much and which slows down your system.
How much swap area to be used by Linux Mint is determined by a number setting. The lower the number the longer Linux Mint takes time to access swap.
Run below from terminal. The result would probably be 60.
cat /proc/sys/vm/swappiness

Now, run below from terminal to open the conf file.
xed admin:///etc/sysctl.conf

Go to end of the conf file and change below value to something logical, say 10.
vm.swappiness=10

Save, close the conf file and reboot your system.
After reboot you can check the value after running the first command. Now you would experience bit faster response time in your system.
5. Configure Redshift
Redshift is an pre-installed utility in Linux Mint which help to control brightness, color of your computer's display to help your eyes. It can change the color based on the timings of the day – such as night time.
To turn it on, search Refshift from Menu and it will start automatically. To configure, you can see the options in the taskbar.
6. Configure Browser
Linux Mint comes with Mozilla Firefox latest version but it comes with Yahoo! as default search engine. Google, the popular search engine is not readily available to choose as default.

To set, Google as default search engine, visit this page. At the bottom of this page, click the Google icon under 'other search engine' section.

In the next page, click the add button to add Google as default search engine.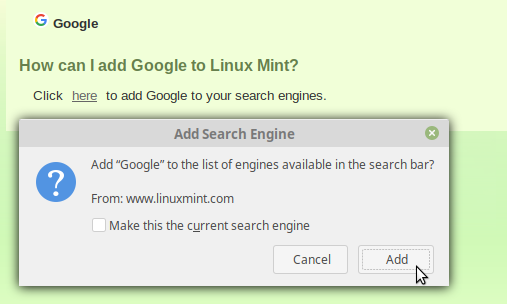 Now, you can go back to preferences page of Firefox and set Google as default search engine in Linux Mint.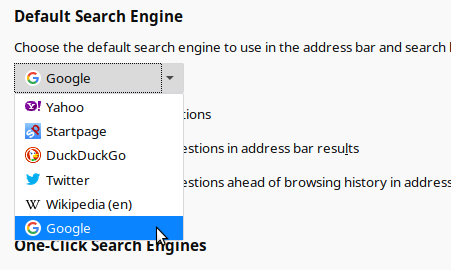 7. Turn On Firewall
Linux Mint in-built firewall named as 'ufw' or Uncomplicated Firewall, is disabled by default. You have to enable it. Open terminal and type below command to enable firewall:
sudo ufw enable

To see the status of the firewall, run below command:
sudo ufw status verbose

To disable, run below:
sudo ufw disable

8. Install Some Fonts
You can also give your Linux Mint a fresh look by installing some fonts. There are plenty of fonts available, and you can install them via terminal. Here are two fonts which you can install now:
sudo apt-get install fonts-crosextra-carlito fonts-crosextra-caladea

9. Install Some Utilities
Though Linux Mint comes with all necessary apps for basic work. However, you can still go ahead and install apps as per your need. Here are three apps which you might want to install in your Linux Mint installation.
p7zip-rar: A file compression utility with ability to handle zip and rar files.
vlc: Video and Audio media player which can play anything without any separate codecs
catfish: A versatile file search utility
To install above via terminal together, run below command:
sudo apt install p7zip-rar vlc catfish

10. Change Look and Feel
Linux Mint comes with some cool look-n-feel themes pre-installed which you can configure right away. Open System settings from Menu and click Themes.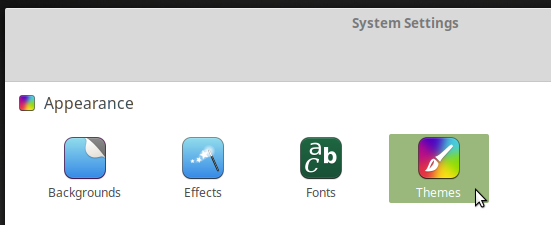 You can change the look of window borders, Icons, Controls, mouse pointer and of overall desktop.
This is the list of 10 items which we recommend and you may want to give it a try after installing Linux mint Tara. If you like this list or if you feel something also can be added in the list drop a comment using comment box below.
Using Mastodon? Follow us at floss.social/@debugpoint