Ubuntu 15.04 has been released this week. Now its time to configure it as per your needs with essentials and discover. Here is a list of essentials apps you can opt for installing and some tips from the changes.
What's New in Ubuntu 15.04
There is not much changes from previous release from user interface angle, but there are definitely changes on apps, settings etc which is covered here.
Check for any pending updates
After you finish installing, check for any pending updates and install them right away. Go to 'software updater' from dash.
Check Display Driver
Ubuntu has a long history of slowness, weird screens due to proper display driver is not comes as default packages as they are somewhat proprietary.
From dash, open 'Softwares & Updates' window and go to 'Additional Drivers' Tab. Select the appropriate display driver and click apply.
If you don't find anything, then run below commands in sequence to install nVidia graphics driver in Ubuntu 15.04 and reboot.

sudo apt-add-repository ppa:xorg-edgers/ppa
sudo apt-get update
sudo apt-get install nvidia-current nvidia-settings

Note: This is for nVidia graphics cards only.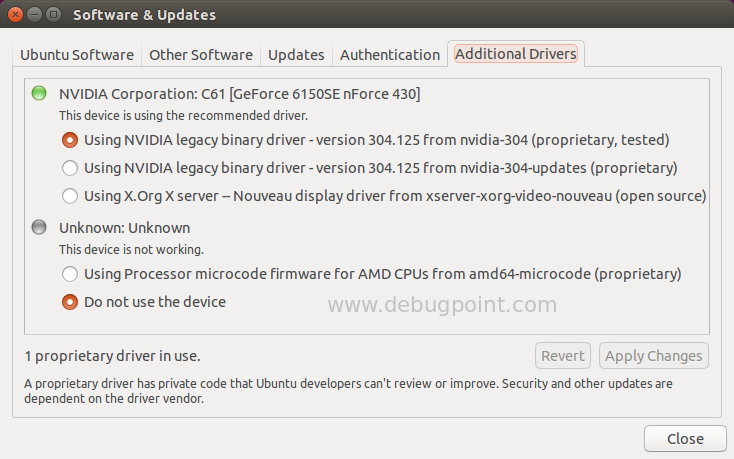 Install Chromium
Firefox is ok, but Chromium is also needed for bulk users who mostly uses Google products and services. Chromium is a open-source browser based on which Google Chrome is built upon. It is not come with the default iso image and you have to manually install it.
To install Chromium web browser in Ubuntu 15.04, run below commands from terminal.

sudo apt-get install chromium-browser

Flash Player
Flash is slowly dying and being replaced by HTML5. But still we need it because some websites still uses it. To make flash work in Chromium running in Ubuntu 15.04, run below commands.

sudo apt-get install pepperflashplugin-nonfree
sudo update-pepperflashplugin-nonfree --install

Install VLC
VLC is the most suitable Media Player in Linux systems including Ubuntu as it has playback support for almost all types video and audio files with codec support. VLC don't come as default Ubuntu package. To install VLC in Ubuntu 15.04 click below to install from software center Or run below commads from terminal:

sudo apt-get install vlc browser-plugin-vlc

Please share your experience with this guide in the comments.
Image Credits
Ubuntu
Using Mastodon? Follow us at floss.social/@debugpoint