Ubuntu 16.04 Xenial Xerus has been released. Here are five quick tips that one can look at after installing.
Like all the releases, Ubuntu 16.04 comes with pre-loaded softwares, driver updates etc. This release contains a huge list of software updates which is covered here. Here are some tips for after install.
Pending Updates
The first things you should do after installation is to apply any pending updates. Open "Software Updater" from Dash and check for updates.
Check Display Driver
This step is for those old hardware systems. So, after installation if you are facing display issues, slow response then you might be having display driver issues. Open "Software and Updates" from Dash and go to additional drivers tab. Check any available driver you may want to use and click apply.
For nVidia based systems, to install latest nVidia drivers, run below commands in sequence and reboot.
sudo apt-add-repository ppa:xorg-edgers/ppa
sudo apt-get update
sudo apt-get install nvidia-current nvidia-settings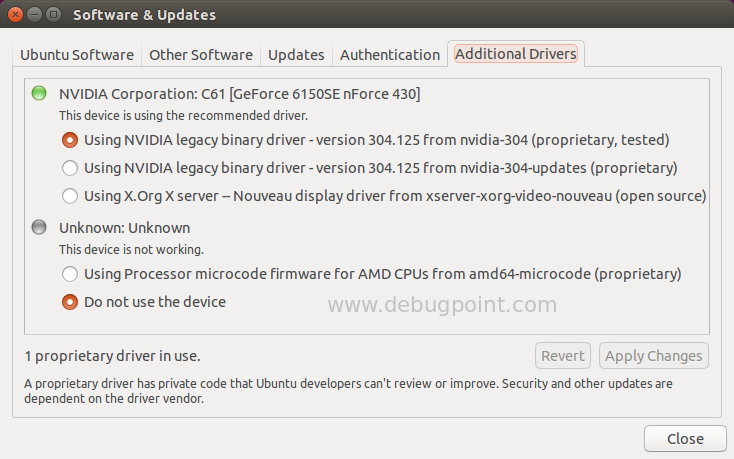 Install Chromium
Firefox is fine (I think slow!), but Chromium is also needed for bulk users who mostly uses Google products and services. Chromium is a open-source browser, based on which Google Chrome is built upon. It is not come with the default ISO image and you have to manually install it.
To install Chromium web browser in Ubuntu 16.04 LTS, run below commands from terminal.

sudo apt-get install chromium-browser

Flash Player
Flash is slowly dying and being replaced by HTML5. But still we need it because some websites still uses it. To make flash work in Chromium running in Ubuntu 15.04, run below commands.
sudo apt-get install pepperflashplugin-nonfree
sudo update-pepperflashplugin-nonfree --install

To enable Flash in Firefox, follow below steps which I covered in a separate article:
Enable Flash in Mozilla Firefox in Ubuntu 16.04 LTS
Install VLC
VLC is the most suitable Media Player in Linux systems including Ubuntu as it has playback support for almost all types video and audio files with codec support. VLC don't come as default Ubuntu package. To install VLC in Ubuntu 15.04 click below to install from software center Or run below commands from terminal:
sudo apt-get install vlc browser-plugin-vlc

Enabling GNOME Videos to play all file types
Videos is the default media player, based on Totem, that comes with Ubuntu 16.04 LTS, but it lacks some plugins to play mp4, avi and other files. When you open any of those file types and try the option "Open With Videos", you would get a message like this: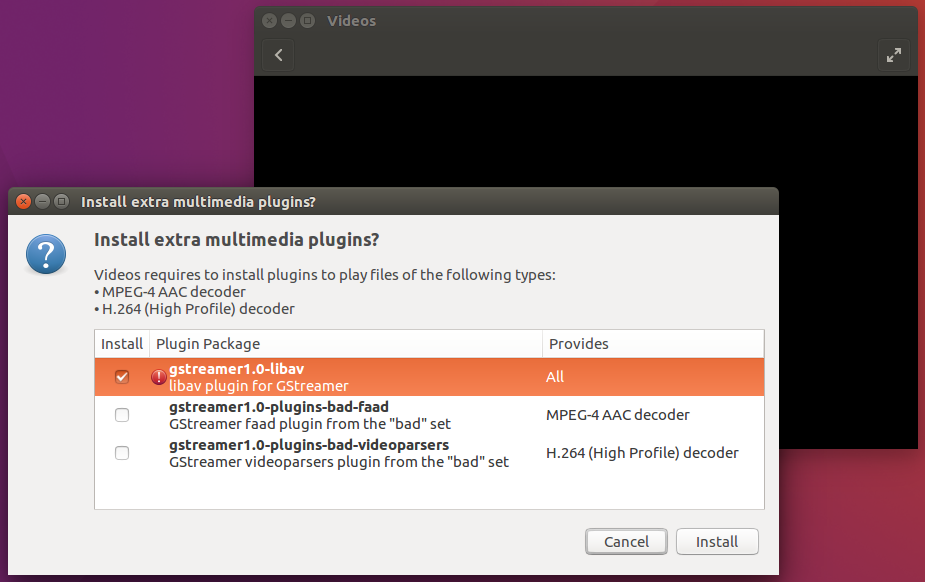 Select gstreamer1.0-libav and click install.
In the next window click Continue and wait for the installation to finish. After installation is finished, you can play all types of common format videos in Videos.
Using Mastodon? Follow us at floss.social/@debugpoint