We look back at every Ubuntu default wallpaper in history to this very day. Take a look and download them right now.
Ubuntu – the most popular Linux Operating System in use today, has always given importance to the default wallpaper and how it looks. The default wallpaper is the first thing that the user notices after a brand new Ubuntu installation. So, a lot of thought goes into designing the Ubuntu default wallpaper.
Here's a list of all Ubuntu default wallpaper that has been released for the last 10+ years with download links for your treat.
Ubuntu Default Wallpaper
Ubuntu 4.10 'Warty Warthog'
The year was 2004 when Ubuntu 4.10 is released. It brought a very simple and elegant wallpaper. This minimal wallpaper came with the Ubuntu logo and name with Ubuntu font. The main color is brownish.
Ubuntu 5.04 'Hoary Hedgehog'
Ubuntu 5.04 also contains the Ubuntu logo and name. This wallpaper gave a breezy view of the same brown-based colours.
Ubuntu 5.10 Breezy Badger
The brown themed wallpapers continue and this release brought sprinkled water effect from afar and Ubuntu logo in the middle section.
Ubuntu 6.06 Dapper Drake
This dark brown coloured wallpaper is the first to have a complex curve based design which we could see incoming releases as well.
Ubuntu 6.10 Edgy Eft
This wallpaper looked cool and fresh. This introduces lighter brown with a few yellow shade curves.
Ubuntu 7.04 Feisty Fawn
Looked almost similar in terms of colour, this release featured a small curve change.
Ubuntu 7.10 'Gutsy Gibbon'
Again, we went back to the dark brownish themed wallpaper in Ubuntu 7.10. And more curves are prominent in this wallpaper.
Ubuntu 8.04 'Hardy Heron
Hardy's wallpaper was a popular one and most talked about. This release was first introduced the official mascot of the release. The wallpaper is a work of great design effort and is one of the best wallpaper that Ubuntu shipped so far.
Ubuntu 8.10 'Intrepid Ibex'
With a brown-based theme, Ubuntu 8.10 continued to feature a mascot of its own. It was a work of art and looked very independent to bolster the identity of Ubuntu.
Ubuntu 9.04 'Jaunty Jackalope'
Suddenly we saw a letdown from the mascot based wallpapers from the earlier releases and Ubuntu 9.04 brought nothing but a simple wallpaper.
Ubuntu 9.10 Karmic Koala
This wallpaper looks like a photograph with an angled divider. The earlier brown theme is overwritten by the yellowish-orange theme.
Ubuntu 10.04 'Lucid Lynx'
Ubuntu 10.04 default wallpaper first to introduce the purple based wallpaper, moving away from brown. This purple based theme is about to continue in the coming days.
Ubuntu 10.10 Maverick Meerkat
This wallpaper looks like it's just a simple brush and low-effort one. Though the purple colour is prominent, still it looked bland in Ubuntu 10.10.
Ubuntu 11.04 'Natty Narwhal'
Honestly, this wallpaper looked exactly the same as Ubuntu 10.10 with a little blur increased.
Ubuntu 11.10 'Oneiric Ocelot'
Ubuntu 11.10 default wallpaper remained literally the same if you look. There is no difference. Maybe people ran out of time during this time for new fancy wallpaper.
Ubuntu 12.04 'Precise Pangolin'
Same old wallpaper as before. Not sure what the Ubuntu team was up to in those days.
Ubuntu 12.10 'Quantal Quetzal'
Finally, a new wallpaper arrived with Ubuntu 12.10. More brown and orange is mixed in a curvy look – today it really looked like the recently discovered black hole.
Ubuntu 13.04 'Raring Ringtail'
Ubuntu 13.04 default wallpaper looks almost the same except it is a blurry version of the black hole.
Ubuntu 13.10 'Saucy Salamander'
This one is really a low effort wallpaper with an almost identical blurry image.
Ubuntu 14.04 'Trusty Tahr'
Finally, in Ubuntu 14.04, we can see more brownish-purple with non-curvy shapes and designs. It seemed it a fresh reboot of the idea of Ubuntu as a desktop OS.
Ubuntu 15.04 'Vivid Vervet'
Almost identical is the Ubuntu 15.04 wallpaper except it is a bit dark than the previous. And yes, the geometric shapes continue.
Ubuntu 15.10 'Wily Werewolf'
Ubuntu 15.10 only changes the geometric shapes and everything else seems to remain the same in comparison to the previous release default wallpaper.
Ubuntu 16.04 LTS 'Xenial Xerus'
More complicated geometric shape based wallpaper arrived in Ubuntu 16.04.
Ubuntu 16.10 'Yakkety Yak'
Wallpaper is becoming brighter and moving towards an orange-purple combination in Ubuntu 16.10.
Ubuntu 17.04 'Zesty Zapus'
Zesty wallpaper shows bt lighter version which we saw in Yakkety.
Ubuntu 17.10 'Artful Aardvark' Wallpaper
After a long time, Ubuntu decided to feature the official mascot in the default wallpaper in Ubuntu 17.10 with a nifty Aardvark' shape.
Ubuntu 18.04 LTS Default Wallpaper
Ubuntu 18.04 default wallpaper features the official mascot outline on the backdrop of a purple design.
Ubuntu 18.10 Wallpaper
Ubuntu 18.10 default wallpaper features the official Cosmic Cuttlefish with a nice design which really shows the Ubuntu team is focusing on the wallpaper as a whole.
Ubuntu 19.04 Wallpaper
We see the continuous progression with the purple and brown colour in the wallpaper. This release also served the Disco Dingo name well, with the official mascot in DJ style.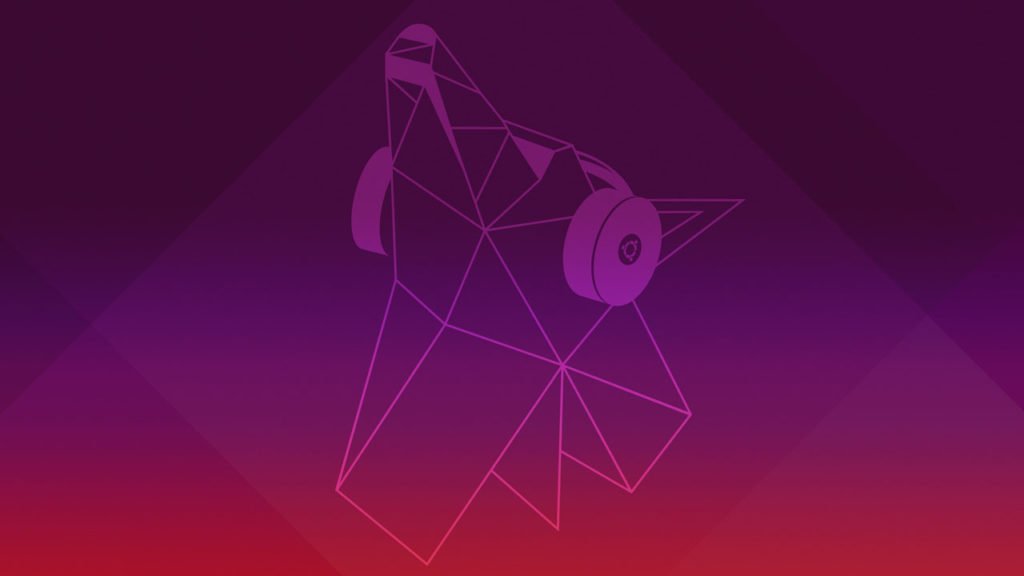 Ubuntu 19.10 Wallpaper
The latest Ubuntu 19.10 wallpaper features nice Eoan Ermine as a mascot with a purple and brown background.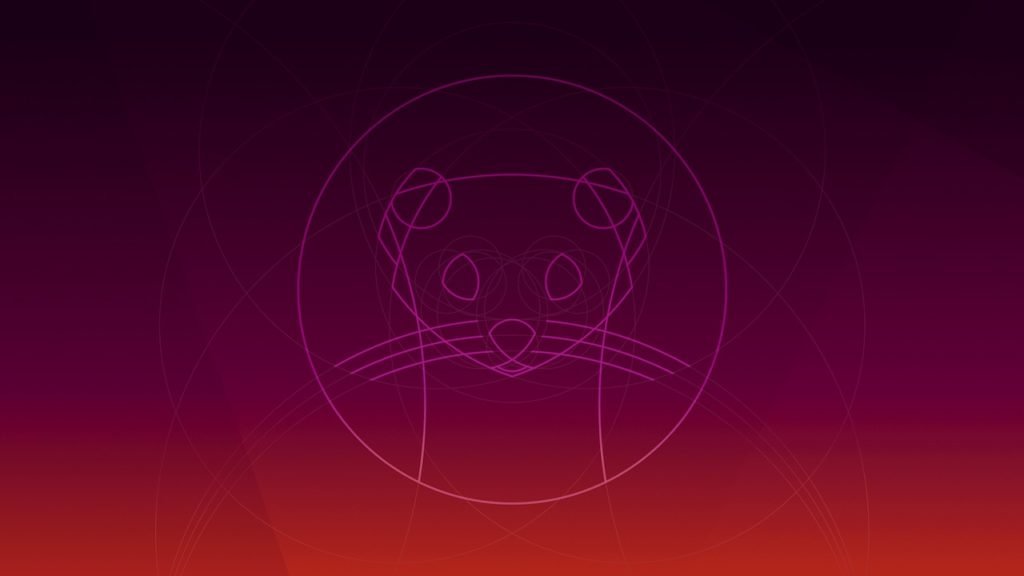 Ubuntu 20.04 Wallpaper
The mascot looks firey and shoots lasers from eyes? Well, the default Ubuntu 20.04 LTS wallpaper looks cool though.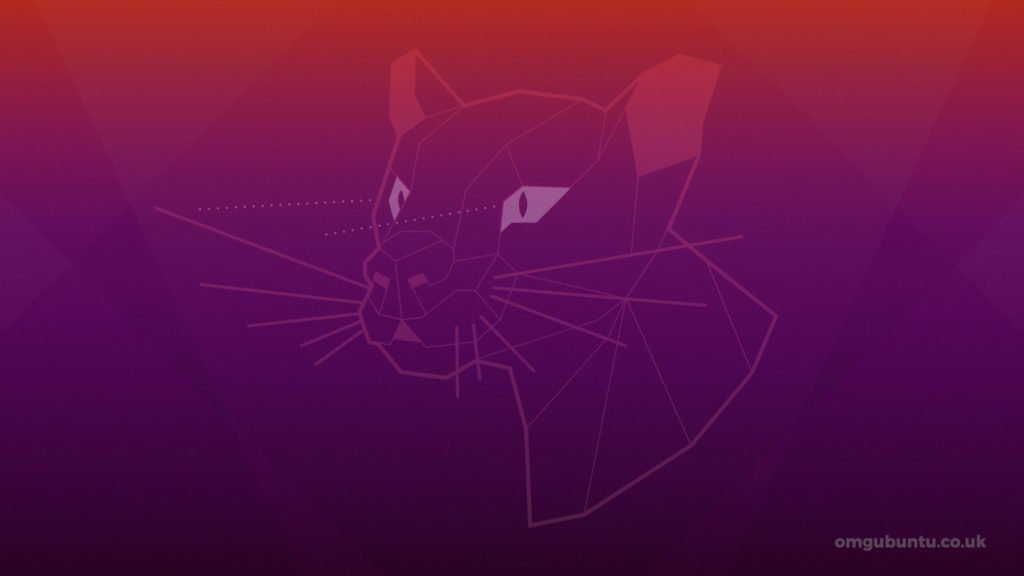 Ubuntu 20.10 Wallpaper
As the code name suggests, this default wallpaper is indeed Groovy enough!
Ubuntu 21.04 Wallpaper
Well, the Hippo is here. The Ubuntu 21.04 wallpaper features the official mascot of Hirsute Hippo as a transparent wireframe on top of the traditional background.
Ubuntu 21.10 Wallpaper
The animal Impish Indri face is shown in this version of wallpaper in Ubuntu 21.10.
Ubuntu 22.04 LTS Jammy Jellyfish Wallpaper
The Ubuntu 22.04 LTS wallpaper features a complex geometric Jellyfish as depicted below. This is one of the best wallpaper since decades.
---
Which one is your favorite Ubuntu default wallpapers? 🙂 Let us know in the comment below.