The free and open-source, cross-platform audio editor Audacity brings its latest major release – Audacity 3.0. This release is significant as it brings some important improvements over the prior stable release.
Audacity is probably one of the few top-class open-source software which is used by millions of people to edit their audio stream. It has the capability of doing many operations on your audio streams.
A quick feature recap of Audacity:
Live audio recording
Edit, combine multiple audio files
Convert audio files to different formats
Sound quality conversions with variable sample rates
Plug-in support for more features
Visual frequency view via spectrogram
Cut, copy and paste features of audio sections with unlimited undo and redo
Audacity 3.0 What's New
Perhaps the major core change that Audacity 3.0 brings is the project file format. Earlier Audacity used .aup file format which is a reference list of many small files for a project. That means, if you transfer your project file to another device, you tend to lose data.
Hence, the Audacity team introduces new project file format .aup3 supported by SQLite3 database which is a standalone file containing all required project files for your work.
A new sound analyzer – 'Label Sounds' is introduced. This analyzer can label sounds and silences in your audio files.
Also the team improved performance of the 'Noise Gate' effect.
And almost 160 bugs are fixed in Audacity 3.0 including some high-priority ones, making Audacity more stable than before.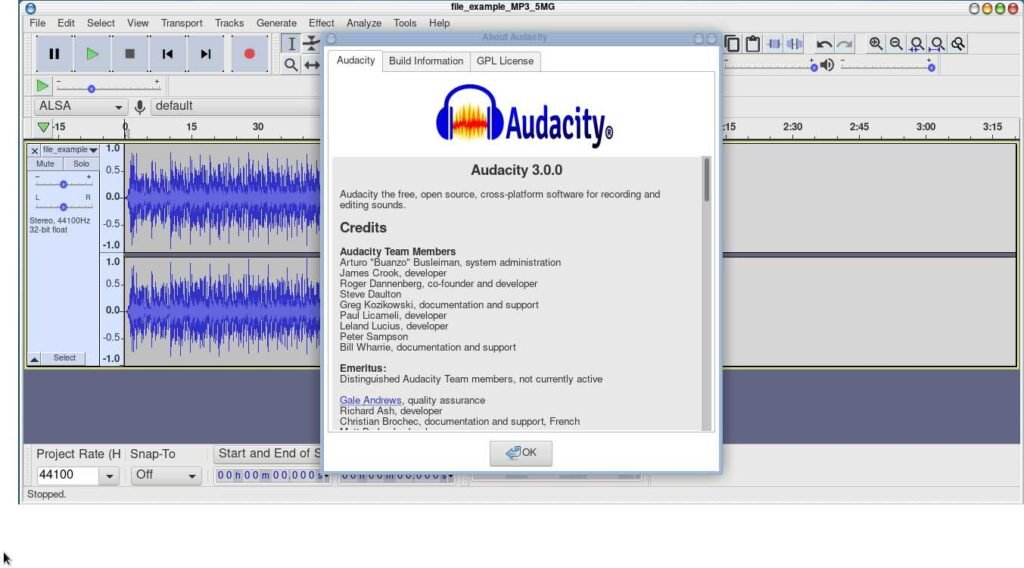 How to Download
Audacity 3.0 is available as PPA for your Ubuntu, Linux Mint, and other related distributions. You can find the PPA details here.
It is also available Flatpak package. You can set up your Linux system as Flatpak and use Audacity. However, as of writing this, the Flatpak package is still having the older version.
For Arch Linux, the package audacity-wxgtk2 is having the latest version 3.0. You need to set up the user repository in Arch or use AUR Helper like yay to getting it installed.
For other download options, visit this page.
I have managed to compile Audacity 3.0 using yay in Arch Linux with the help of audacity-wxgtk2 package. Remember, it requires wx-widgets 3.0x or later for a successful build.
Using Mastodon? Follow us at floss.social/@debugpoint