DeaDBeeF is a simple and lightweight audio player written in C and C++ with minimal set of dependencies based on native GTK.

DeeDBeef comes with 40+ plugins which can enhance the music listening experience.
DeeDBeef recently release a minor version with mostly bug fixes.
DeaDBeeF Feature Highlights
Some of the useful features of DeeDBeef are:
plays mp3, ogg, flac/oga, ape, wav, wv/iso.wv, aac/m4a, alac, mpc/mpp/mp+, tta, wma, shn, sid, nsf, mod, s3m, vtx, vgm/vgz, psf, midi, audio cds, all formats supported by ffmpeg, dumb, gme, libsndfile, adplug, and more!
light on memory and CPU use
expandable through plugins
supports cuesheets (from .cue files, and embedded), reading and writing m3u and pls playlists
plays internet radio (shoutcast, icecast, mms), as well as normal mp3 files over http and ftp (e.g. from podcasts)
DeaDBeeF Version 0.7.1 Changes
fixed GTKUI maximized window layout saving/restoring
fixed GTKUI maximized window column autoresize saving/restoring
fixed artwork plugin version checks
disabled bogus shift-jis detection, which was overriding cp1252
fixed mp3 bitrate calculation regression
fixed wrong padding of formatted time
fixed importing legacy title formatting fields bug
fixed incorrect output format after resuming paused session
fixed $ext title formatting bug
fixed %tracknumber% title formatting bug
fixed auto-updating title formatting fields
fixed FreeBSD compile issues
fixed cache cleaner crash bug
fixed crash when trying to play GYM files
fixed importing legacy playlist grouping config
fixed FLAC metadata field mapping
fixed FLAC metadata track/total and disc/total splitting
–via DeaDBeef Changelog
How to Install
Ubuntu, Mint, elementary, Debian

To install DeaDBeeF 0.7.1 using terminal run below commands in sequence. Enter password when prompted.
64 bit
wget http://heanet.dl.sourceforge.net/project/deadbeef/debian/deadbeef-static_0.7.1-1_amd64.deb
sudo dpkg -i deadbeef-static_0.7.1-1_amd64.deb

32 bit
wget http://heanet.dl.sourceforge.net/project/deadbeef/debian/deadbeef-static_0.7.1-1_i386.deb
sudo dpkg -i deadbeef-static_0.7.1-1_i386.deb

Screenshots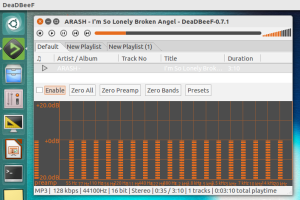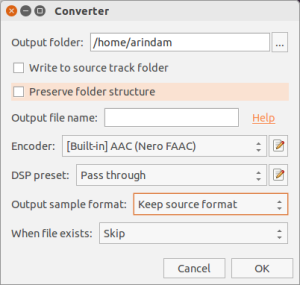 You can find more screenshots here.
DeaDBeeF in Action – Some Cool Screenshots
Links
Support
If you are facing problem using DeaDBeeF, drop a comment using comment box below. If you think its a bug, report in the bug tracker.
How to uninstall
To uninstall DeaDBeeF run below commands in terminal.
sudo dpkg -r deadbeef-static

Image Credits
DeaDBeeF
Using Mastodon? Follow us at floss.social/@debugpoint