Qmmp is a Qt-based multimedia player for Linux systems and a new release is introduced v1.2.3.
Qmmp , the slick and lightweight MP3 player for Linux systems and it is available for all distributions.
Being an old-style MP3 player, it still comes with extra features such as Last.fm support, CUE sheet support. It is still in development despite it is decade old free and open-source software.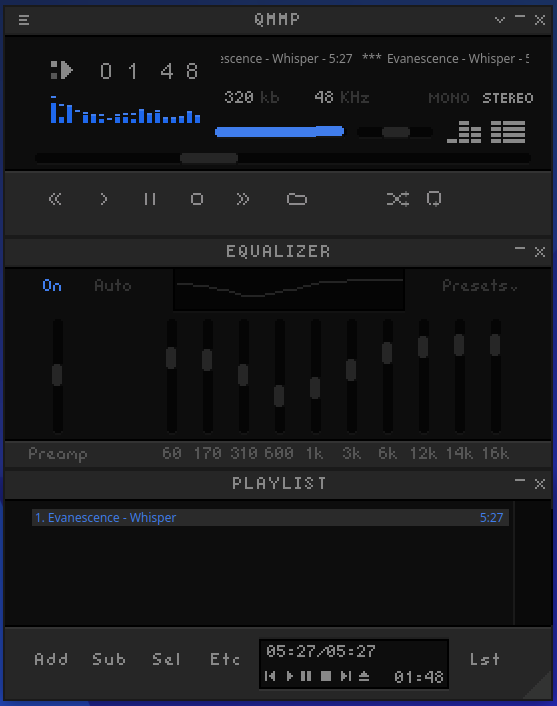 Here are the some of its features.
Features
XMMS and Winamp 2.x skins support
alternative user interface based on standard widgets set
10-band equalizer
MP3, Vorbis, AAC, AAC+ streams support
MMS support (experimental)
MPRIS (1.0 and 2.0)
removable device detection (via HAL or UDisks)
video playback via Mplayer
lyrics (using lyrics.wikia.com)
cover art
CUE sheet support
embedded CUE support (for FLAC and WavPack)
multiple playlists
automatic charset detection for cue files and ShoutCast metadata
playlist formats: m3u, pls, xspf
ReplayGain support
Last.fm/Libre.fm scrobbler
CDDB support
stream browser
audio formats conveter
external programs execution on track change
ReplayGain scanner
archive reader (RAR and 7z)
audio recording
Qmmp recently released version 1.2.3 with some bug fixes. You can read the changelog here.
How to install
To install latest Qmmp 1.2.3 via PPA in Ubuntu (16.04 LTS, 18.04 LTS), Linux Mint and other derivatives, run below command from terminal.
sudo add-apt-repository ppa:forkotov02/ppa
sudo apt update
sudo apt-get install qmmp-qt4 qmmp-plugin-pack-qt4

After installation, you can find the Qmmp launcher in Application menu or search in application list.
For other installer and download options visit this page.
However, there is no Snap or Flatpak packages available as of writing this article for Qmmp.
Links
Do you like Qmmp? Or having trouble installing or using it, drop a comment below.
Using Mastodon? Follow us at floss.social/@debugpoint