This beginner's guide would help you to upgrade Ubuntu in just 4 steps.

The best feature of any Linux distribution or Ubuntu is the upgrade feature. Upgrade feature allows you to experience the new releases including new security patches, upgraded hardware support and latest technologies.
If you are running an older version of Ubuntu and wants to upgrade, the process is very simple and minimal.
How to Upgrade
Step 1 – Backup
Typically the upgrade process do not replace your home folders, documents, photos, music and videos which is you created but to be safe – take a backup. Take backup of any documents if you want, just in case, before you start the upgrade process.
The upgrade process replaces the system files while upgrading the packages and it upgrades the user installed softwares wherever possible.
Step 2 – Up to date system
Launch software updater from dash or application menu.
The software updater would scan your system and it would make sure that your current system is up to date before upgrade.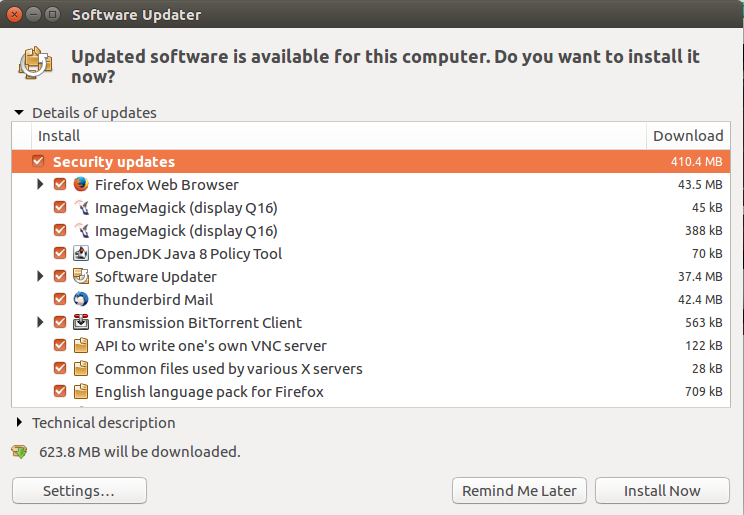 If software updater recommends you to install latest updates makes you install them and reboot the system.
Step 3 – Enable Upgrade
From Dash or application menu, open software and updates.

On the Updates tab, under "notify me of a new Ubuntu version" choose the option for long term support version. provide administrator password when requested and close the window once done.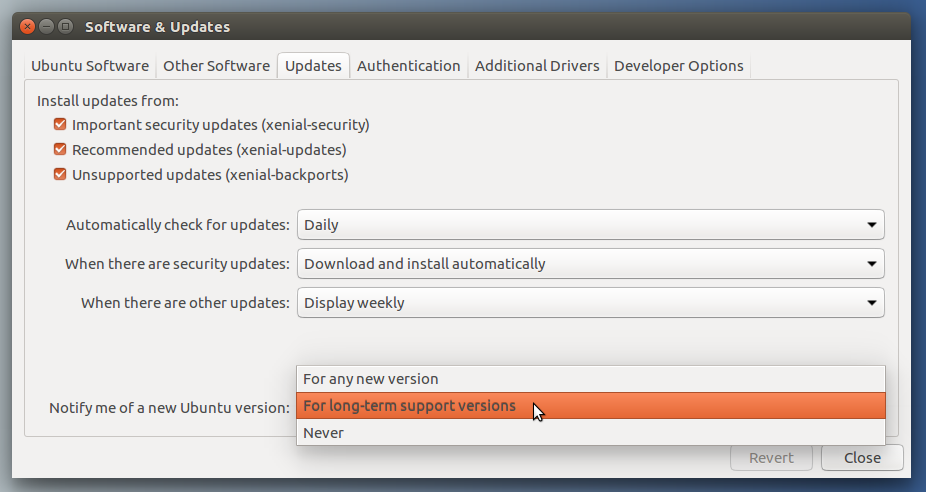 Now, open the software updater once again and it will prompt you that the new version is available to download and upgrade.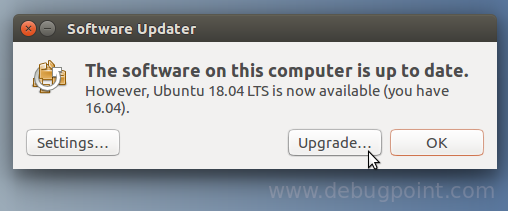 If you don't see the upgrade option is not coming up close the update manager and open terminal.
In the terminal, type below and press enter:
update-manager -d


Now you would see the prompt for upgrading Ubuntu.
Step 4 – Upgrade
Click the upgrade button to start the upgrade process and once completed reboot your machine.
That's it. Using these 4 steps you can upgrade your system with latest Ubuntu.
If you are facing trouble or difficulties while upgrading your Ubuntu system, let us know using comment box below.
Using Mastodon? Follow us at floss.social/@debugpoint