File synchronization software, FreeFileSync releases latest update with 10.13.
FreeFileSync is a folder and file synchronization free software that is available for Linux, Windows and Mac. This software can sync between your devices files and folders and only sync the changed files/directories. That means it can identify the changed files and make sure to transfer those in backup systems.
Armed with scheduling of transfers, JOB features for sync – this free and open source software is one of the best file sync/ backup software available today.
FreeFileSync released 10.13 with bunch of big fixes and enhancements.
Here are the latest changes:
What's New in FreeFileSync 10.13
Allow to rename configurations via context menu
Work around hang on SMB network with broken FileFullDirectoryInformation
Work around SMB share returning empty item name
Detect and preempt keyman64.dll crash on exit
Manage notification sounds via global options dialog
Support 32-bit Debian Jessie and later releases
Work around silent failure to case-only rename on FAT drives (Windows 10)
Simplified installation folder structure
Update main grid scrollbars when resizing columns on other side
Preserve input focus when clicking on grid column label
Buffer result of process path normalization
Mirror middle grid icons for RTL layout (Linux)
Force LTR layout until wxWidgets supports RTL (macOS)
Fixed pair scrolling mismatch when grid height is exceeded by one row
Fixed startup failure due to missing /etc/machine-id (Linux)
How to Download and Install
You can download the FreeeFileSync using below link and head over to your preferred operating system – Linux, Windows and MacOS.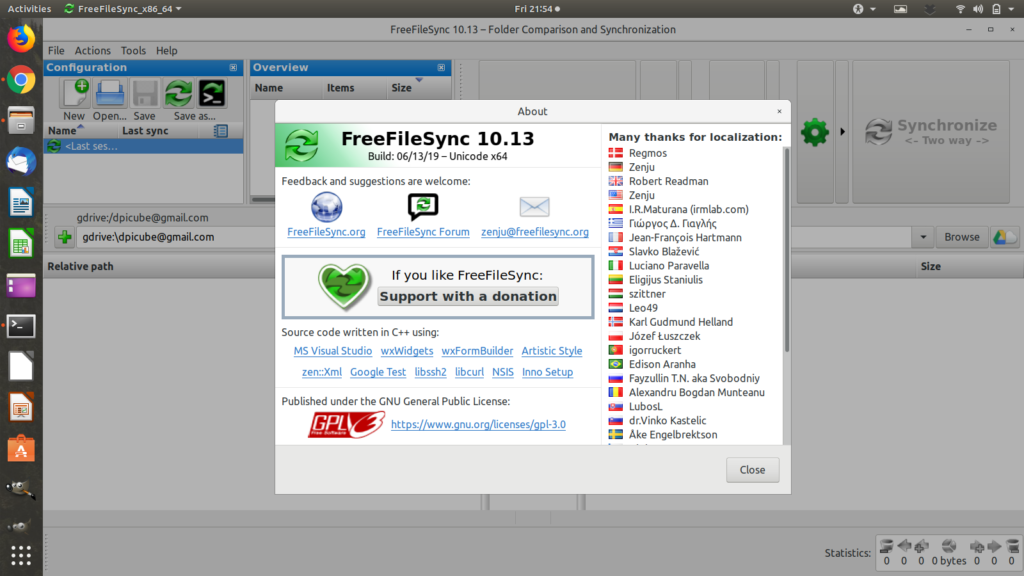 For Ubuntu, Linux Mint and other distros, you can download the compressed tar file from above link. Once downloaded, you can extract and execute the prebuilt binary. No need to install anything.
References
Using Mastodon? Follow us at floss.social/@debugpoint