Firefox recently released version 46.0 with feature updates and enhancements.
This Firefox release comes with GTK3 integration for Linux systems (desktops). This release also brings improved security in JavaScript Just In Time (JIT) compiler, supports are added for HKDF – Web Crypo API.
Developers can now display dominator trees in memory tool, allocation and garbage collection pause profiling in performance panel and directly launch responsive mode from style editor.
This release also fixes various security issues, screen reader issues for Google Docs.
This release should be available to all major release channels shortly. However if you want to grab it now, follow below steps.
Install Firefox 46.0 in Ubuntu (including 16.04 LTS Xenial Xerus), Linux Mint
Download the tar files using below links
Firefox 46.0 (64 bit) Firefox 46.0 (32 bit)
Extract the files.
Run the file "firefox".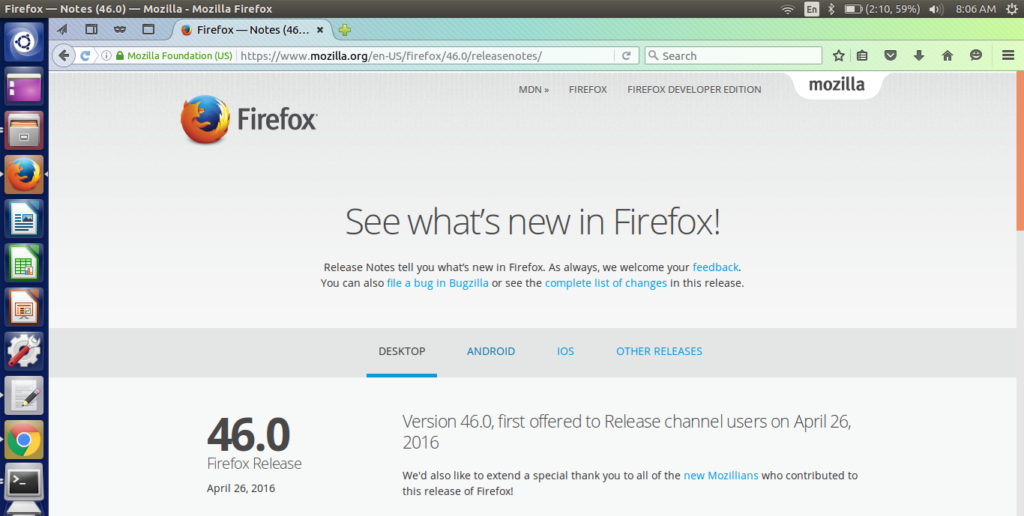 Via Firefox
Using Mastodon? Follow us at floss.social/@debugpoint