This tutorial would show you how to add show desktop feature in Ubuntu.
Show desktop feature dropped from Ubuntu during transition to GNOME 3 desktop environment. However, you can still create a desktop shortcut add it to the Panel, Dock.
Typically, when you press Super+d or CTRL+Alt+d – all the opened windows become minimized or restored. This following method can help you to do that.
Steps to Add Show Desktop Icon
Open terminal and run below commands to install xdotool.
sudo apt install xdotool
Create a .desktop file, named show-desktop.desktop – using below commands.
gedit ~/.local/share/applications/show-desktop.desktop

In the file, copy below entries and paste.
[Desktop Entry]
Type=Application
Name=Show Desktop
Icon=desktop
Exec=xdotool key --clearmodifiers Super+d

Save and close gedit.
Now search the show desktop in application search and right click -> Add to favourites to add it in the dock.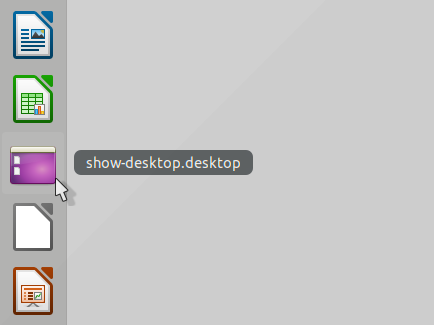 Now you would be able to use the icon to minimize all the open windows and show the desktop.
Note: Above steps will not work on Ubuntu on Wayland sessions as the xdotool simulates X11 mouse and keyboard events. 
Using Mastodon? Follow us at floss.social/@debugpoint