Linux Feed Reader a.k.a Liferea is a simple feed reader with all needed features available in Ubuntu.
Feature summary of Liferea:
Import and export of OPML files
Searching inside feeds
Grouping of feeds by folders
View change
Font size control
Bulk Refresh
Play Podcasts
Read articles when offline
How to install
To install Liferea stable version run below command from terminal:
sudo apt-get install liferea
Run
Search for 'liferea' from dash.
Or, Applications -> Internet -> Liferea Feed Reader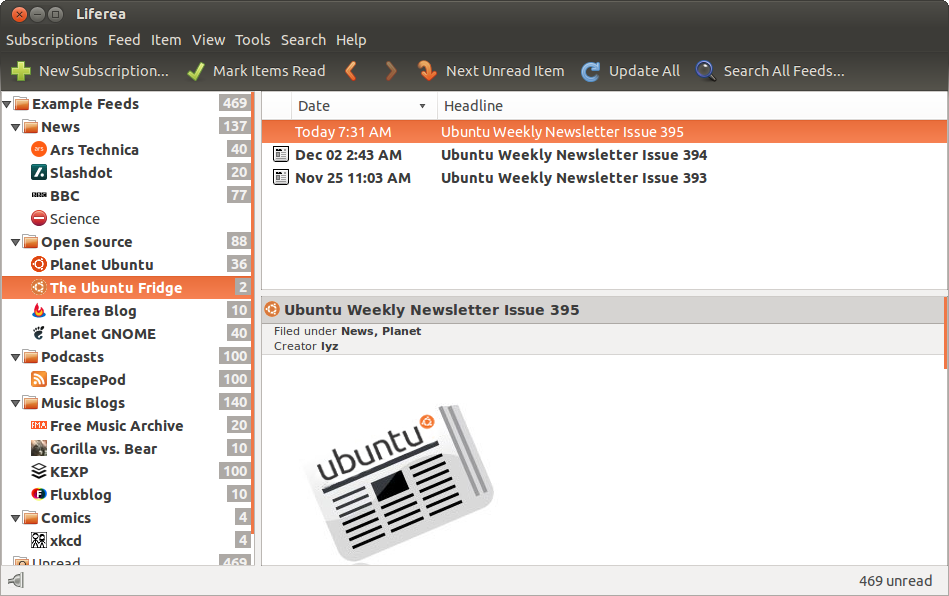 How to uninstall Liferea
To uninstall Liferea run below command from terminal:
sudo apt-get remove liferea
Official Links
lzone.de/liferea
Source: github.com/lwindolf/liferea
Image Credits
Liferea Screenshot, Logo Credit: Liferea
Ubuntu Logo: Canonical
---
We bring the latest tech, software news and stuff that matters. Stay in touch via Telegram, Twitter, YouTube, and Facebook and never miss an update!

Subscribe to Blog via Email