LMMS 1.2.0 released after long 4 years with huge updates.
LMMS, the one of the best Digital Audio Workstation, music creation app out there – comes with a 1.2.0 release after 4 years of development. This free and open source music creation software is having a nice UI and neat features which gives an edge to the audio, music creators.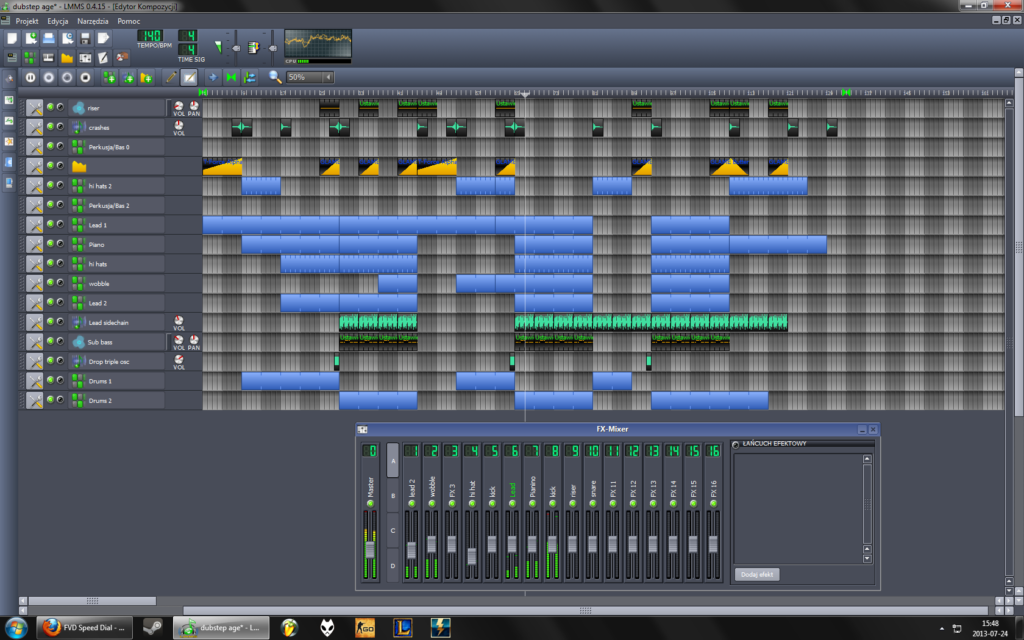 LMMS comes with a rich list of features catering to various segments of music creation. Here's a quick rundown on the LMMS features directly from official page for your reference:
LMMS Feature Highlights
Sequence, compose, mix and automate songs in one simple interface
Note playback via MIDI or typing keyboard
Consolidate instrument tracks using Beat+Bassline Editor
Fine tune patterns, notes, chords and melodies using Piano Roll Editor
Full user-defined track-based automation and computer-controlled automation sources
Import of MIDI files and Hydrogen project files
Built-in 64-bit VST instrument support with 32-bit VST bridge (64-bit Windows)
16 built in synthesizers, including emultations of Roland ® TB-303, Commodore 64 ® SID microchip, Nintendo ® NES and GameBoy, Yamaha ® OPL2 chip and more
Embedded ZynAddSubFx: Polyphonic, mutlitimbral, microtonal, multi-voice additive, subtractive and pad synthesis all in one powerful plugin
Native multisample support for SoundFont ® (SF2), Giga (GIG) and Gravis UltraSound ® (GUS) formats for high quality instrument patches and banks
Drop-in LADSPA plug-in support
Drop-in VST ® effect plug-in support (Linux and Windows)
Built-in compressor, limiter, delay, reverb, distortion and bass enhancer
Bundled graphic and parametric equalizers
Built-in visualization/spectrum analyzer
Changes in LMMS 1.2.0
A huge list of changes is packed in this release of LMMS. You can refer the details here. Here is a quick summary of the improvements, bug fixes:
DrumSynth: Make the parsing logic safer
macOS: Disable soundio on for stability
Allow sample track clips to be resized smaller than one bar
Don't require X11Extras on Linux when VSTs are disabled
Allow recording chords directly from the piano-roll
Fix more issues with ZynAddSubFX and/or VSTs related to automation
Better default sounds for Nescaline and Freeboy
macOS: Add shortcuts for inserting bars, deleting bars and deleting notes on Apple keyboard
AudioFileProcessor: Better tooltip for ping-pong loop
VST: Add VST always-on-top config option
VST: Ensure VST windows show properly in taskbar
VST: Don't show error when loading empty VeSTige instance
Equalizer: Fix spectrum window formula
Equalizer: Use brighter and more opaque colors for the spectrum view
Don't draw note detuning info over the volume/panning area
Fix hanging cursor in piano-roll
Update splash screen
AppImage: Fix JACK detection
Download LMMS 1.2.0
LMMS is available for Linux, Windows and MacOS.
LMMS is available as standalone executable with all dependencies as AppImage which can run on Ubuntu, Linux Mint and other distributions. You can download the 64-bit AppImage using below link.
Once downloaded, you can set executable permission and double click to run.
You can also get the Windows and MacOS installers here.
Using Mastodon? Follow us at floss.social/@debugpoint