The free office suite, LibreOffice 4.4 released with significant UI advancement and changes caters throughout modules Writer, Calc, Impress and Draw, Math etc. Most dialogs are converted and redesigned list is pretty high. Menu bars, context menus, toolbars, status bars are changed. Color selector is improved and all the changes are coinciding with UI trends.

From the official TDF blog, these are improvements over other areas:
Support of OpenGL transitions in Windows, and improved implementation based on the new OpenGL framework
Digital signing of PDF files during the export process
Installation of free fonts Carlito and Caladea to replace proprietary Microsoft C-Fonts Calibri and Cambria, to get rid of font related issues while opening OOXML files
Addition of several new default templates, designed by volunteers
Visual editing of Impress master pages, to remove unwanted elements, adding or hiding a level to the outline numbering, and toggling bullets on or off
Better Track Changes – with new buttons in the Track Changes toolbar – and AutoCorrect features in Writer
Improved import filters for Microsoft Visio, Microsoft Publisher and AbiWord files, and Microsoft Works spreadsheets
New import filters for Adobe Pagemaker, MacDraw, MacDraw II and RagTime for Mac
Greatly expanded support for media capabilities on each platform
Entire list of release notes available here.
Download LibreOffice 4.4
To download LibreOffice 4.4 for your Linux Distribution, visit download page.
libreoffice.org/download
Some of the UI improvements
[photo courtesy – wiki.documentfoundation.org]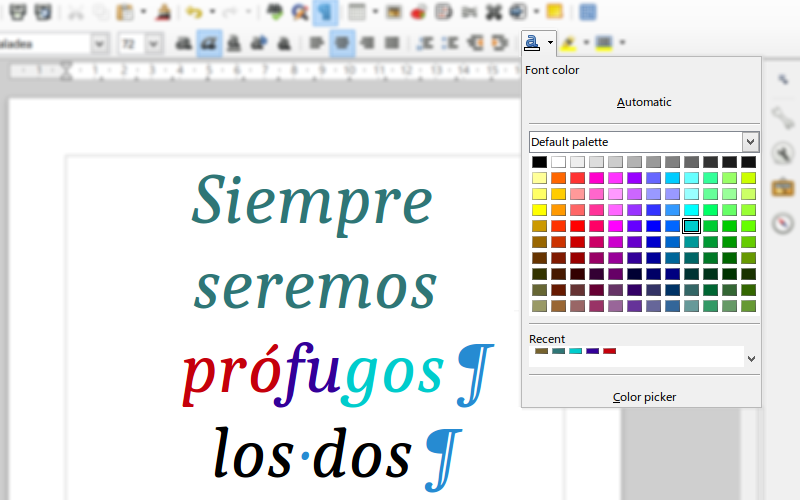 Using Mastodon? Follow us at floss.social/@debugpoint