Here are the steps for you to Upgrade to Ubuntu 20.04 From Ubuntu 18.04 and 19.10.
Ubuntu 20.04 LTS "Focal Fossa" is scheduled to be released on April 23, 2020. It brings many improvements, new features and many more.
Before you upgrade, understand that Ubuntu 20.04 is still beta as of writing this. And might contains bugs. So be cautious while upgrading. If you don't want to take the chance, wait until April 23 for the final release.
As always, before you upgrade any Linux distributions, as a best practice follow the below steps.
Steps to follow before the upgrade
Backup your home directory, pictures, videos or any other personal files.
Keep a live USB with Ubuntu ready just in case you can log in via GRUB.
If it's an old installation, make sure to sync your bookmarks in the browser, keep a note of extra software that you have installed.
Do a mandatory run of the below commands via terminal –
sudo apt update
sudo apt upgrade
And do a reboot.
If you are all set, follow the below instructions to start the upgrade process.
Upgrade to Ubuntu 20.04 from Ubuntu 18.04
Before Release Day
If you want to upgrade to Ubuntu 20.04 before April 23, 2020 – open up a terminal and run the below command.
sudo do-release-upgrade -d
The command will overwrite your system apt list with "focal" branches to get the new packages. It will also disable any third-party PPAs you would have added to your system.
The above command might take some time depending on your internet connection, so be patient. And proceed as per on-screen instructions.
In case you cancel the upgrade, remember that you have to manually enable the third part PPAs.
If you proceed with the upgrade, keep a watch on the screen for occasional Y / N entry confirmation for overwriting packages.
Once the update is complete, do a reboot and enjoy the fresh Ubuntu 20.04 LTS Focal Fossa.
On or After release day
On the day or after April 23, you will not see an automatic prompt to upgrade to 20.04 until the first point release of Focal Fossa i.e. 20.04.1 until July 2020.
So, if you want to force it, open Software and Updates, go to Updates tab and change "notify me of new ubuntu version" to "any new version".
And you should receive a prompt for the upgrade. follow the upgrade process as instructed on the screen.
The upgrade process might take some time, keep a watch on the screen for Y / N entry if required.
Once the upgrade is finished, reboot and enjoy the new Focal Fossa.
Upgrade to Ubuntu 20.04 from Ubuntu 19.10
Before Release day
To upgrade from Ubuntu 19.10 to Ubuntu 20.04 LTS, open the terminal and run the below command.
sudo do-release-upgrade -d
This will disable all third-party PPAs which you might have added to your system and replace your apt list with focal branches.
After the above command completes it would prompt for your confirmation on the upgrade process. If you discontinue the upgrade process, you have to manually enable the 19.10 eoan repositories.
On of after release day
The built-in Ubuntu Software Updater tool will prompt you that a new stable version of Ubuntu is available after the release day which is Apr 23, 2020.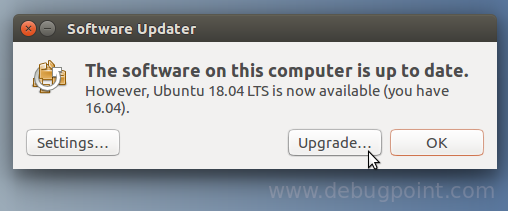 The prompt appearance depends on a number of reasons, in case it is not coming up. So wait for a day or two after release and you should definitely get the option to upgrade.
Using Mastodon? Follow us at floss.social/@debugpoint