Here's couple of things we recommend you can do after installing Ubuntu 19.10 "Eoan Ermine".
The all new Ubuntu 19.10 "Eoan Ermine" is released and we covered the highlights/new features and also featured how to upgrade to the latest Ubuntu 19.10 "Eoan Ermine".
Like all prior Ubuntu releases, we recommend users some curated tips which you can do right after installation. Whether you are a new user trying Ubuntu for the first time, or an advanced users – we feel that all these tips can be useful for all users.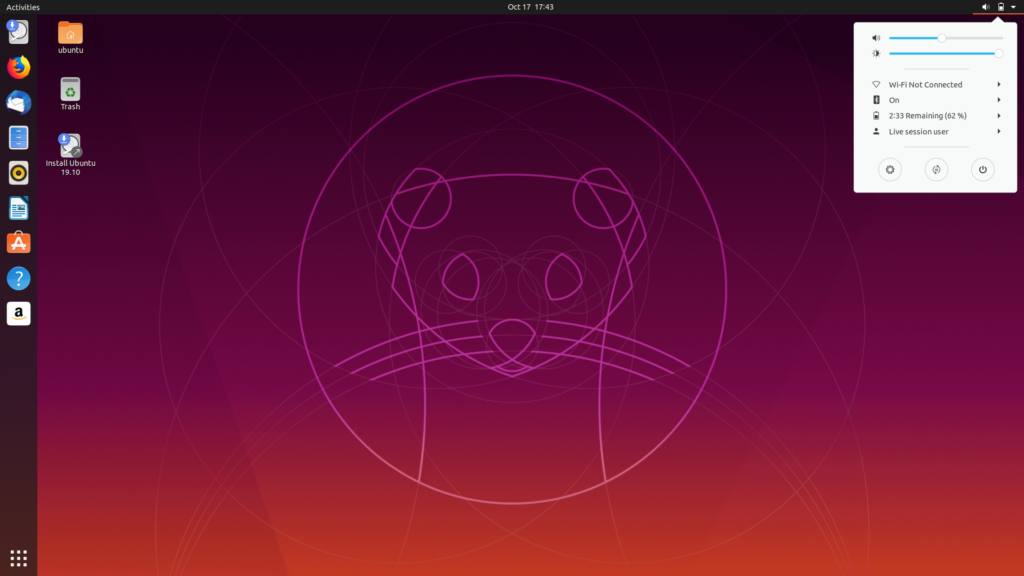 Here's 10 things you can do post Ubuntu 19.10 "Eoan Ermine" installation.
10 Things to do After Installing Ubuntu 19.10 "Eoan Ermine"
1. Check for updates
The first thing everyone should do after installation is to check for updates. Before you start using your system, configure it, start installing software – you should make sure your system is up to date.
Open terminal (CTRL+ALT+T) and run below command:
sudo apt update && sudo apt upgrade
Once the update and upgrade is finished, it is recommended to do a reboot.
2. Choose your favorite browser
Ubuntu 19.10 "Eoan Ermine" comes with latest Firefox browser which is more than sufficient for most of the users. However, if you use lots of Google services you may want to try Google Chrome. You can download and install Google Chrome (deb files) directly from here.
We do not recommend to use Chromium as it comes as snap package which itself slow systems down.
Alternatively, you can also try also Vivaldi browser.
3. Install Video Codecs
While installing Ubuntu, if you have not selected to install the restricted software to play audio and video media files, you can do it now. GNOME default Video play can not play the basic mp4 etc files without restricted software.
So, to install them open terminal and run below command to install.
sudo apt install ubuntu-restricted-extras
You can now play most video/audio files without any problem in Ubuntu. If you need alternate video player follow next tip.
4. Install necessary software
Fresh install of Ubuntu provides all basic applications which most of the users need and can be sufficient. However, there are plenty of free and open source applications out there which is not included by default in GNOME desktop. Here's a list of applications which you should be installing (if you like) from Ubuntu Software.
GIMP – Advanced photo editor
VLC – Media play that plays anything without the need of additional codecs
Shutter – screenshot tool, and quick image editor
Google Chrome – Browser for google users.
Leafpad – A notepad replacement. We think GEdit is heavy.
5. Install GNOME Tweak
You obviously want to install new themes, icons and give your Ubuntu a new look – be it with Paper theme, light theme or dark theme. For easy theme management and other settings tweaking you need GNOME Tweak. It makes life easy for changing system configurations. To install GNOME tweaks – run below command from terminal.
sudo apt install gnome-tweak-tool
6. Configure Mail client
Though emails are now browser based, still a native email client is often needed for heavy users. You can configure the default email client – Thunderbird which supports most of the popular email protocols and providers. Simply open Thunderbird and follow the on-screen instructions to add an account.
Alternatively, if you do not like Thunderbird and try to check out options – you can read our list of top free native desktop email client list and choose your favorite.
7. Timeshift
Backup is important. If you are thinking to use your Ubuntu installation for sometime with heavy usage, you might consider creating system restore points. Which you can do it via free utility called timeshift. Timeshift makes it very easy to create system checkpoints and restore them to any created restore point. This helps in a way if you managed to break your system with incorrect software installation.
To install Timeshift via PPA, open terminal and run below commands:
sudo add-apt-repository -y ppa:teejee2008/ppa
sudo apt-get update
sudo apt-get install timeshift
8. Explore new features of GNOME
GNOME 3.34 is the default desktop environment for Ubuntu 19.10. GNOME 3.34 comes with a heavy list of new features such as app folders where you can group icons,
You can explore the what's new of GNOME 3.34 and try it out for yourself.
9. Opt In/Opt Out from data collection
If you are a privacy concerned person, this tip is for you. Users data about their usage habits, running hardware info are invaluable for companies for targeted ads and improving operating system for future. You can tun some settings off to stop data usage collection.
Open settings and click on Privacy tab. Turn off location Services, usage history.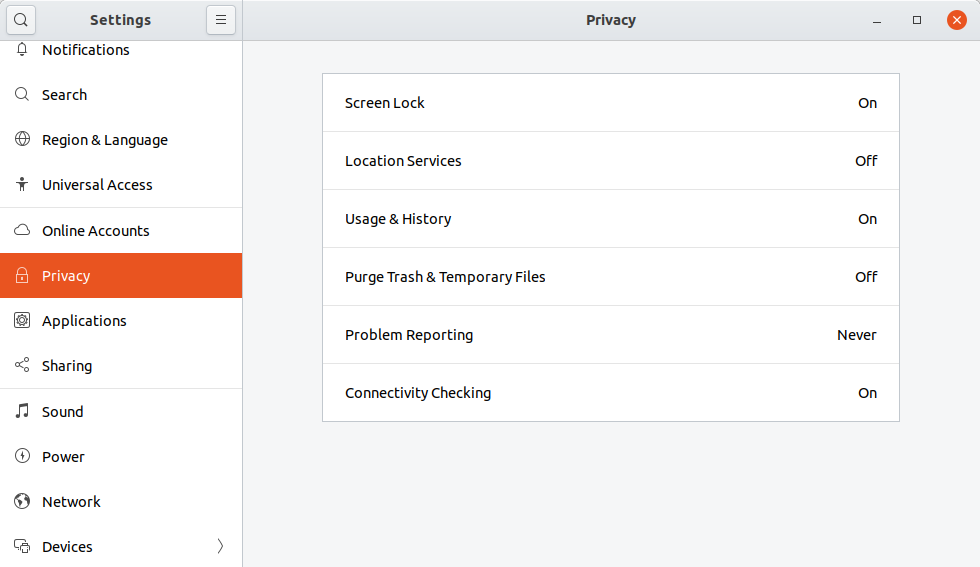 10. Configure KB shortcuts
You may want to configure Keyboard shortcuts to boost up your productivity.
Though this list is not comprehensive, it might give you some useful tips to get started. Let us know what is your list of items which you normally do after installing a fresh Linux OS in the comment box below.
Using Mastodon? Follow us at floss.social/@debugpoint