A fresh list of the best GNOME extensions for you and your friends!
GNOME is known for its sleek and user-friendly design; with extensions, you can take it a step further. These extensions are like plugins that enhance various aspects of your desktop environment. Let's dive into the top 20 GNOME extensions that cater to different needs and preferences.
All the following GNOME extensions require initial setup for Ubuntu, Fedora and other distributions. You can refer to this guide for the initial setup. Alternatively, you can use the Extension Manager app to download and install these with just a click!
flatpak install flathub com.mattjakeman.ExtensionManager
flatpak run com.mattjakeman.ExtensionManager
Best GNOME Extensions in 2023 (for everyone)
Blur My Shell
You can install ' Blur My Shell ' to achieve the ultimate blur effect on your GNOME desktop. As its name suggests, this extension is designed to blur the application overview screen, application view, and the default top panels.
Moreover, you'll be delighted to know that this incredible extension gives you complete control over the blur intensity and brightness settings. And that's not all! With the amazing Dash to Dock (featured below) extension, you can make your dock appear beautifully blurred!
Here's a side-by-side view of how it looks without blur and with blur effects.
You can download and install it from the official page.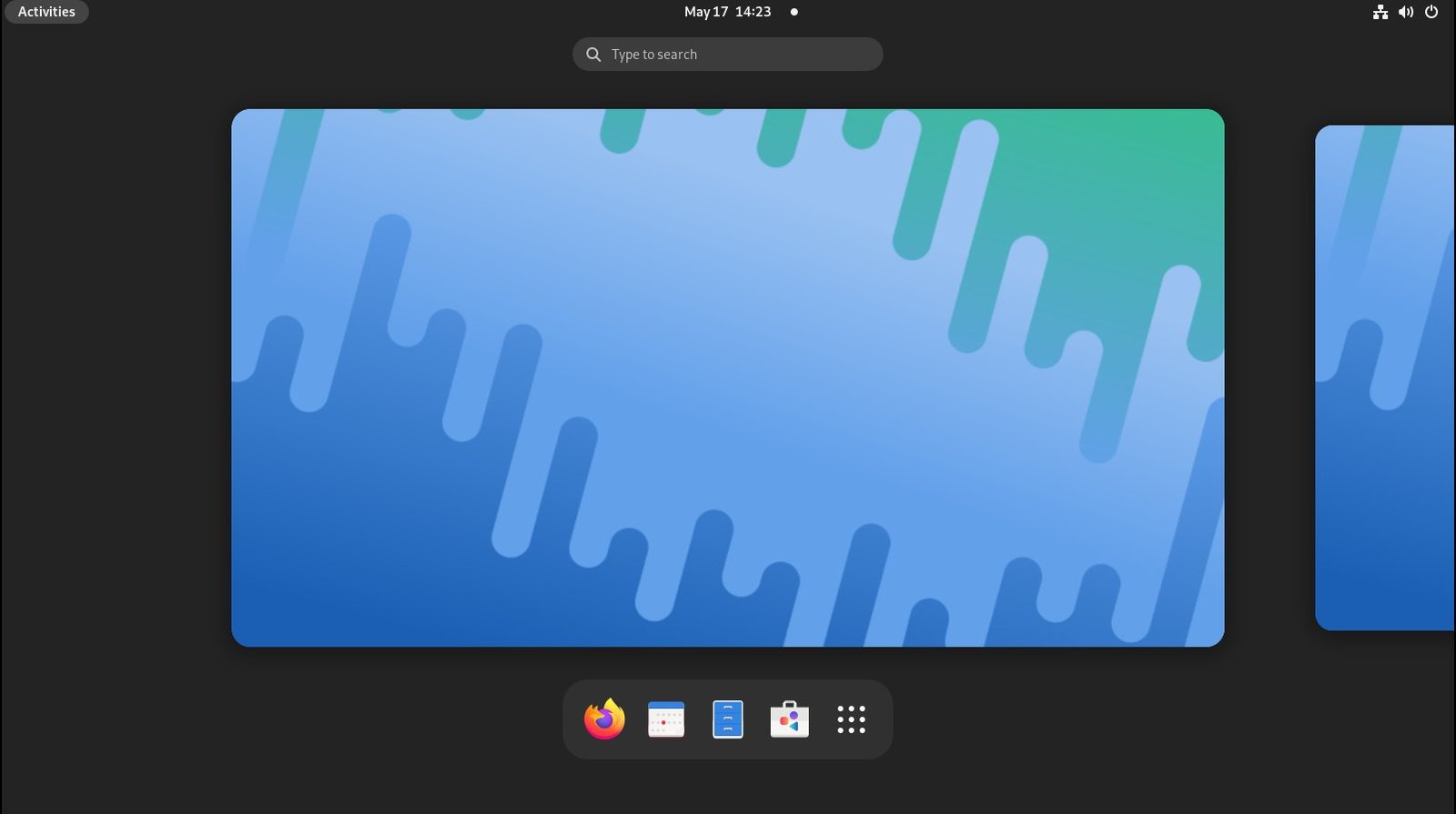 Dash to Panel
The second item on this list is the popular "Dash to Panel" extension, which offers a fixed panel for the GNOME desktop that merges the default dock and top panel. This extension is crucial for the GNOME desktop as it provides greater flexibility in your workflow. You can customize the panel in many ways, including its position, colour, transparency, size, and more, allowing you to achieve any desired look.
One of the best GNOME extensions, and you can download it from here.
Arc Menu
The Arc Menu GNOME Extension is a popular tool that allows users to access a traditional desktop menu from the modern GNOME desktop panel. It organizes menu items into categories and displays installed applications on your system. Arc Menu is considered one of the best GNOME Extensions and is highly recommended for all workflows.
The GNOME activities overview shortcut is a helpful feature. Additionally, Arc Menu provides a search bar that activates when you start typing, making navigation easier. Furthermore, Arc Menu also includes a menu at the bottom with options to log out, restart, lock, and power off.
You can download the Arc menu from this page.
Dash to dock
If you're a GNOME Shell fan, you'll want to check out the Dash to Dock extension. With this handy extension, you can transform the default dash into a dock, making it super easy to launch your favourite applications and switch between windows and workspaces without leaving your desktop view.
This can do wonders for your productivity! Plus, the extension offers some awesome features like autohide and intellihide modes and a fixed mode. And if you like to customize your stuff, you can tweak even more settings in the extension options. Best of all, the extension works with all kinds of different themes. Give it a try!
You can download it here.
Floating Dock
Looking for a unique type of dock for your GNOME desktop? Consider trying out Floating Dock, which lives up to its name by creating a dock that floats on your desktop. Plus, you can easily move it around using the drag handle.
An exciting feature of this extension is the option to change the direction in which the dock pops out. You have complete control and can effortlessly expand the dock towards the right side using the context menu, which can be accessed by simply right-clicking on the dock handle.
You can download it here: Floating Dock
Gnome 4x UI Improvements
Check out this awesome extension for your GNOME desktop. It has many cool tweaks that'll make your UI experience way better. With the GNOME 4x UI Improvements, you can do all of the following:
Hide the application view search bar.
Increase the desktop thumbnail scale in the overview.
Change the desktop thumbnail background.
Hide the thumbnail when there is only one workspace.
And display Firefox PIP (picture in picture) window in the overview!
These are neat features that give a cleaner look to the GNOME desktop.
Here is a side-by-side view of the extension with all its options enabled (before and after).
You can download it from this page.
OpenWeather
If you're looking for a way to easily check the weather for any place on our planet, the OpenWeather extension is here to help! It's a user-friendly tool that you can use right from your GNOME Shell. You can even customize it by adding and naming multiple locations or using coordinates. Plus, the extension looks great and has other useful features.
It's one of the best and simple weather extensions for GNOME desktop.
You can download it on this page.
Desktop Icons NG (DING)
I know some folks want icons on desktops.
If you're someone who likes having icons on your desktop and knows how to manage them, then you'll love this extension! It restores your original desktop icons and lets you drag and drop them wherever you like. And if you want to customize the size, alignment, or any other features of your icons, it's easy to do. Check out the example below to see how it works.
One of the best extensions that are available today. You can download it from this page.
Transparent Top Bar
The first extension in this list makes the top bar transparent. Making it transparent actually gives a whole new vibe to the amazing GNOME desktop.
The extension also allows you to change the transparency settings – from 0 to 100%. Choose what you feel like. In addition, you can also set the top bar to become opaque when a window edge touches it.
To install, search "transparent top bar" in the Extensions app.
GSConnect
GSConnect is a fully functional version of the KDE Connect app. It enables you to link your Android device to your GNOME desktop so that you can receive alerts and notifications. GSConnect also integrates smoothly with Nautilus, Google Chrome, and Firefox. Additionally, with GSConnect, you can remotely control your Android phone, share your clipboard, reply to SMS messages, and enjoy many other useful features.
One of the must-have Extensions for productive work. Download it from this page.
Clipboard Indicator
Are you looking for a reliable Clipboard history tool for your GNOME system? Look no further than the Clipboard Indicator! This top-rated GNOME Extension keeps a running record of your Clipboard history, making it a great choice for all your important tasks. You can customize the number of items on your list, set refresh intervals, and easily clear your history. Check out the image below for more insights.
You can try it here: Clipboard Indicator.
Just Another Search Bar
With "Just Another Search Bar," the next extension on this list, you can directly search Google and other search engines right from the top bar. Once enabled, a small search icon appears at the top bar, which opens a small text box where you can enter your search query. Your default browser will then launch with the search results. You also have the option to select your preferred search engine from Google, Yandex, Baidu, and recoll.
To install, search "just another search bar" in the Extensions app.
Vitals
With Vitals, you can easily monitor your system's hardware metrics right from your system tray. Keep an eye on important readings such as temperature, voltage, fan speed, and storage utilization. Plus, you have the ability to customize the position of the Vitals menu and adjust the refresh rate to your liking.
It's a "good to have" extension. You can download it here.
Tray Icons: Reloaded
Tray Icons Reloaded is a GNOME Shell extension which brings Tray Icons back to the top panel, with additional features. You can now access all your favourite apps right from the top bar. However, if you enable it, make sure you disable other extensions such as AppIndiactor etc.
You can download it here.
Quick Settings Tweaker
If you install this extension, you can personalize your Quick settings menu with lots of cool options. You'll get extra controls for adjusting the volume, a special section just for notifications (separate from the calendar), and an easy way to activate "do not disturb" mode.
Furthermore, you have the option to choose your audio input and output directly without having to navigate to the settings window. In case you require it, you can also access the settings from this location.
When playing media, the media control widgets are accessible, even when using a streaming platform within the browser. If you find the number of buttons overwhelming, you have the option to remove specific ones. Furthermore, the notification window can be separated from the quick settings menu, as demonstrated below.
You can download and install from this page.
Espresso
Do you know about Espresso? It's a really cool extension that can help you save energy and prevent your screen from going to sleep. Plus, it even has an option to add a little icon to your top panel! With Espresso, you can also set it to activate automatically when you're using a full-screen application or during certain apps. And if you're using a docking station, Espresso can even be set to activate when you're charging or docked with external monitors. It's super flexible and convenient!
You can download it on this page.
Net Speed Simplified
Net Speed Simplified is a GNOME extension designed to display your upload and download speeds conveniently on the top panel of your screen. Its features include a clean user interface, the ability to adjust refresh rates, a preferences menu for easy management, support for vertical alignment, and a choice between two different icon sets for indicators.
You can download it on this page.
Coverflow Alt-Tab
I recently discovered this cool extension for GNOME called Coverflow Alt-Tab. It's an Alt-Tab replacement that lets you navigate through your open windows in a really sleek and intuitive way. Essentially, it displays your windows in a cover-flow style, making it super easy to find the one you're looking for. I was really impressed with how smooth and responsive it was, and I think it's a great alternative to the standard Alt-Tab functionality.
You can download it on this page.
Just Perfection
If you want one extension which does most of the tweaks, then "Just Perfection" is the winner.
"Just Perfection" is a comprehensive tweak tool for customizing the GNOME Shell interface. It allows users to modify behaviour and disable various UI elements. The tool provides control over a wide range of settings, including:
Visibility of the Accessibility Menu
Visibility of Activities Button Icon
Visibility of Activities Button
Size of Alt-Tab Icons
Size of Alt-Tab Window Previews
Size of Alt-Tab Window Previews
Workspace Switcher visibility on Dynamic Workspaces (version 40-44)
Animation Speed or Disabling it
However, it might not work well with other extensions which conflict with the settings. So before using, make sure you are not using any other extensions which might have the same tweaks.
You can download it on this page.
Frippery Move Clock
"Frippery Move Clock" is a GNOME extension that allows you to reposition the clock on the top bar. By default, GNOME places the clock in the middle of the top bar, but you can move it to the right side with this extension. The new placement will be to the left of the current status bar. This extension offers a simple way to adjust the clock's location according to your preference.
You can download it on this page.
Closing notes
That's a wrap.
These 20 GNOME extensions bring an abundance of features and functionalities to your Linux desktop, transforming it into a tailored and efficient workspace. From streamlining your workflow to enhancing visual appeal, these extensions cater to a wide range of preferences.
I hope this list is sufficient for most of the users' use cases.
What is that extension which you want to be featured on this list? Let me know in the comment box below!