We reviewed the recently released Bodhi Linux 7.0, and here's what we found.
The much anticipated Bodhi Linux 7.0 is released after a long development cycle. This release promises a wonderful desktop experience and is made possible by a small team of developers, including support from the community.
Let's have a deep dive into this release while highlighting the features.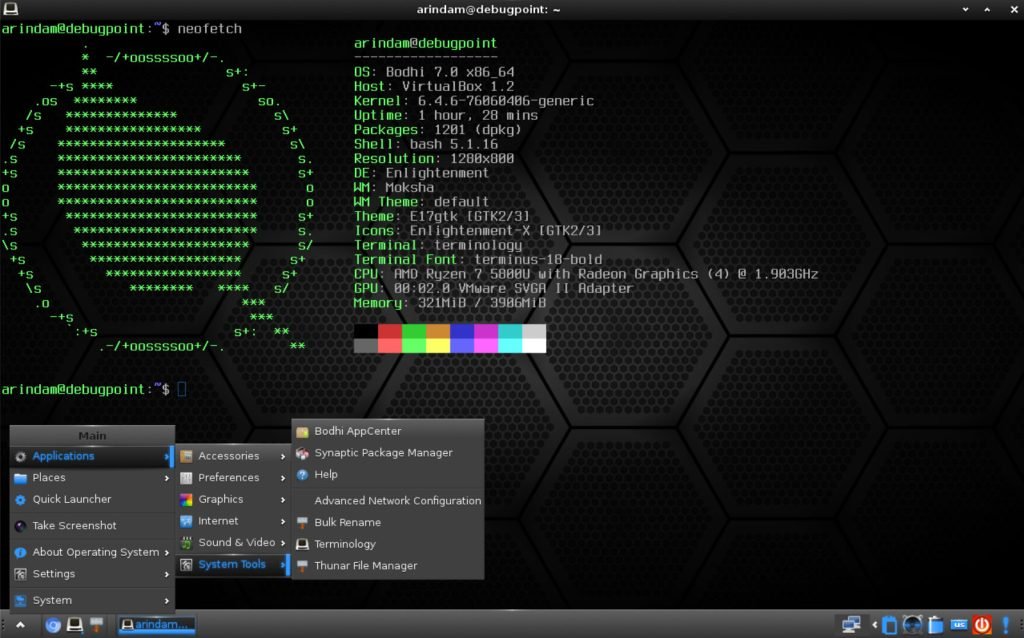 Bodhi Linux 7.0: Review
New introduction of "s76" ISO file
One of the major changes in this release is the introduction of two variants of installer files. The standard version comes with Kernel 5.15, which is per the Ubuntu 22.04.2 LTS base. Another new ISO is also available called "s76", which features more recent Kernel 6.4 for users who wants the latest and greatest hardware support.
Both the ISOs are almost the same in size, and installation is no different.
Installation
Bodhi Linux 7.0 uses Ubuntu's Ubiquity installer. During installation in VirtualBox virtual machine during our test, it went fine. However, if you are installing it in a physical system, you should know that GRUB's os-prober isn't being used to detect other bootable partitions as a security measure.
This means that any systems on those partitions won't be added to the GRUB boot configuration. However, if you do need to enable os-prober, you can check out the GRUB_DISABLE_OS_PROBER documentation for more info.
First impression with the new Plymouth and greater changes
First impressions matter, and Bodhi Linux 7.0 makes a striking statement with its revamped login experience. An upgraded slick greeter accompanied by a password reveal feature promises a sleeker, more secure login process. Complementing this enhancement is a new Plymouth theme that envelops your Linux journey in style and sophistication.
Look and Feel
Not to mention the fluidity of the Moksha desktop powered by the Enlightenment Foundation library is one of the unique features of Bodhi Linux. Despite the animation and custom looks, the Moksha desktop is lightweight in nature and very fast. It even works well on older hardware.
That said, when you first boot, you should see the standard desktop with the default bottom panel, system tray, and clock widget at the desktop with four default workspaces.
The left click brings up the main context menu for easy access to most of the settings & applications of Bodhi Linux.
The default EFL theme is now replaced by the green-tinted Moksha-green theme, and it looks stunning. It is paired with new wallpaper and a splash which gives you a nice feel while using the desktop.
A new GTK theme and icon set are also created for MokshaGreen, and a few new GTK themes have been added.
Applications
A well-crafted user interface is the cornerstone of any Linux distribution, and Bodhi Linux 7.0 takes this to heart. The updates to the Enlightenment Foundation Library 1.26.99 and Terminology 1.13 contribute to a polished and refined interaction with your system. Navigating through your tasks becomes a pleasure, elevating your daily workflow.
The terminology terminal looks stunning with the background and animated cursors with a fade-in/out theme.
The Chromium 115 browser ensures your online adventures remain safe and secure on the web front, providing peace of mind in your digital explorations. While Chromium is installed by default, a new browser manager application is introduced, which enables you to install Firefox and other browsers with just a click of a button.
On the installation front, Bodhi Linux 7.0 brings Synaptic package manager, making it easy to install and uninstall software in your system. Alternatively, you can also use the web-based Bodhi Linux App Center, which presents a curated & categorised app centre.
The default application list includes the following:
Chromium 115
Thunar file manager 4.16
Leafpad text editor
Engrampa archive manager
ePhoto photo viewer
Terminology terminal
Python 3.10
Synaptic package manager
Overall, the application list is minimal. If needed, you can install additional software. This also contributed to the smaller ISO size.
LibreOffice or any media player is not installed by default.
Performance
Being a lightweight Linux distribution, the performance of Bodhi Linux 7.0 is impressive. Much of the credit goes to the EFL and Ubuntu 22.04 LTS base.
In VirtualBox, at idle, it uses 650 MB of RAM, and the CPU is at ~1%.
When you open more applications, the performance increases accordingly.
It uses 7.9 GB of disk space for default installation.
Verdict & Conclusion
So, in a nutshell, Bodhi Linux 7.0 & EFL is just amazing. It's got something for everyone who wants top-notch performance and a sleek interface. The 's76′ ISO, auto kernel updates, better login experience, and all-around improvements are a testament to the developers' hard work.
Whether you're a Linux newbie or an old hand, Bodhi Linux 7.0 is the way for a speedy, stylish, secure experience. It's one of the best distros available today, not featuring GNOME/KDE/Xfce/LXQt or any WM.
Download Bodhi Linux from the official website.
What is your opinion about this release? Let me know in the comment box below.
Using Mastodon? Follow us at floss.social/@debugpoint