Cool Reader is a XML/CSS based e-book reader for GNU/Linux, Ubuntu capable to reading all major e-book formats.

Cool Reader is a free and open-source software and available for all platforms including desktops and handheld devices.
Cool Reader Feature Highlights
e-book formats supported: FB2, TXT, RTF, DOC, TCR, HTML, EPUB, CHM, PDB, MOBI
Change Text, Font, Color and styles
Multiple skin, background color support
Fallback font support
Look and Feel Theme support
Page customization (multiple page view, color, spacing, margins)
CSS Stylesheet support to modify reading experience
How to Install
Ubuntu, Mint, elementary, Debian

To install Cool Reader 3.1.2-39 Ubuntu using terminal run below commands in sequence. Enter password when prompted.

sudo add-apt-repository ppa:vovansrnd/coolreader
sudo apt-get update
sudo apt-get install cr3

How to Use
Type Cool Reader in dash. Click the launcher icon.
For Gnome, find it under applications.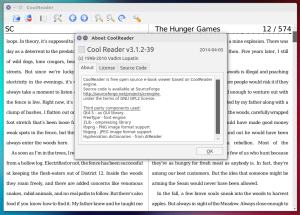 Cool Reader 3.1.2-39 Running in Ubuntu
Links
How to uninstall
To uninstall Cool Reader run below commands in terminal.

sudo apt-get remove cr3

To remove the ppa run below command from terminal:

sudo ppa-purge ppa:vovansrnd/coolreade

Image Credits
Cool Reader
Using Mastodon? Follow us at floss.social/@debugpoint