Coulr is a color picker app based on QT – an useful tool for web developers, designers. It recently released version 0.4.2.3 with bug fixes and updates.
Coulr 0.4.2.3 Feature Summary and bug fixes
Simple QT based interface
Four shades of color palette for chosen color
Option for choosing RGB, HSL and HSV using numeric values, bars
How to install – using Terminal
To install Coulr in Ubuntu using terminal run below commands in sequence. Enter password when prompted.

sudo add-apt-repository ppa:huluti/coulr
sudo apt-get update
sudo apt-get install coulr

Run
Type Coulr in dash. Click the launcher icon.
For Gnome, go to Applications -> Graphics -> Coulr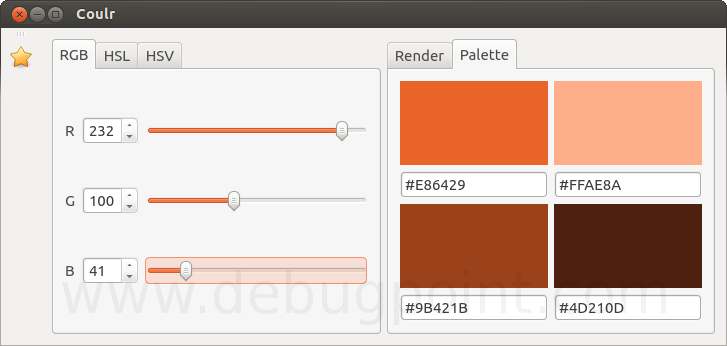 Links
Troubleshooting and Support
If you face any issues while installing or using Coulr, you may drop a note using comment section at the end of this article, Or you can post your query in any of the support channels mentioned below.
How to uninstall
To uninstall Coulr run below commands in terminal.

sudo apt-get remove coulr

Image Credits
Coulr
Using Mastodon? Follow us at floss.social/@debugpoint