The EndeavourOS team releases the latest version (2021.02) with many new features and improvements. We take a look at what's new and provide you the details.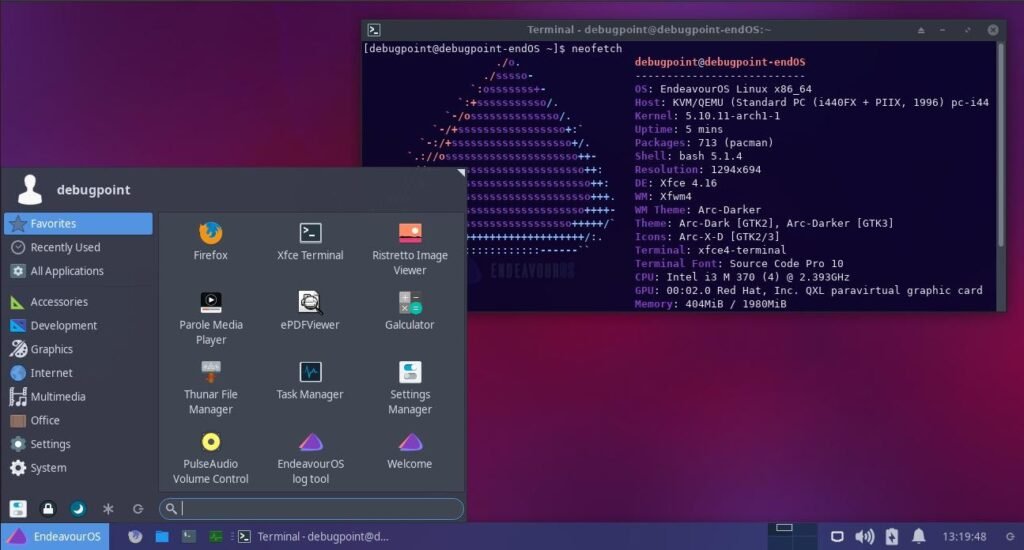 Everyone was waiting patiently for the EndeavourOS team to bring up the latest release. It was due for some time. While we waited, the team provided periodical updates about the progress and delay which is quite understandable for certain reasons. We saw many important releases such as Xfce 4.16, Linux Kernel 5.10 LTS which needed to be tested and adopted properly to this Arch based rolling release distro.
Its flagship desktop Xfce was earlier had Xfce 4.14 version and the new Xfce 4.16 required proper testing before releasing to the users.
Having said that, now we have the latest release out of the door for you to install or upgrade, let's take a look at what's new in Endeavor OS 2021.02.
EndeavourOS Release – 2021.02 – What's New
New Changes
The default wallpaper color theme changed in this release. Earlier it was a navy blue and green combination. Not it is a purple based wallpaper. This looks like the earlier Ubuntu theme color.
This release updates the Linux Kernel to 5.10.11 which is the latest LTS kernel. Linux Kernel 5.10 brings new hardware and device support across processors, GPU, interfaces, and ports.
A new theme and setup for i3 tiling window manager.
A single wallpaper for all the desktop flavors is introduced. earlier, there were different wallpapers for each desktop flavors.
The Welcome utility now has a pacdiff button that shows you the package differences after an update to your system.
The eos-update-notifier can now be scheduled with other options directly from the welcome utility.
A new utility UpdateInTerminal is introduced. This utility directly checks for updates in the terminal when the update-notifier is turned off. This opens up a terminal window and shows you the updates available. You do not need to run pacman -Syy or pacman -Syu separately. This is a super handy tool, I must say.
The eos-send log can send any text file from stdin to the internet for others to see. This is useful for new users who require help in forums.
Updates
During online install, the mirrors list is now updated automatically to active ones so that your installation doesn't get 404s while getting packages.
GVFS packages are now only installed for GTK based desktops.
And the Qt-based environments now get the Kio-fuse, Kio-drive, and audio cd-Kio installed by default.
An option added in welcome for live users to provide custom package URLs to download packages while installing the EndeavourOS.
The super helpful reflector-bash-completion is added by default to make your terminal life easy.
Xfce version is upgraded to Xfce 4.16 in this release which brings many new features such as removal of GTK2, new icons, workspace numbering, fractional scaling, etc. Check out the detailed feature highlights of Xfce 4.16 here.
With that, the respective default applications also updated to their stable versions – Firefox 85, Thunar 4.16, Parole 4.16.
Download
You can download the default Xfce flavor .iso from the below link. If you want to install other desktops, choose the online option while installing via the live installer.
After download, you may want to try writing on a USB Or, run it on a virtual machine.
Closing Notes
A while back when I reviewed EndeavourOS, I mentioned that it is the perfect blend of Arch-based, beginner's friendly, lightweight Linux distribution. It is not bloated with too many applications like other Arch-based distributions. Now we have the latest Xfce 4.16 and many new features with this release. This is bound to onboard many new users to this Linux distribution. What I like about EndeavorOS is the super friendly installer, latest rolling packages, and most importantly a very friendly and supportive community. The help is just a message away from its forum or official telegram channel. So, if you have not checked it out yet, I would recommend you to go ahead, download the latest .iso, and try via USB or virtual machine. You won't be disappointed.
That said, another good release from the team, and with this, work on more improvements and features begins for the next 'endeavor'.
Cheers.
Using Mastodon? Follow us at floss.social/@debugpoint