FileBot is the best utility for renaming your movies, tv shows or anime and even downloading subtitles.
FileBot is an intelligent utility with a super efficient UI which is streamlined for simplicity. It also has a full-featured command line interface and scripting engine for automation/batch renaming of files.
Its intelligent engine can auto-detect file names and searched best name for multiple TV series/movie files. You can also specify from which source it can refer for the names.

For subtitles, it refers opensubtitles and multiple language is also supported.
Quick Feature List
A simple user-interface tuned for drag-n-drop
Rename hundreds of media files in a matter of seconds
Match movies against TheMovieDB data
Match episodes against TheTVDB data
Match music against MusicBrainz data using AcoustID
Download subtitles from OpenSubtitles
Upload subtitles to OpenSubtitles
Easily create and verify sfv, md5 and sha1 files
The ultimate TV and Movie Renamer
For more features visit – official page.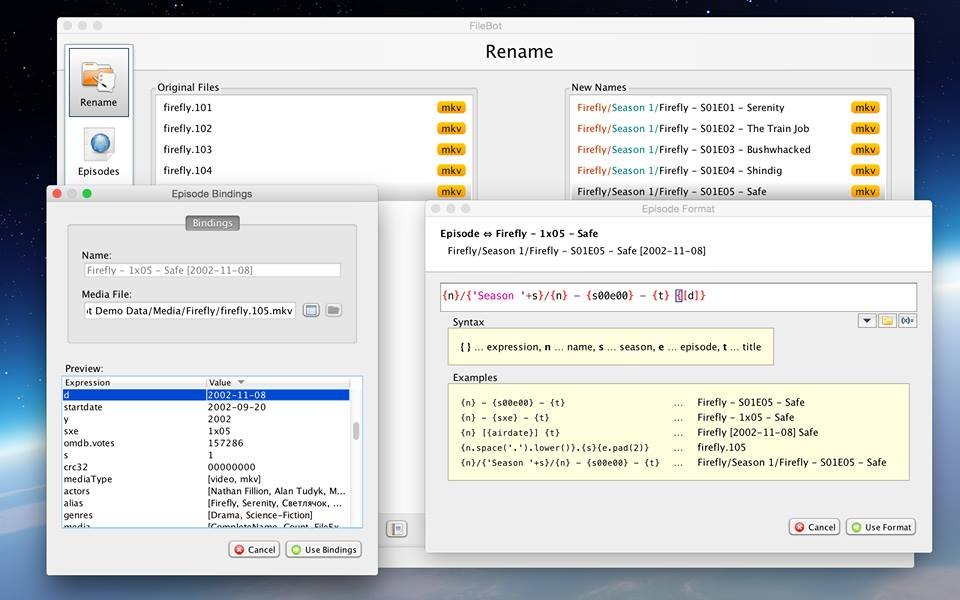 You can take a look at this below video for FileBot in action.
How to install
FileBot recently released version 4.7.3 and it is available for Ubuntu Xenial Xerus, Yakkety Yak and derivatives. Run below command from terminal to install (64 bit).
wget http://jaist.dl.sourceforge.net/project/filebot/filebot/HEAD/FileBot_4.7.3_B4/filebot_4.7.3_amd64.deb
sudo gdebi filebot_4.7.3_amd64.deb

Note: FileBot requires Java Runtime Environment and JFX to run. If those are not installed, run below from terminal to install.
sudo apt-get install openjfx
sudo apt install default-jre

Installer for Windows and others is available at here.
You can report any bugs and get support from official forum.
Using Mastodon? Follow us at floss.social/@debugpoint