The most aspiring release of Firefox – version 55 was released last week. This release comes loaded with latest technology support,performance improvements, new features and many more.
WebVR Support
Firefox 55 now supports WebVR for all users. This breakthrough feature will let yo experience next generation entertainment in virtual reality.
"WebVR enables developers and artists to create web-based VR experiences you can browse to with Firefox. Once you find a web game or app that supports VR, you can experience it with your headset just by clicking the VR goggles icon visible on the web page. You can navigate and control VR experiences with handset controllers and your movements in physical space."
If you want to take the VR leap and ready, head over to vr.mozilla.org for some experiences and contents which are being prepared by the growing VR community. Most of the contents at vr.mozilla.org made with A-Frame, an easy to use WebVR content creation framework made by Mozilla.
Performance Panel – fine-tune browser performance
With this version of Firefox, now you can choose the number of content processes. A new settings have come up General sections in settings.
Default number of Content process is 4 , however if you are using high-end system with RAM of 8GB or more, you may want to bump up number to make Firefox even more faster.
Faster Startup while restoring tabs
Do you use huge number of tabs? Well, Firefox 55 comes with performance improvements where it can open 1691 tabs from previous session in whooping 15 seconds which used to take more than 5 minutes in early versions of Firefox.
Faster Way to Search from Address Bar
Firefox 55 integrated many popular search engines search features inside the address bar itself. Now you can type the keyword and search with many search engines from the address bar itself.
Other Improvements
Flash is now optional in Firefox 55. It ill not run by default. If you have opened any page containing Flash, you have to click it to run.
You can now move the sidebar to the right side of the window.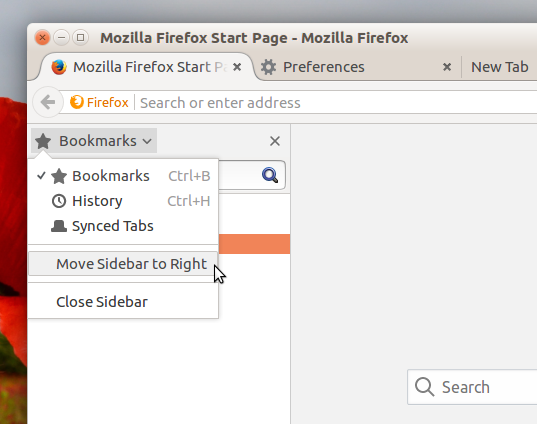 Firefox for Android is now translated in Greek and Lao.
Simplify print jobs from within print preview.
Download and Install
To download, head over to mozilla.org and download the latest release. For Ubuntu 16.04 LTS Xenial Xerus, Ubuntu 17.04 Zesty Zapus, the PPAs would be updated with latest Firefox build in coming days and you can get option to update from Update Manager.
If you don't want to wait and try Firefox 55 now in Ubuntu 16.04 LTS Xenial Xerus, Ubuntu 17.04 Zesty Zapus, download the tar files from above link and extract the same. Once extracted, run the executable 'firefox'.
Firefox 55 release notes can be found here.
Using Mastodon? Follow us at floss.social/@debugpoint