Gis Weather – a free customizable weather ticker is available for Ubuntu and other Linux distros built in GTK+. Gis Weather released its latest version 0.7.6 with
Gis Weather 0.7.6 Feature Summary and bug fixes
Detailed weather forecast for today and tomorrow
View weather for several days
Fast switching between cities
Select the background and theme weather icons
"Compass" with the wind direction, with adjustable angle of rotation
Highlighting the high wind
Supported weather services: Gismeteo.com and AccuWeather.com
Support SVG and widget scale
Indicator to panel
Presets
How to install Gis Weather – using Terminal
To install GIS Weather 0.7.6 in Ubuntu using terminal run below commands in sequence. Enter password when prompted.
Download the deb files from here.

cd ~/Downloads
sudo dpkg -i gis-weather_0.7.6_all.deb

Run
Type Gis Weather in dash. Click the launcher icon.
For Gnome, go to

Applications -> Accessories -> Gis Weather
To configure Gis Weather, you need to know the city code. Go to www.gismeteo.com and get your deserved City code and enter in Gis Weather configuration window as below: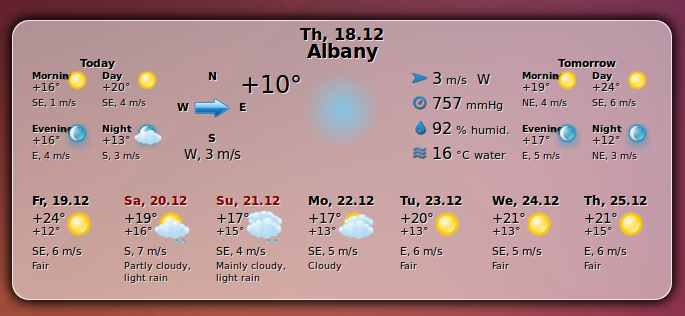 Links
How to uninstall
To uninstall Gis Weather run below commands in terminal.

sudo apt-get remove gis-weather

Image Credits
Gis Weather
---
We bring the latest tech, software news and stuff that matters. Stay in touch via Telegram, Twitter, YouTube, and Facebook and never miss an update!

Subscribe to Blog via Email