This tutorial will help you to enable Adobe Flash Player in Mozilla in Linux distributions (Ubuntu, Fedora).
This article is tested and updated for latest Ubuntu LTS release – Ubuntu 16.04 (Xenial Xerus) and latest Firefox 55.
Mozilla Firefox installer for Linux doesn't comes with the Flash Player plugin like Google Chrome. To enable in Flash in Mozilla, you have to perform some extra steps. You can download Flash Plugin also from search plugins options in Mozilla but one can prefer below method to enable Flash.
Test whether Flash is already installed
Before you begin, first check whether Flash is already installed in your system. Visit below official Adobe flash tester page.
In this page, if you see a flash animation and a box mentioning "Version Information" of flash, then it is enabled in Mozilla in your system.
Alternatively, you can also visit about:plugins in Mozilla and check for flash plugin entry.
Steps to Enable Flash in Mozilla – Ubuntu, Fedora
Open Mozilla and download flash GZIP Installer using below links:
Once downloaded, extract the files.
Create a new directory named "plugins" at the path /usr/lib64/firefox/browser/ using below commands.

For Ubuntu 16.04 LTS (Xenial Xerus):

Create the "plugins" directory at the path /usr/lib/firefox/browser, if the directory is not available.
$ sudo mkdir /usr/lib64/firefox/browser/plugins
Copy the file libflashplayer.so from extracted directory to the above created plugins directory. You can use below commands to do the same Or, you can run file manager as Administrator and use.
$ sudo cp Downloads/install_flash_player_11_linux.x86_64/libflashplayer.so /usr/lib64/firefox/browser/plugins/
Restart Mozilla. Visit about:plugins or this link to check the flash plugin.
Before Flash Plugin Enable
After Flash Plugin Enable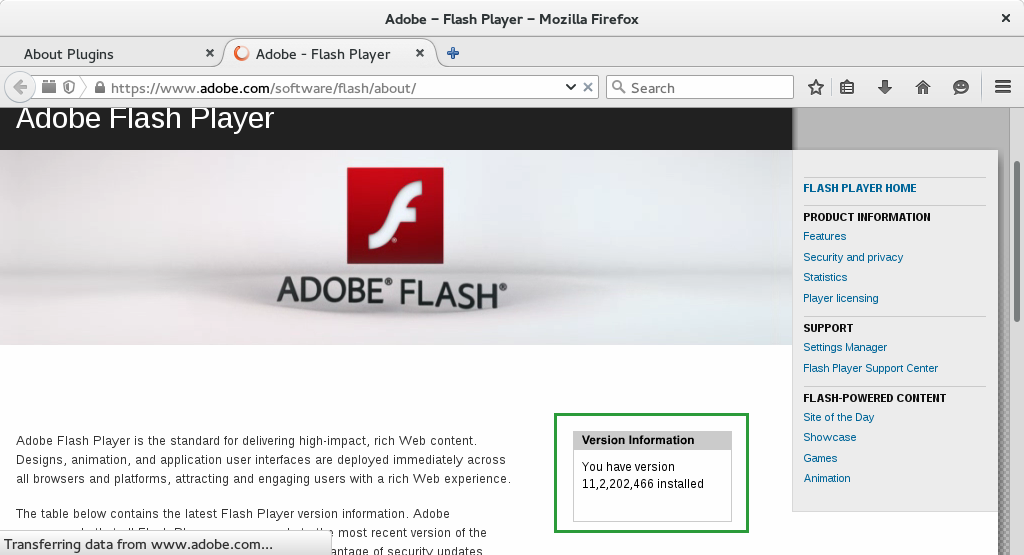 Please share your experience with this guide in the comments.
Image Credits
Adobe
Using Mastodon? Follow us at floss.social/@debugpoint