qBittorrent is a Qt4 and libtorrent-rasterbar based torrent client available in all major Linux distributions – Ubuntu, Fedora, Arch etc. This torrent client is similar to the popular utorrent ad have many more extra features. qBittorrent recently released 3.2.0 version with improvement and bug fixes. Here's a features summary and how-to install in Ubuntu and other distributions and uses.
qBittorrent Feature Summary
Polished µTorrent-like User Interface
Well-integrated and extensible Search Engine
Simultaneous search in most famous BitTorrent search sites
Per-category-specific search requests (e.g. Books, Music, Movies)
All Bittorrent extensions
DHT, Peer Exchange, Full encryption, Magnet/BitComet URIs
Remote control through a Web user interface
Nearly identical to the regular UI, all in Ajax
Advanced control over trackers, peers and torrents
Torrents queueing and prioritizing
Torrent content selection and prioritizing
UPnP / NAT-PMP port forwarding support
Torrent creation tool
Advanced RSS support with download filters (inc. regex)
Bandwidth scheduler
IP Filtering (eMule and PeerGuardian compatible)
IPv6 compliant
Sequential downloading (aka "Download in order")
How to install – using Terminal
To install qBittorrent in Ubuntu using terminal run below commands in sequence. Enter password when prompted.

sudo add-apt-repository ppa:qbittorrent-team/qbittorrent-stable
sudo apt-get install qbittorrent

Run
Type qBittorrent in dash. Click the launcher icon.
From Menu: Find it under Applications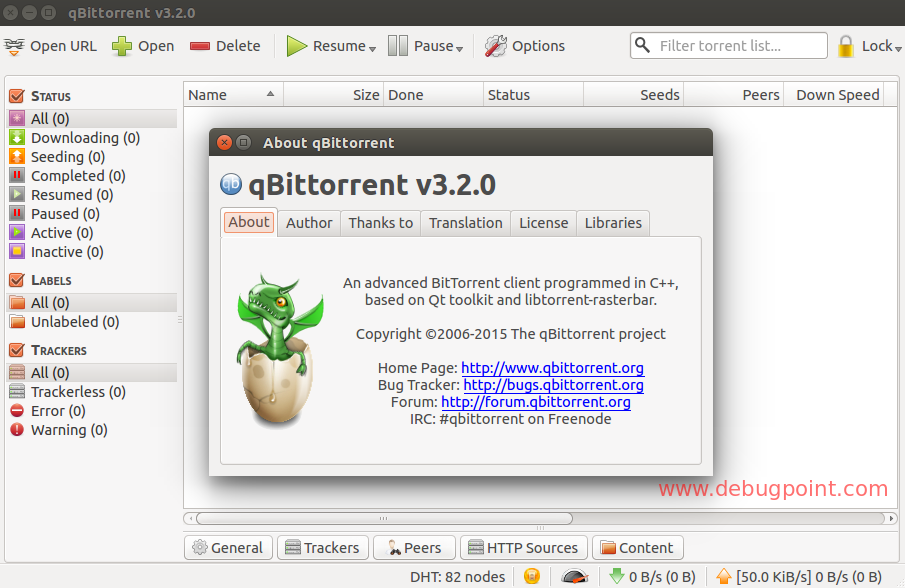 Links
Troubleshooting and Support
If you face any issues while installing or using qBittorrent, you may drop a note using comment section at the end of this article, Or you can post your query in any of the support channels mentioned below.
How to uninstall
To uninstall qBittorrent run below commands in terminal.

sudo apt-get remove qbittorrent

Donate
If you like qBittorrent, you can donate any amount you wish to their official donation page to support ongoing developements and costs.
Help qBittorrent
Image Credits
qBittorrent
---
We bring the latest tech, software news and stuff that matters. Stay in touch via Telegram, Twitter, YouTube, and Facebook and never miss an update!

Subscribe to Blog via Email