App Grid is an alternative to Ubuntu Software Center which lists free and paid apps in a grid, easier to display and find manner. It can help user to find new apps that is available in Ubuntu universe.
However, App Grid is a copyrighted software including source, binary and design. And use at your own risk.
App Grid recently released 0.215 version with improvements and bug fixes.
App Grid Feature Summary
Block display of Apps available with feature app image, description and title
Search by category
Search with description / text
One Click Install
Simple and elegant UI with multi paging support
View User reviews before installing
Multi Language Support
How to install – using Terminal
To install App Grid in Ubuntu using terminal run below commands in sequence. Enter password when prompted.

sudo add-apt-repository ppa:appgrid/stable
sudo apt-get update
sudo apt-get install appgrid

Run
Type App Grid in dash. Click the launcher icon.
From Menu, find it under Applications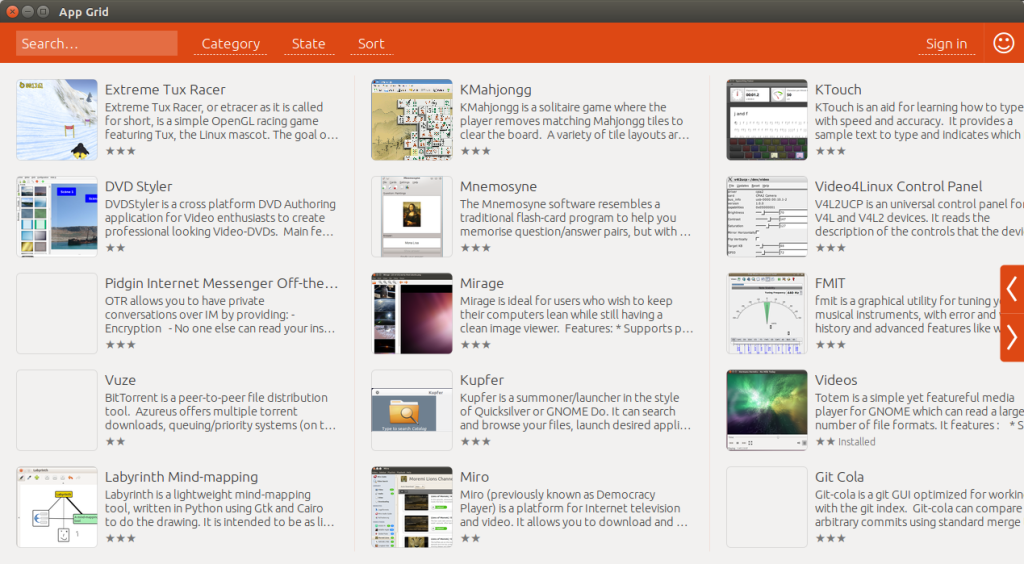 Links
Troubleshooting and Support
If you face any issues while installing or using App Grid, you may drop a note using comment section at the end of this article, Or you can post your query in any of the support channels mentioned below.
How to uninstall
To uninstall App Grid run below commands in terminal.

sudo apt-get remove appgrid

Image Credits
App Grid
Using Mastodon? Follow us at floss.social/@debugpoint