Kodi (formerly known as XBMC)is an award-winning free and open source media center for Ubuntu, Mint and other Linux derivatives. It can play videos, music, pictures, games and more. Kodi is capable of being used in TVs and remote controls.
Kodi – Feature Highlights
Kodi can play all your music including AAC, MP3, FLAC, OGG, WAV and WMA formats. It has cue sheet, tagging support, MusicBrainz integration, and smart playlists for ultimate control of your music collection.
Kodi supports all the main video formats and sources, including streamable online media, ISOs, 3D, H.264, HEVC, WEBM. Kodi can import these movies with full posters, fanart, disc-art, actor information, trailers, video extras, and more.
The TV shows library supports episode and season views with posters or banners, watched tags, show descriptions and actors. Video nodes/tags and smart playlists can further organize your library for special interests, making specific screens for sci-fi, anime, etc.
Import pictures into a library and browse the different views, start a slideshow, sort or filter them all using your remote control.
Kodi allows you to watch and record live TV all from the GUI interface. It works with a number of popular backends including MediaPortal, MythTV, NextPVR, Tvheadend, VDR, Windows Media Center, and more.
Community created add-ons are available thorugh repositories. There are add-ons for videos, music, changing Kodi's behavior, popular web services, adding more artwork, controlling your lights, and much much more. Click here for Add-ons
Highly customizable skinning engine you are able to change every aspect of Kodi. Choose from dozens of community created skins, each with their own set of options, or create your own dream UI. Click here for skins.
With UPnP compatibility you can stream to and from any other Kodi instances and play to other UPnP compatible devices in your home with ease. Have one UPnP master device and use other Kodi instances as clients which automatic keeps you watched status and library up-to-date. You can also now import from uPnp sources to synchronize your data inside instances of Kodi.
Interact with Kodi using its JSON-RPC based remote interface. This brings loads of possibilities for remote controls, web browsers and 3rd party tools to take Kodi to the next level.
With support for hundreds of remote controls, CEC-compatible TVs, or one of the new Smartphone and Tablet Apps, Kodi allows you to control your media your way.
Kodi 15.0 Beta 2 Feature Summary and bug fixes
Bump libCEC to 3.3.0 which fixes a variety of problems
Reworked the storage provider on Android. This fixes several problems with mounting points for storage.
Fix the queuing of music videos
Improvement to FF/RW of videos
Improvement to picons in livetv
Prevention of clipping of rotated text, which happened in certain skins
Improved logic to make PVR, audio encoders and audio decoders optional.
Audio decoder and PVR add-ons are now disabled by default. When you want to use these you need to enable them manually.
Fix launching of add-ons from the add-on information dialog
Show progress for add-on repository update
Properly fall back to the new language files location
Fix of grouping movie sets when navigating in smartplaylists
Fix wrong icon showing in popup dialogs
Restore volume after pass-through on Android
Combine previously split GUI text into a single string. This improves ability to properly translate them.
Included newer version of several PVR add-ons
Fix incorrect fall-back language after we made them into add-ons
Fix 8channel audio conversion on Windows
Try to detect supported sample rates on Android
Do a complete video database clean-up session to remove leading/trailing spaces and invalid characters
Prevent inserting leading/trailing spaces and invalid characters on new video scans
Add season and episode labels to PVR section
Fix possible font corruption
Remove default 250ms audio delay on Android for AMLogic chipsets
Fix subtitles showing on top of each other in certain cases
How to install – using Terminal
To install Kodi 15.0 Beta 2 in Ubuntu using terminal run below commands in sequence. Enter password when prompted.

sudo add-apt-repository ppa:team-xbmc/xbmc-nightly
sudo apt-get update
sudo apt-get install kodi

Run
Type Kodi in dash. Click the launcher icon.
From menu find it under "Applications"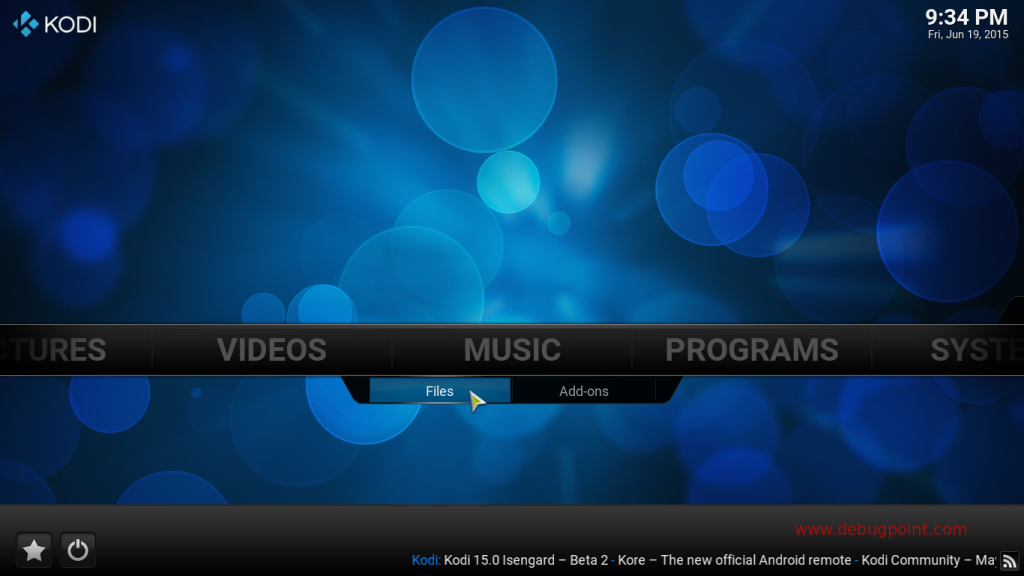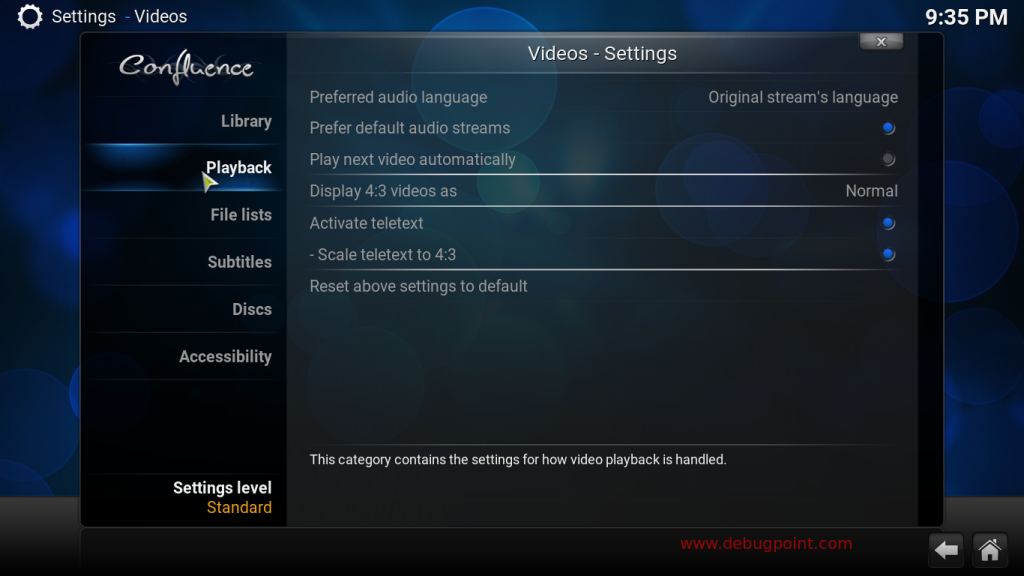 Links
Troubleshooting and Support
If you face any issues while installing or using Kodi, you may drop a note using comment section at the end of this article, Or you can post your query in any of the support channels mentioned below.
How to uninstall
To uninstall Kodi run below commands in terminal.

sudo apt-get remove kodi

Donate
You can help Kodi team by donations to support developement and other expenses. To donate visit below links:
kodi.tv/contribute/donate/
Image Credits
Kodi
Using Mastodon? Follow us at floss.social/@debugpoint