PDFSAM is a professional software to merge and split PDF documents.
PDFSAM contains set of applications from basic to advanced which provides complete package to manipulate PDF files. It comes with three versions of the software – PDFSAM Basic, PDFSAM Advanced and PDFSAM Visual. Among these, PDFSAM Basic is the free and open source application and covers most of the PDF related needs.
Merge features consists of modification of page ranges, outlines and bookmarks, support for AcroForms and adding/removing the table of contents in the final merged document.
Among the Split features, the most prominent arr splitting the pdf document in predefined pages, splitting by specified pages. You can even split the pdf document by Size and by bookmarks.
Mixing pdf feature allows to mix two pdf documents and its pages alternatively in straight or reverse order. This is specifically needed when you have two document with odd and even pages which you want to merge to build the final pdf document.
The rotate feature allows to rotate the pages of the pdf documents in the degrees of 90, 180, 270 and save the document.
How to Install PDFSAM Basic
Download the deb package from below link for Ubuntu, Linux Mint. For other Linux distributions, visit the download page.
Once downloaded, install it using Ubuntu Software in Ubuntu 16.04 LTS or above.
After installation, launch PDFSAM by searching in dash/find it under application menu.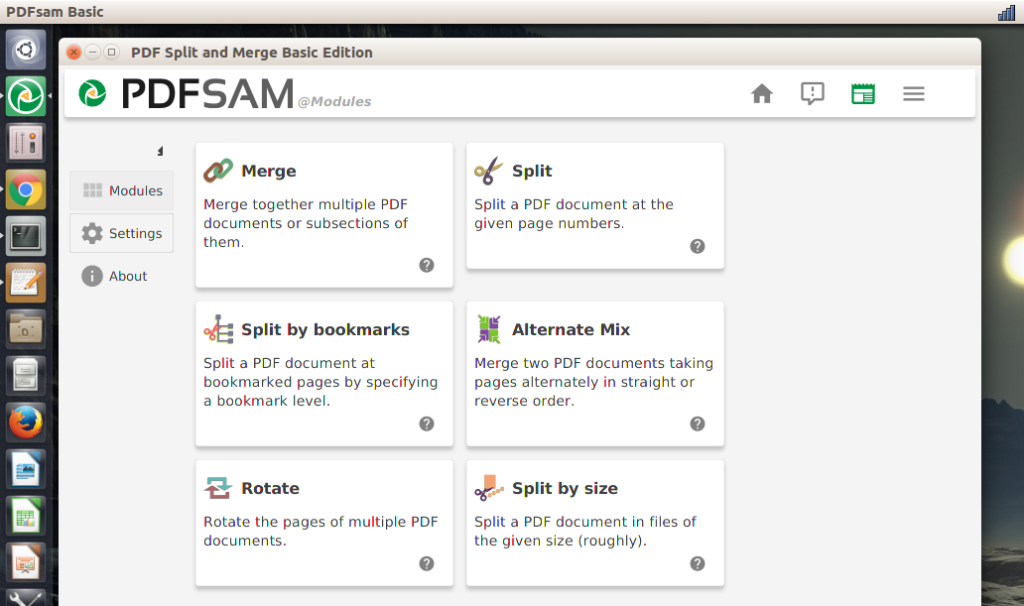 Have a look at other pdf editors in Linux.
Using Mastodon? Follow us at floss.social/@debugpoint