We review the recently released openKylin 1.0 – a Ubuntu-based distro from China, and this is what we found.
China's openKylin Linux distribution has reached a significant milestone with the release of version 1.0, affectionately codenamed "Yangtze." As an Ubuntu remix, openKylin offers a user-friendly and functional desktop experience while incorporating a range of distinctive features. In this tutorial, we'll dive into the world of openKylin 1.0, exploring its key aspects, notable applications, and the overall impact of China's desktop Linux innovation.
openKylin 1.0 Review
Installation and language barrier
If you're eager to try out openKylin 1.0 but don't read Chinese, fret not! The developers have made it accessible to non-Chinese users. The hotkeys [T]ry and [I]nstall provide helpful clues to navigate through the installation process.
So, hit [I] from the keyboard to start the installation, and the very first screen will ask you for the language. You can select English. However, if you select option [T], the live system has Chinese language, and you might have difficulty changing it to English.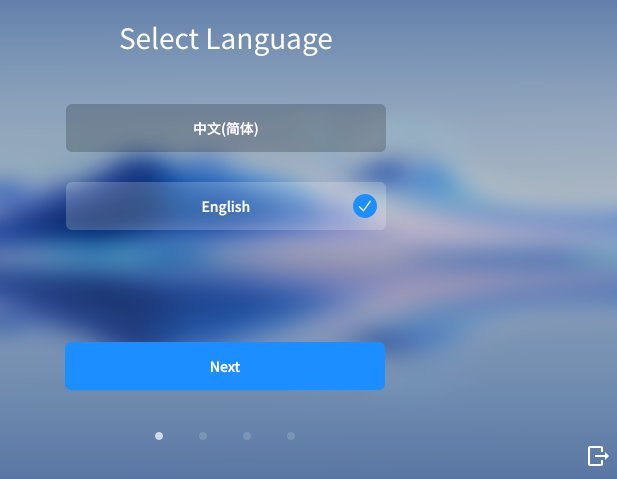 The installer seems homegrown and has minimal steps. It also has a partition section. The installation went fine in my test VM for openKylin 1.0.
Let's jump right in and discover what openKylin offers beyond the language barrier.
The Ubuntu Remix with a Chinese Flair
At its core, openKylin 1.0 is built upon Ubuntu, leveraging its stability and compatibility. But I am not entirely sure which exact version of Ubuntu it has been built upon. It is likely based on Ubuntu 22.04 LTS, considering some package versions which I looked at (such as pipewire and systemd).
However, the Linux kernel version 6.1 is available, while it offers to utilize the previous LTS kernel, 5.15. By examining the configuration files, it becomes evident that openKylin retains numerous elements from its Ubuntu.
The Desktop Environment
openKylin boasts the UKUI desktop, which resembles the familiar interface of Ubuntu Kylin 22.04. The UKUI version seems 1.0, although a newer version was released a few months ago. Overall, after the first boot, you get an eye-candy desktop with a fixed bottom panel and desktop icons.
The bottom panel is a standard panel consisting of the application menu, system tray and running application indicator. You might notice a floating on-screen keyboard icon at the edge of the system tray, which pops up the keyboard when needed.
UKUI comes with light and dark modes built-in. In addition, you get accent colours to further customize openKylin as per your taste. A few cursor themes can add a much-needed unique touch to your desktop.
Surprisingly, I found that the UKUI also has a Wayland option, which has worked well so far during my short testing in the virtual machine.
Applications and Features
When it comes to web browsing, openKylin 1.0 integrates Firefox as its default browser. This release comes with Firefox 102. For productivity needs, it includes WPS Office, a freeware suite known for its high compatibility with Microsoft Office formats.
The presence of a Chinese language app store, complete with a dedicated Mobile section for Android applications, showcases the distribution's focus on providing a comprehensive software ecosystem. The range of bundled tools, including diagnostics utilities, biometrics support, and the Kylin Code IDE, based on Microsoft's VSCode, further enhance openKylin's appeal.
openKylin uses a mix of native and widely used open-source apps. The terminal is "MATE Terminal" from the MATE desktop environment. The file manager is Peony file manager, which is homegrown. There are others as well, which I believe you can explore after installing.
Performance
With few apps running (such as media player, browser, file manager and WPS office), it uses 68% of available memory, which is around 2.6 GB. It's a little higher, I feel. Most of the memory is consumed by the UKUI desktop environment and its components.
The average CPU is at 4%. It uses 10 GB of disk space for the default installation.
I feel the performance could be a little better. However, with all the eye-candy features in the UKUI desktop and poor optimizations, this metric is aligned.
Privacy?
Before you head on installing openKylin, you should note that all the PPA and packages and updates are coming from private repositories. Despite the theory it is based on Ubuntu, it doesn't use Ubuntu's own universe or other version-specific repository.
There could be other telemetries. But not sure. So, you should be a little careful before using it for serious production machines. For casual uses, it's fine.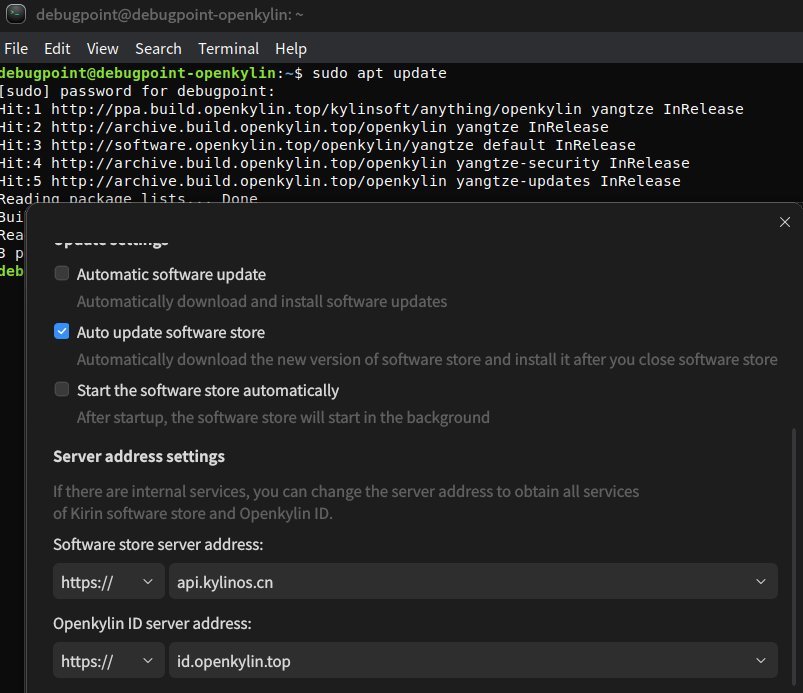 Conclusion
The openKylin 1.0 is establishing itself as a notable player in the Linux distribution landscape with Arm, RISC-V, x86-64 hardware, Android runtime and other features. The sleek and user-friendly UKUI desktop outshines mainstream Western alternatives and reflects China's growing influence in desktop Linux innovation. The desktop also reminds me of the CutefishOS, which created quite a stir last year.
That said, this distribution is fine for casual use for non-Chinese users. However, it can be a compelling choice for users in China.
You can download this version on the official website at the below link (it might be a little slower).
Using Mastodon? Follow us at floss.social/@debugpoint