The latest release of Opera web browser 64 is here focusing on privacy, ad blocking and many more.
Opera web browser – developed by Opera software is a Chromium based cross platform browser available for Windows, Linux, Mac, Android and iOS devices (Opera Mini). This decade old web browser differentiate itself from Firefox, Google Chrome in terms of clean UI, more privacy focus, in-built tools such as chat, VPN, ad-blocker and many more.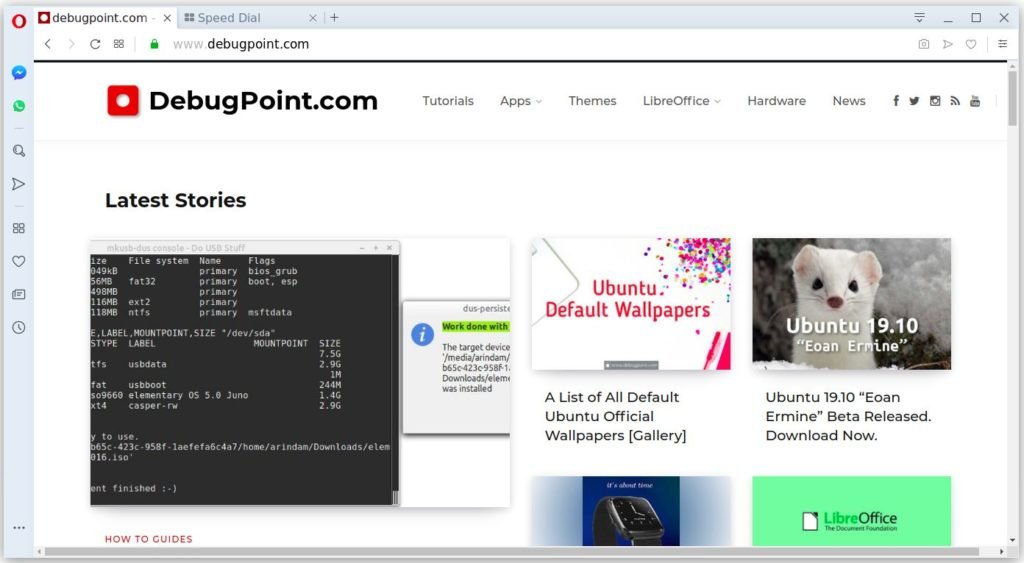 Despite not being the top web browser today, Opera does have its own user base which includes the portable devices as well where Opera is known as Opera Mini.
Opera comes with more features and here's a quick round up some of its features:
Feature Highlights of Opera
Opera Flow – to connect and share links, videos and everything you find online across your own devices – mobiles, laptops and desktops.
Built in VPN, Ad blocker.
Built in messenger support – WhatsApp and Facebook Messenger.
In-built battery saver which gives you 35% longer battery when enabled in compared to Chrome and Edge.
News reader, bookmark manager and address bar instant search.
Quick screenshot tool while browsing along with currency converter.
Dark and light theme support, speed dial for easy access.
Video popup while browsing.
Quite impressive set of features. Indeed.
Opera recently released version 64 keeping online privacy in mind. This release brings an improved ad-blocker and tracker blocker. Opera says that the new tracker blocker is based on EasyPrivacy Tracking Protection List and improves your browsing speed.
More improvement on ad-blockers, private window and enhanced snapshot feature which helps your to create memes on the fly!
You can read more about Opera 64 change in the changelog.
How to Download and Install
To install latest Opera 64 in Ubuntu 18.04 LTS, 19.04, 19.10, Linux Mint and other derivatives, search Opera in Software and click install for installation.
If you want to grab the deb, RPM package or Windows/Mac executable directly, head over to below links.
You can also install Opera via terminal using below commands in Ubuntu 18.04 LTS, 19.04, 19.10, Linux Mint and other derivatives :
sudo sh -c 'echo "deb http://deb.opera.com/opera-stable/ stable non-free" >> /etc/apt/sources.list.d/opera.list'
wget -O - http://deb.opera.com/archive.key | sudo apt-key add -
sudo apt update
sudo apt install opera-stable
sudo apt remove --autoremove opera-stable
Via Opera Blog
Using Mastodon? Follow us at floss.social/@debugpoint