Pinta is an easy-to-use paint application and a very good MS Paint replacement for Linux users. It is simple to use and targeted at casual users who want simple tasks to be done. It's UI is less complicated with options like GIMP.
Pinta 1.6 recently released with more features and bug fixes.
What's new in Pinta 1.6
New Features / Improvements:
Redesigned shape tools
The Line tool now supports drawing curves and arrows
Shapes remain editable after being drawn
All shape tools now support drawing dashed lines
All selection tools now support the Union, Exclude, Xor, and Intersection modes
New community add-in repository – add-ins can be installed through the Add-in Manager dialog (via the Add-ins menu)
Redesigned New Image dialog, which includes presets, orientation and background options, and a thumbnail preview of the image.
The toolbox and color palette now has a flexible layout and can expand horizontally, making them significantly more usable on small screens.
When launching Pinta from the command line, the standard –version and –help options are now supported.
Bug Fixes:
A full list of bug fixes is available at https://launchpad.net/pinta/+milestone/1.6.
How to install – using Terminal
To install Pinta 1.6 in Ubuntu using terminal run the below commands in sequence. Enter the password when prompted.

sudo add-apt-repository ppa:pinta-maintainers/pinta-stable
sudo apt-get update
sudo apt-get install pinta

Run
Type Pinta in the dash. Click the launcher icon.
For Gnome, go to Applications -> Graphics -> Pinta Image Editor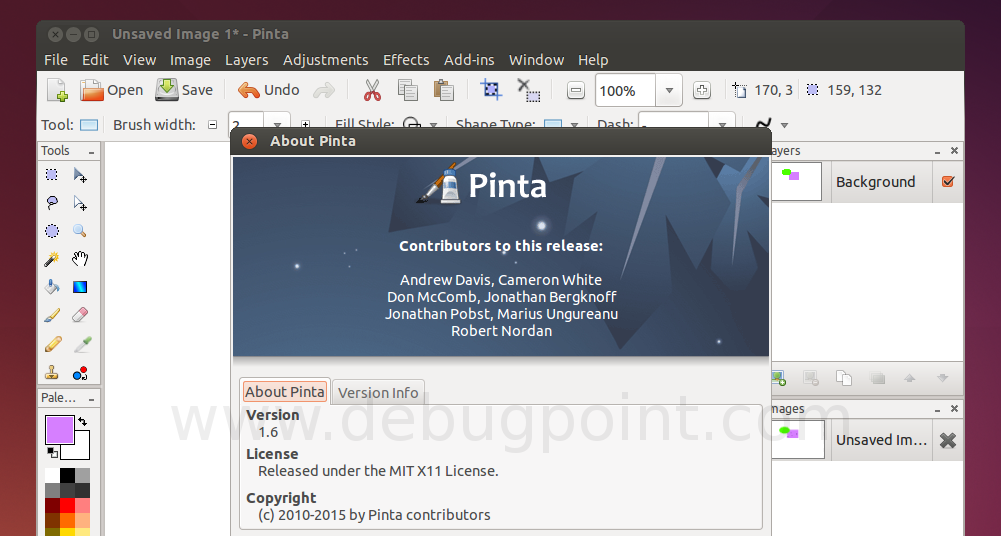 Links
Troubleshooting and Support
If you face any issues while installing or using Pinta, you may drop a note using the comment section at the end of this article, Or you can post your query in any of the support channels mentioned below.
How to uninstall
To uninstall Pinta run the below commands in the terminal.

sudo apt-get remove pinta

Image Credits
Pinta
Using Mastodon? Follow us at floss.social/@debugpoint