RedNotebook is a modern journal which includes a calendar navigation, customizable templates, export functionality and word clouds. You can also format, tag and search your entries. It also support Twitter style hash-tags.
RedNotebook released latest 1.9.0 version with features and bug fixes.
RedNotebook Feature Summary and bug fixes
Format your text bold, italic or underlined
Insert Images, files and links to websites
Links and mail addresses are recognized automatically
#Hashtags
Spell Check
Live-Search
Automatic saving
Backup to zip archive
Word Clouds with most often used words and tags
Templates
Export the journal to PDF, HTML, Latex or plain text
The data is stored in plain text files, no database is needed
Translated into more than 30 languages
How to install – using Terminal
To install RedNotebook in Ubuntu using terminal run below commands in sequence. Enter password when prompted.

sudo add-apt-repository ppa:rednotebook/stable
sudo apt-get update
sudo apt-get install rednotebook

Run
Type RedNotebook in dash. Click the launcher icon.
For Gnome, go to Applications -> Office -> RedNotebook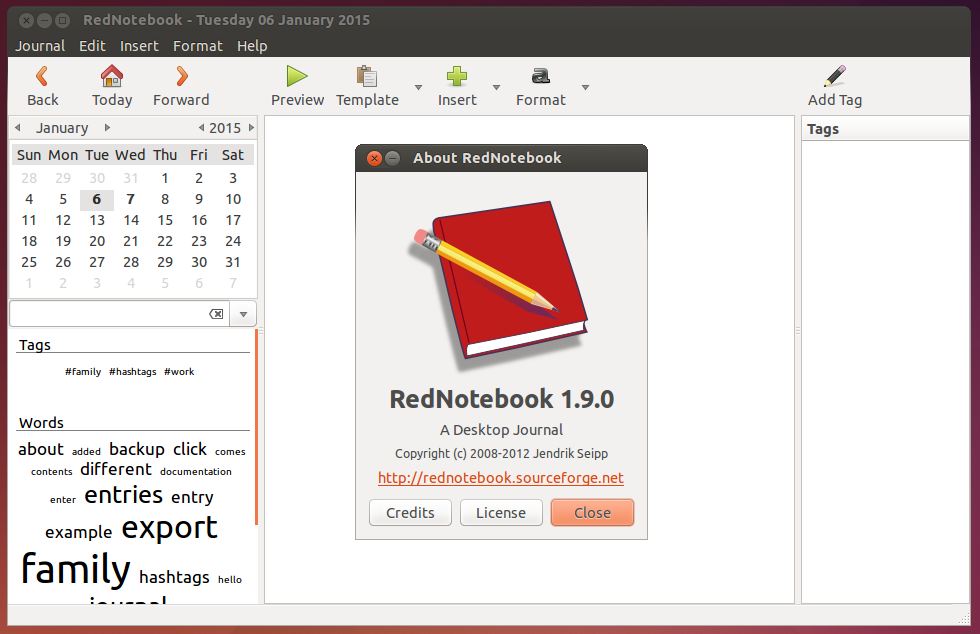 Links
How to uninstall
To uninstall xyz run below commands in terminal.

sudo apt-get remove rednotebook

Image Credits
RedNotebook
---
We bring the latest tech, software news and stuff that matters. Stay in touch via Telegram, Twitter, YouTube, and Facebook and never miss an update!

Subscribe to Blog via Email