Telegram messenger client introduces a host of new features with its latest update that is handy for users when work from home is the new normal.
The cloud-based messaging app which is available for all mobile and desktop operating platform introduces 2GB file sharing to contacts, and profile video support.
The popular Telegram messaging client was the 8th most downloaded app (mobile devices only) in Q2 2020. Continuing with its popularity and competing for its rival WhatsApp – Telegram's latest version also gives you to use multiple accounts on the Telegram Desktop app. It also bringing a new photo and video editor (!!), improved options to find people nearby (Privacy?), group stats, and new animated emojis.
A quick look at the Telegram's new features.
Telegram Messenger 2.2 – What's New
2GB file sharing: Earlier limit was 1.5GB file-sharing; Now you can send files with 2GB of size (files or media) unlimited numbers of times.
Profile Videos: I am not sure whether this feature is available all; However, this feature will allow us to set videos as their profile display. Not only that you can edit your videos and photos using its built-in editor. Although the features are limited.
Multiple account login in Telegram Desktop: You can now login with multiple accounts in the Telegram Desktop version which doesn't require the active connection to the phone.
Mini-thumbnails: This feature allows users to preview incoming media alongside a preview of a message's text in the chat list and in notifications.
People Nearby: This opt-in feature allows you to view the other uses available for a chat in people nearby screen if they enabled it. In Telegram 2.2, when you start a chat session with another user using this feature, then only you can see the approx distance to the other user, and Telegram suggests a greeting sticker for them to use. You can learn more about it here.
Group stats: For group admins, new features allow you to show the graphs of group activity and growth. It will also inform users about members who joined or left at a given timeframe, source of new members joined, languages used, the content format used to days and hours, and top members and admins.
Auto-Night Mode: Telegram night mode now matches the system Dark Mode settings
System Window: Telegram 2.2 added an option to switch to the system window frame in Windows and Linux.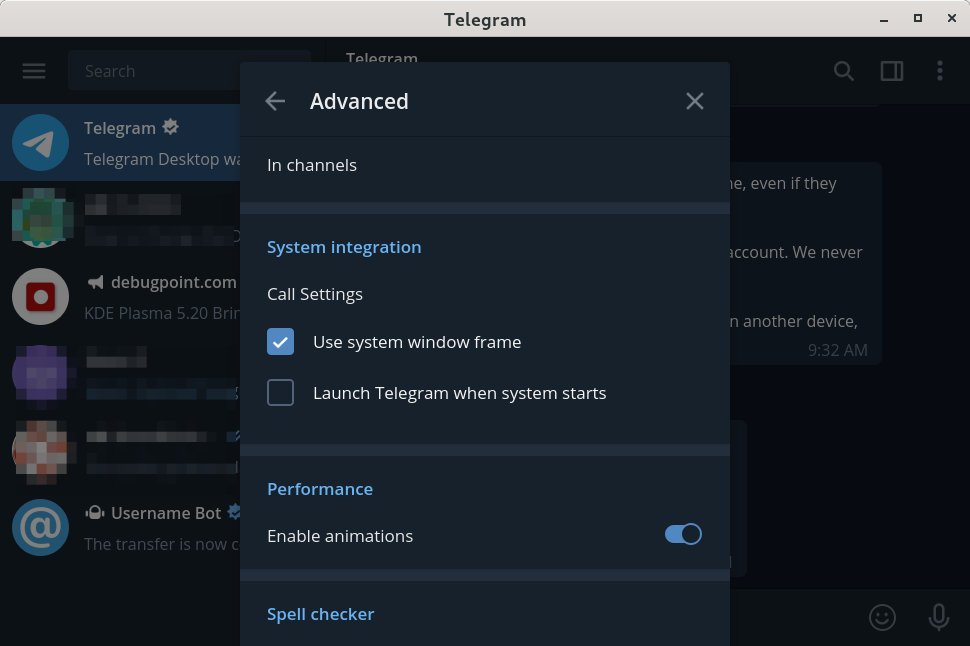 How to Download and Install Telegram Messenger 2.2
You can directly download the executable copy of Telegram 2.2 from the below link. After download, extract the files and execute 'Telegram'.
If you already have Telegram installed, it will be automatically updated once you execute Telegram from the below link.
You can also download via command line for Ubuntu and other derivatives by running below:
sudo apt install telegram-desktop
For Fedora
sudo dnf install telegram
For other download options visit this page.
After install, you can run telegram. If you are using it the first time, you need to first login via a valid phone number to use.
And always stay in touch with DebugPoint.com in our Telegram Channel.
Via changelog.
Using Mastodon? Follow us at floss.social/@debugpoint