Messenger for desktop is a wrapper app to the official Facebook client messenger.com.
The App works are a standalone app in Ubuntu and Linux desktops including Windows. Named 'messenger for desktop', can integrate itself with OS to enable native notifications, custom themes and launch on startups.
Please note this app is not official Facebook app and is not associated with Facebook. However it works as a wrapper of the official app messenger.com.
Quick look at the features:
Themes and Mini Mode
Native Notifications (with reply on OS X)
Spell Checker and Auto Correct
Keyboard Shortcuts
Launch on OS startup
Automatic Updates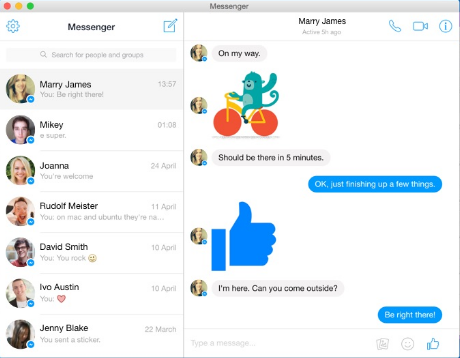 pic credit: messengerfordesktop.com
Download
To install Messenger for Desktop in Ubuntu, Linux Mint and other Ubuntu derivatives, run below commands from terminal.
wget https://github.com/Aluxian/Facebook-Messenger-Desktop/releases/download/v1.4.3/Messenger_linux64.deb
sudo gdebi Messenger_linux64.deb

For Fedora, RHEL download RPM files from here including Windows and Mac as well.
More installation instruction is available at GitHub.
Report any issues, bugs @ GitHub.
Using Mastodon? Follow us at floss.social/@debugpoint