Thunderbird 115 takes email to the next level with Supernova UI and cutting-edge features.
Mozilla Thunderbird, the popular open-source email client, has unveiled its latest version, Thunderbird 115, packed with exciting features and improvements. The update brings a refreshing Supernova user interface (UI) that enhances the overall user experience. Thunderbird 115 introduces several enhancements to its core functionalities with a sleek and modern design.
Thunderbird 115: What's New
One of the most significant changes is the updated 3-Pane window, which now features revamped folder, message list, and message display panes. The Quick Filter, Calendar, and Address Book have also been updated, offering a new Vertical View and a Unified Toolbar. These UI enhancements make navigation and managing emails more intuitive and efficient.
Additionally, Thunderbird 115 introduces new automatic folder management capabilities. Virtual parent folders and saved searches now automatically add new folders, improving organization and saving users valuable time. Furthermore, Thunderbird now supports opening external .eml files in a tab, providing users with a seamless browsing experience.
To streamline workflow, the new version includes the much-awaited "Move To" and "Copy To" actions in the Folder context menu. These additions allow users to easily organize and manage their email content with just a few clicks.
In a significant step forward for security, Thunderbird 115 now supports HKP keyservers that return one key per email address. Users can also upload OpenPGP public keys to VKS and HKP keyservers directly from Thunderbird, simplifying the key management process.
OpenPGP functionality has been further enhanced in Thunderbird 115. Users will now be notified if a message includes nested encryption, enabling them to view each encrypted part of the message individually. The new version also displays OpenPGP signature dates for signed messages, providing users with valuable information regarding message authenticity.
For users leveraging external GnuPG, Thunderbird can now discover and import candidate OpenPGP keys from the GnuPG keyring. This integration streamlines the key import process, enhancing security and ease of use. Moreover, Thunderbird now offers the option to always send the public key with the autocrypt header, providing a convenient way to share encryption keys with recipients.
Users seeking greater control over encryption can take advantage of the new automatic enabling/disabling of encryption feature, which can be enabled through the user interface. Additionally, Thunderbird now supports user-defined OpenPGP passphrases, allowing users to customize their encryption security.
Thunderbird's compatibility has been expanded with the inclusion of CSS styles in the composer. By setting the editor.use_css preference to true, users can now leverage CSS styles in their email compositions, offering more creative freedom and personalization.
Notably, Thunderbird 115 introduces OAuth2 support for Fastmail, enabling a smoother authentication process for Fastmail users. This integration ensures a seamless email experience while maintaining robust security measures.
Privacy-conscious users will appreciate Thunderbird's new option to send a minimal user agent header or no header at all, giving them greater control over their online footprint. Additionally, Thunderbird now includes an option to always show the system tray icon on Windows, offering quick access to the email client.
Address book management has also been enhanced in Thunderbird 115. Users can now include phone and fax number links in their address book cards, making communicating and reaching contacts easier.
In terms of bug fixes, Thunderbird 115 addresses several important issues, including the resolution of login problems for users of Microsoft business email services due to the deprecation of basic authentication for Exchange. Additionally, the Spell Check dialog now correctly opens when selected text includes line breaks or new paragraphs, improving spell-checking accuracy.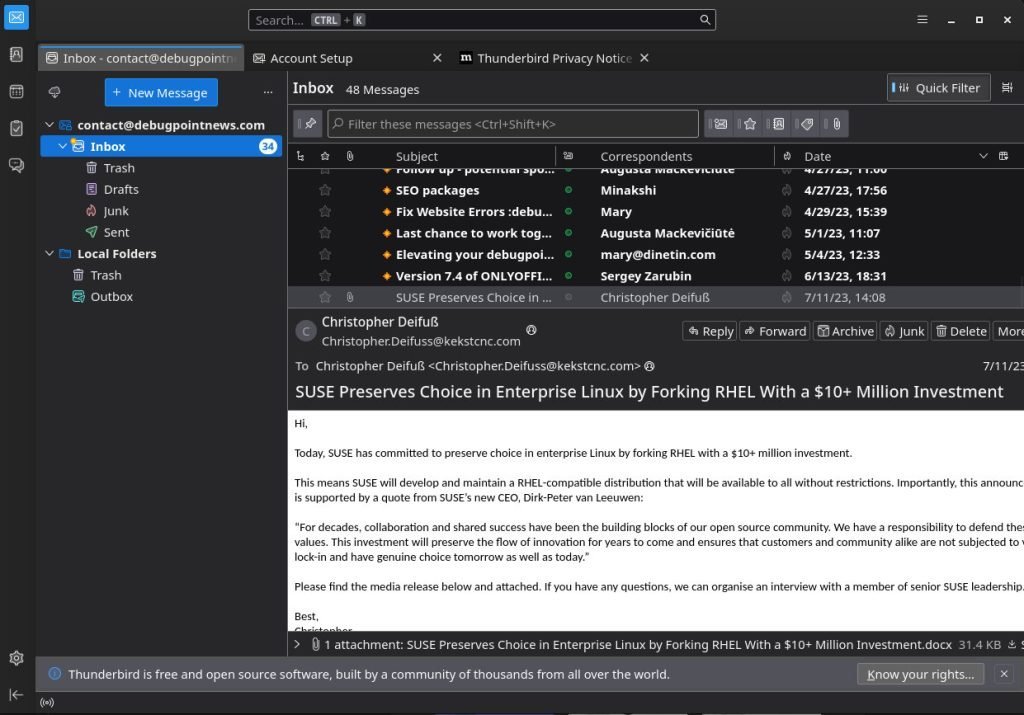 Thunderbird 115 also rectifies an issue where autocomplete functionality failed in the composer under certain circumstances, enhancing productivity and efficiency. Moreover, Thunderbird now displays emojis correctly within messages, including adding the angry face emoji for users' expressive needs.
These are just a few highlights of the numerous features and improvements Thunderbird 115 offers. Whether it's the redesigned Supernova UI, enhanced OpenPGP functionality, or improved bug fixes, this latest release demonstrates Thunderbird's commitment to delivering a secure, efficient, and user-friendly email experience.
You can download this version from the official website on the below page. This release should be available in the regular Linux distribution's stable channel in the coming days.
Via release notes
Using Mastodon? Follow us at floss.social/@debugpoint