Tux Paint is free drawing program for kids. It is an award winning drawing program that is being used in schools around schools. Tux Paint released 0.9.22 version couple of months back with more features and tools.
Tux Paint Feature Summary
Simple interface to use. Kids need not to know the filesystem or anything while useing the applications
Fun sound effects for each click while using the program.
Fun hints to kids during drawing.
Lots of drawing tools like paint brush, rubber fun stamps, line tool etc.
For a complete list of features visit here.
Click here for 0.9.22 release notes.
How to Install Tux Paint
Debian, Ubuntu, Linux Mint, elementary
Installation via Terminal

sudo apt-get install tuxpaint

Fedora, CentOS
Installation via Terminal

yum install tuxpaint-0.9.22-1.x86_64.rpm

Run
Type Tux Paint in dash. Click the launcher icon.
For Gnome, go to Application -> Education -> Tux Paint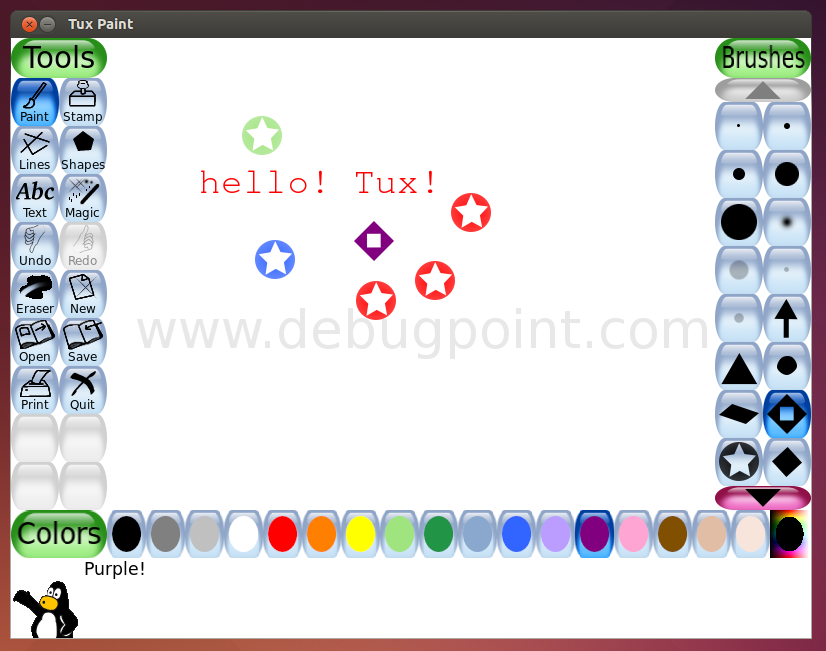 Links
Troubleshooting and Support
If you face any issues while installing or using Tux Paint, you may drop a note using comment section at the end of this article, Or you can post your query in any of the support channels mentioned below.
How to Uninstall/Remove Tux Paint
Via Terminal

sudo apt-get remove tuxpaint

Please share your experience with this guide in the comments.
Image Credits
Tux Paint
Using Mastodon? Follow us at floss.social/@debugpoint