A few cool features are arriving on Xubuntu 23.04 Lunar Lobster release. Here's a summary.
Xubuntu 23.04, based on the upcoming Ubuntu 23.04 Lunar Lobster, is set to arrive on April 20, 2023. This latest release is built on the Linux Kernel 6.2, which brings the latest hardware, CPU, GPU, and file-system support.
From revamped applets to a more powerful Thunar file manager, Xubuntu 23.04 offers numerous improvements and bug fixes for a more polished user experience via the "OG" of all Linux desktops – Xfce 4.18.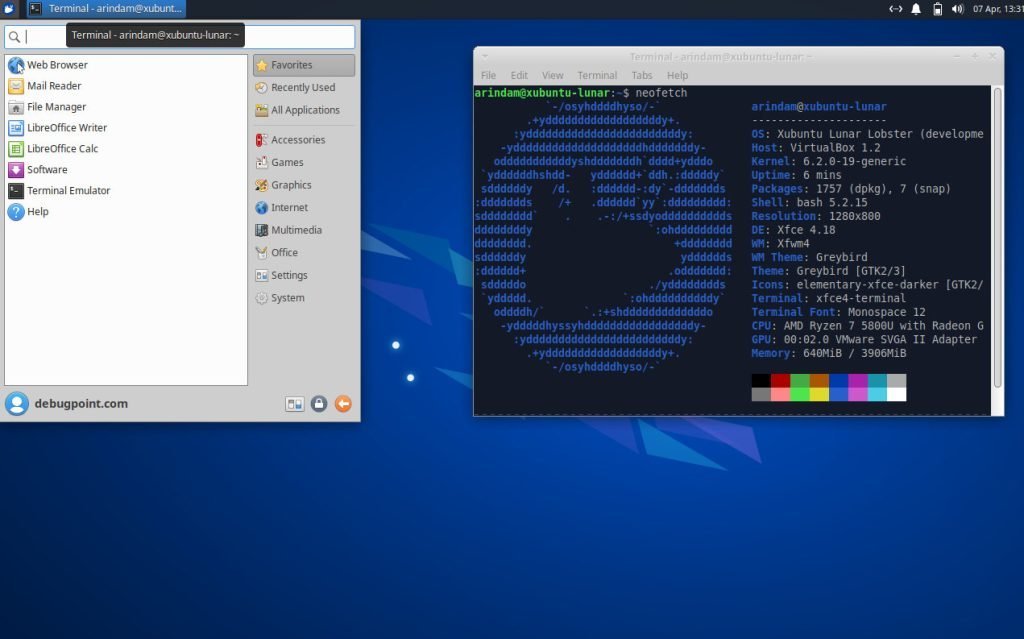 If you are using prior Xubuntu 22.10, then you might notice significant changes in the desktop environment. Xubuntu 22.10 featured the development version Xfce 4.17 with a minimal feature set of the Xfce 4.18.
With that in mind, let's take a look at the best new features of Xubuntu 23.04 Lunar Lobster.
Xubuntu 23.04: Best New Features
Xfce 4.18 updates
One of the significant changes in this release is the update to the Xfce desktop environment. Xubuntu 23.04 is based on the latest Xfce 4.18, released in December 2022. Xfce 4.18 is a major milestone for the desktop environment, featuring updates to GTK4, initial Wayland support, and a revamp of core native apps, with a massive volume of updates.
The primary top panel has been updated with new settings and tweaks, while the overall look remains the same as the earlier versions. Some default Panel applets have also been changed in this version, while the desktop icons, right-click context menu, and items remain unchanged.
Panel preference has been enhanced with two new options. Firstly, the length of the Panel is now in pixels rather than percentages. Secondly, a new option, "Keep panel above windows," has been added to allow users to send back window dialogues behind the panel. In earlier versions, app windows could only reach up to the panel edge.
The clock applet settings have been overhauled in Xfce 4.18. Users can finally change the font style in the Xfce clock applet, and four clock layout options are available: date only, time only, date and time, and time and date.
Thunar file manager updates
Thanks to work done during Google Summer of Code 2022, users can now see the image preview in the sidebar in Thunar embedded, or at a new panel at the right as a standalone mode, which can be changed via preferences.
Thunar settings have also been enhanced with a new tab for customizing keyboard shortcuts. Users can now directly assign new keyboard combinations and change existing ones from this tab.
A new search icon has replaced the reload button in the toolbar, and when clicked, it brings up the search at the address bar, performing a recursive search with the user's search keyword. The reload button has been moved to the View menu. Another new item, "Recent," has been added to the left navigation bar. At the same time, the metadata has been more organized (from comma-separated to pipe-separated), and a new context menu item allows users to select their desired option.
The main menu of Thunar has also undergone significant changes. A new bookmark menu has been introduced, allowing users to add the current folder to the sidebar as a shortcut. The Edit menu now includes UNDO and REDO options, while the Go menu features Recent and Search for the file options.
Thunar has also added a Split view via the View menu item for the first time, enabling users to drag and drop items in the view panels. Also, to arrange your folders for faster workflow, Thunar also introduces background colour for your folders, including the folder names.
Along with the Xfce 4.18 features, Xubuntu 23.04 includes additional bug fixes and performance improvements for the window manager and desktop. These improvements are under the hood; users can expect a more polished Xfce desktop experience.
While Wayland migration work for Xfce desktop core and native apps has begun, it's still far from ready. So, this Xubuntu 23.04 might be the foundation for Wayland's work in the future, hopefully before the next Xubuntu-LTS. Although, it is doubtful, considering the Xfce team size and other aspects.
Mini ISO
As I reported earlier, Xubuntu 23.04 also introduces a minimal ISO image with only essential Xfce desktop components without any additional pre-loaded software. You can try this minimal ISO to build your own desktop setup for your workflow.
The minimal ISO size is currently at 1.9GB and the team is working to reduce it further in coming releases.
You can read more about Xubuntu minimal ISO in this article.
Flathub and Snap
A few weeks back, Canonical announced that a decision had been taken to remove all the default Flatpak installations from all the official Ubuntu flavours. Hence, in Xubuntu 23.04, you won't get Flatpak installed by default.
Ubuntu's own Snap will be installed by default with all associated components to run several Snap applications, such as Firefox.
That said, its very easy to set up Flatpak and Flathub in Xubuntu with just two commands.
Other changes and summary
At the core, Xubuntu 23.04 is based on Linux Kernel 6.2 mainline, which brings support for the latest CPU/GPU line-ups from leading manufacturers. Also, this kernel version introduces memory optimizations, security fixes and many accessories support. You can learn more about Linux Kernel 6.2 features here.
The application stack and GNOME components are updated as follows.
Firefox 111.0 (Snap)
Thunderbird 102.9
Thunar 4.18.4
Parole media player 4.18
LibreOffice 7.5
GNOME Software 44.0
Catfish file search 4.16.4
Transmission 3.0
At the core, Python 3.11 is now available out-of-the-box in Xubuntu 23.04. You don't need to install Python 3.11 anymore separately. It's worth mentioning that Python 3.12 release is due this year and currently undergoing multiple RC testing. Here's a summary of core modules in this release.
Python 3.11
GCC 13
GlibC 2.37
Ruby 3.1
golang 1.2
LLVM 16
Download
You can download the Xubuntu 23.04 (Beta) from the below link. Remember that it is still undergoing testing. So, use it with caution.
If you want the Xubuntu 23.04 mini-iso, you can get the file from the below link. Learn more about Xubuntu-mini.
Conclusion
In conclusion, Xubuntu 23.04 is a significant release with several improvements and features with the Xfce 4.18 desktop environment. With a focus on enhancing the user experience, Xubuntu users can enjoy the latest Linux Kernel, the revamped Thunar file manager, and several other tweaks and changes.
It will be one of the best releases of Xubuntu for everyone.
Feature image credit: xfce-look
Using Mastodon? Follow us at floss.social/@debugpoint