LMMS a.k.a Linux MultiMedia Studio is a free, open source digital audio workstation available on Ubuntu/Mint and other distributions. You can create, edit your own digital beats with LMMS. It has in-built MIDI keyboard and having a modern user interface.
LMMS Feature Summary
Compose music on Windows, Linux and Apple OS X
Sequence, compose, mix and automate songs in one simple interface
Note playback via MIDI or typing keyboard
Consolidate instrument tracks using Beat+Bassline Editor
Fine tune patterns, notes, chords and melodies using Piano Roll Editor
Full user-defined track-based automation and computer-controlled automation sources
Import of MIDI files, Hydrogen project files and FL Studio ® project files
Drop-in LADSPA plug-in support
Drop-in VST ® effect plug-in support (Linux and Windows)
Built-in compressor, limiter, delay, reverb, distortion, EQ, bass-enhancer
Bundled graphic and parametric equalizers
Built-in visualization/spectrum analyser
Built-in 32-bit VST instrument support
Built-in 64-bit VST instrument support with 32-bit VST bridge (64-bit Windows)
Roland ® TB-303 style monophonic bass synthesizer
Embedded ZynAddSubFx: Polyphonic, mutlitimbral, microtonal, multi-voice additive, subtractive and pad synthesis all in one powerful plugin
Native Commodore 64 ® SID microchip/instrument emulation
Native SoundFont ® support (SF2), the industry standard for high quality instrument patches and banks
Nintendo ®, GameBoy ® and game sound effect emulation
2 built-in oscillator-based synthesizers
2 built-in wavetable-based synthesizers
Gravis UltraSound ® GUS Patch support
How to install – using Terminal
To install LMMS in Ubuntu, Mint, Debian, elementary using terminal run below command. Enter password when prompted.

sudo apt-get install lmms

Run
Type LMMS in dash. Click the launcher icon.
For Gnome, go to Applications -> Sound and Video -> LMMS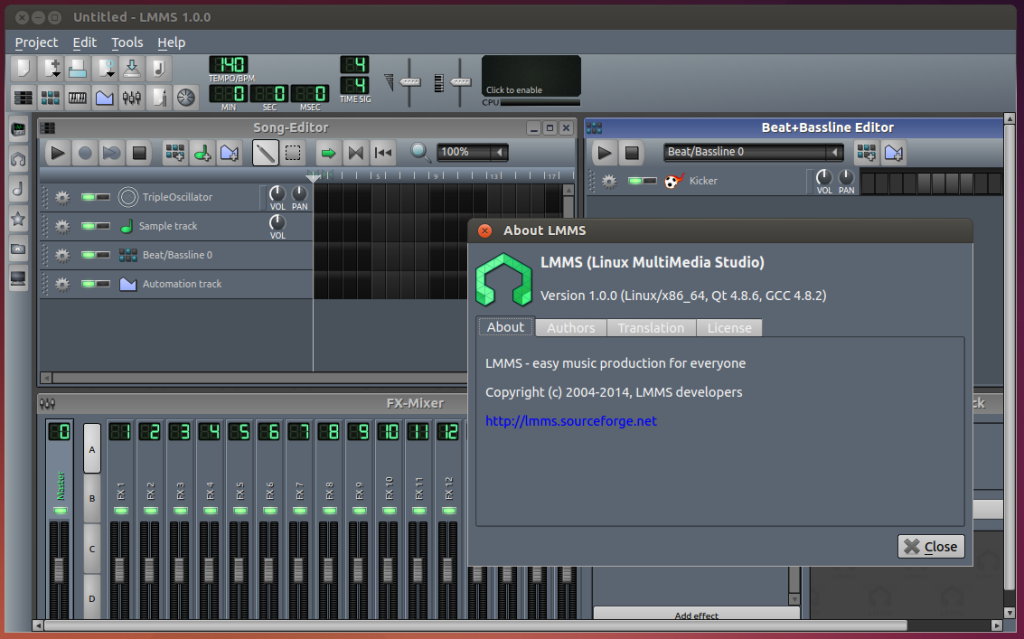 LMMS Promo
Links
Troubleshooting and Support
If you face any issues while installing or using LMMS, you may drop a note using comment section at the end of this article, Or you can post your query in any of the support channels mentioned below.
How to uninstall
To uninstall LMMS run below commands in terminal.

sudo apt-get remove lmms

Image Credits, Feature Source
LMMS, lmms.io
Using Mastodon? Follow us at floss.social/@debugpoint