Here is how to install Empathy in Ubuntu 16.04.

Overview
Empathy – the default messaging app is removed as the default app in Ubuntu 16.04 Xenial Xerus. The application is in very slow development and Ubuntu developers decided to remove it from the default installer image. Also who uses a separate messaging app these days when you can do it via browser for respective applications.
A quick Look at the Empathy Features
Multi-protocol: Google Talk (Jabber/XMPP), MSN, IRC, Salut, AIM, Facebook, Yahoo!, Gadu Gadu, Groupwise, ICQ and QQ. (Supported protocols depend on installed Telepathy Connection Manager components.) Supports all protocols supported by Pidgin.
File transfer for XMPP, and local networks.
Voice and video call using SIP, XMPP and Google Talk.
Some IRC support.
For detailed list of supported protocol features see here
Conversation theming (see list of supported Adium themes).
Sharing and viewing location information.
Private and group chat (with smileys and spell checking).
Conversation logging.
Automatic away and extended away presence.
Automatic reconnection using Network Manager.
Python bindings for libempathy and libempathy-gtk
Support for collaborative applications ("tubes").
Excerpt from GNOME Wiki, you can read more about Empathy features here.
How to Install
Ubuntu, Mint, elementary, Debian
Empathy is available in universe repository. You can install it using Ubuntu 16.04 GNOME Software or via terminal.
To install Empathy Using GNOME Software, open Software from dash and search for Empathy.
To install Empathy using terminal, run below commands in sequence. Enter password when prompted.

sudo apt-get install empathy

How to Use
Type Empathy in dash. Click the launcher icon.
For Gnome, find it under application menu.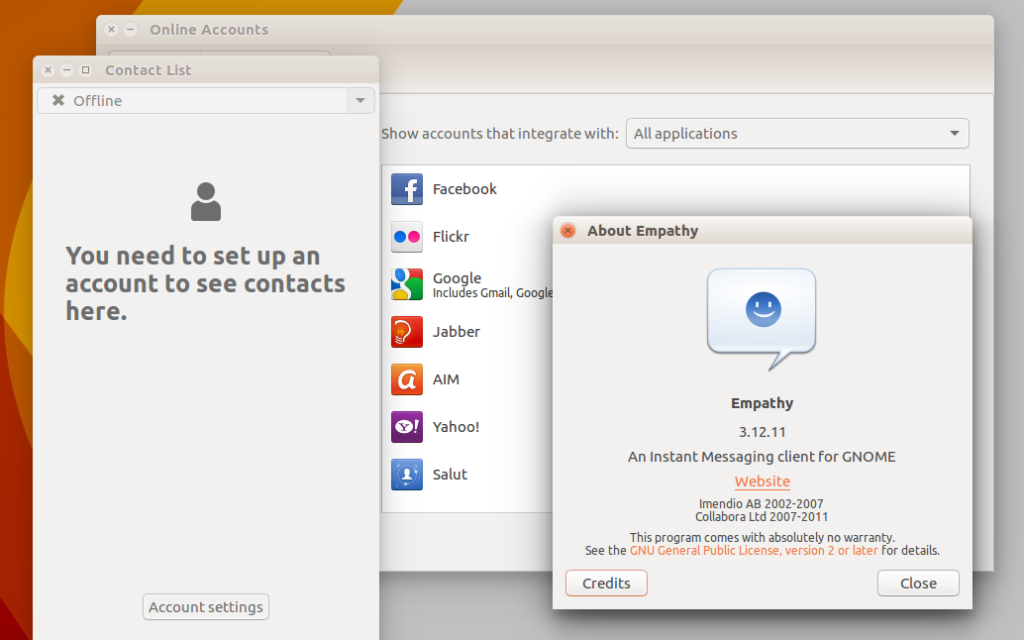 How to uninstall
If you want to remove Empathy, you can uninstall using GNOME Software or run below commands from terminal.

sudo apt-get remove empathy

Image Credits
Brasero
Using Mastodon? Follow us at floss.social/@debugpoint