Here is how to install Brasero disk writing app in Ubuntu 20.04, 18.04, 16.04, 16.10; Linux Mint 19.x, 20.x, and Fedora Linux.

Overview
Brasero – the default disk burning app is removed as the default app in Ubuntu 16.04 Xenial Xerus. The application is in very slow development and Ubuntu developers decided to remove it from the default installer image. Also who burns disks these days? However, even if it has been removed, you can still install it using GNOME software or using the terminal way.
A quick Look at the Brasero Features
supports edition of discs contents (remove/move/rename files inside directories)
can burn data CD/DVD on the fly
automatic filtering for unwanted files (hidden files, broken/recursive symlinks, files not conforming to Joliet standard, …)
supports multisession
supports Joliet extension
can write the image to the hard drive
can check disc file integrity
write CD-TEXT information (automatically found thanks to GStreamer)
supports the edition of CD-TEXT information
can burn an audio CD on the fly
can use all audio files handled by Gstreamer local installation (ogg, flac, mp3, …)
can search for audio files inside dropped folders
full edition of silences between tracks
can copy a CD/DVD to the hard drive
can copy CD and DVD on the fly
supports single-session data DVD
supports any kind of CD
Excerpt from GNOME Wiki, you can read more about Brasero features here.
How to Install
Ubuntu, Mint, elementary, Debian
Brasero is available in-universe repository. You can install it using Ubuntu 16.04 GNOME Software or via terminal.
To install Brasero Using GNOME Software, open Software from the dash and search for Brasero.
To install Brasero using the terminal, run below commands in sequence. Enter the password when prompted.
sudo apt-get update
sudo apt-get install brasero

Fedora Linux
If you want to install Brasero in Fedora Linux, run below command from the terminal:
sudo dnf install brasero
How to Use
Type Brasero in the dash. Click the launcher icon.
For Gnome, find it under the application menu.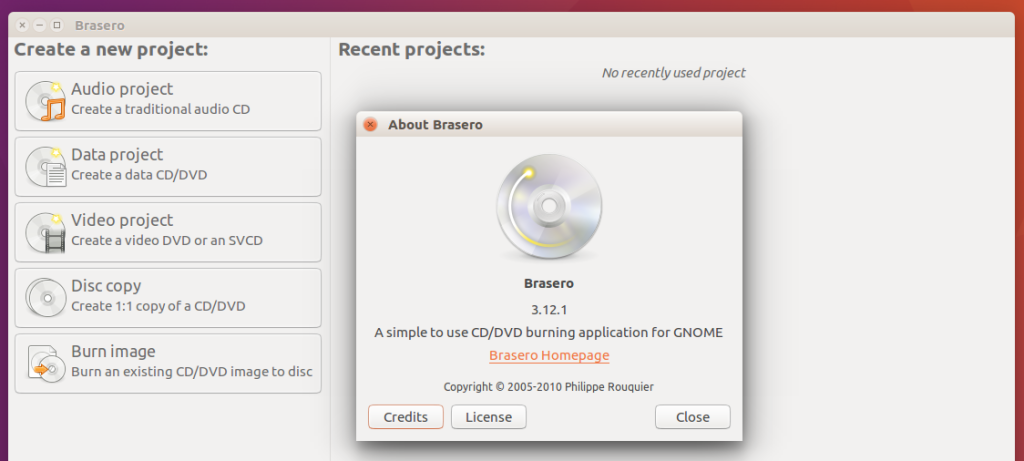 How to uninstall
If you want to remove Brasero, you can uninstall using GNOME Software or run below commands from the terminal.
sudo apt-get remove brasero

Image Credits
Basero
Using Mastodon? Follow us at floss.social/@debugpoint