This is how you can burn Blu-ray discs in Ubuntu, Linux systems.
In this earlier article, we have covered how you can burn CDs, DVDs using the great tool Brasero in Ubuntu. This article would explain how you can burn Blu-ray discs using another KDE utility – K3b.
K3b is a free disc burning utility for KDE but can run in any Linux distributions with proper packages installed. K3b is very simple to use yet powerful utility and capable of handling CD, DVDs with operations such as burning, re-writing, erasing, copying, etc.
Features of K3b
Burn, Re-write, erase, copy
Support CDs, Audio CDs, Data CDs, DVDs, Blue-ray discs
Ripping Discs
ISO Image Support
Multisession
Video CD and Authoring
K3b uses cdrecord package to burn Blu-ray discs. cdrecord is a set of programs which helps to burn CD, DVDs and Blu-ray mediums.
How to Install
To install K3b in Ubuntu 16.04 LTS, 18.04, 18.10, Linux Mint 18/19, elementary and other Ubuntu based distributions, run below commands from terminal
sudo add-apt-repository ppa:brandonsnider/cdrtools
sudo apt-get update
sudo apt-get install k3b cdda2wav cdrecord mkisofs smake

Configure K3b for Blu-ray Mediums
After installation, open K3b, insert Blu-ray media in your burner. From menu, go to settings > Configure K3b > Advanced. Make sure that Advanced GUI elements is checked.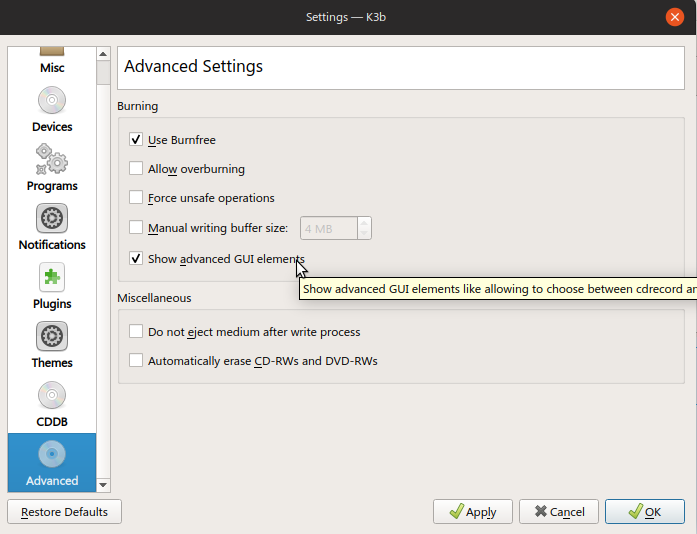 Go to the Programs tab under same settings window and make sure cdrecord is listed and selected.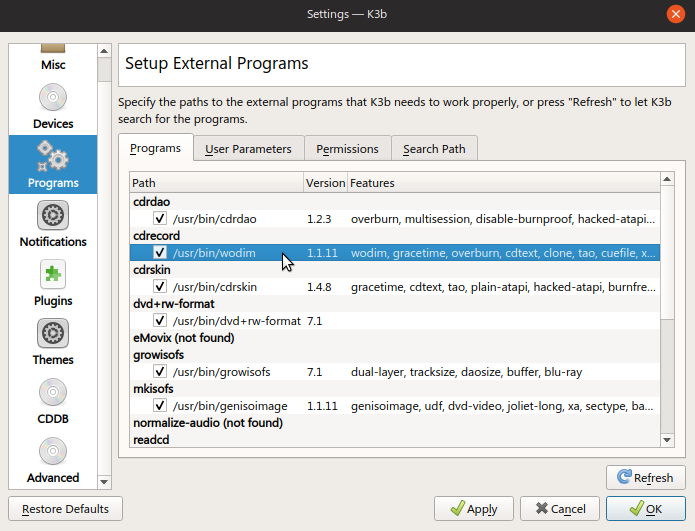 While burning, in the project window, make sure to select cdrecord as writing medium and click Burn.
You should be able to burn blu-ray discs in Ubuntu/Linux using K3b using above method.
Summary
This is how you can configure K3b to burn Blu-ray and other discs using K3b in Ubuntu/Linux.
Drop a comment below if you are facing challenges using K3b for Blu-ray discs.
Using Mastodon? Follow us at floss.social/@debugpoint