Sweet Home 3D is a free interior design application which can help you to draw the plan of a house, arrange furnitures, items and see the result in 3D. It is Java based application and can run any Linux systems.
Sweet Home 3D recently released version 4.6 with improvements and bug fixes.
Sweet Home 3D Feature Summary and bug fixes
Draw straight, round or sloping walls
Insert doors and windows in walls by dragging them in the plan
Add furniture to the plan from a searchable and extensible catalog organized by categories such as kitchen, living room, bedroom, bathroom
Change color, texture, size, thickness, location and orientation of furniture, walls, floors and ceilings
While designing the home in 2D, simultaneously view it in 3D from an aerial point of view, or navigate into it from a virtual visitor point of view
Annotate the plan with room areas, dimension lines, texts and show the North direction with a compass rose
Create photorealistic images and videos with the ability to customize lights and control sunlight effect according to the time of day and geographic location
Import home blueprint to draw walls upon it, 3D models to complete default catalog, and textures to customize surfaces
Print and export PDFs, bitmap or vector graphics images, videos and 3D files in standard file formats
Extend the features of Sweet Home 3D with plug-ins programmed in Java, or by developing a derived version based on its Model View Controller (MVC) architecture
Version 4.6 Updates
Fixed printing of textured floors under Mac OS X with Java 7 / 8.
Fixed an issue on the 3D view displayed in a separate window on a second screen under Mac OS X with Java 7 / 8.
Fixed a crash in the furniture import wizard on some configurations running Mac OS X with Java 7 / 8.
Upgraded Java 3D version to 1.6.0-pre11 / JOGL 2.2.4 for the Mac OS X version run with Java 7 / 8.
Increased max memory used by Sweet Home 3D under Windows 64 bit.
Updated certificate used to signed programs.
Other minor bugs fixes and enhancements.
How to install – using Terminal
Download the latest files from below links:
After installation, extract the files.
Go to the extracted directory and run SweetHome3D using Java. Or go to the directory using terminal and execute via ./SweetHome3D
Note: SweetHome3D requires Java runtime. Make sure you have Java installed in your system. To install Java, run this from terminal: sudo apt-get install openjdk-8-jdk
Run
Type Sweet Home 3D in dash. Click the launcher icon.
From menu, find it under Applications.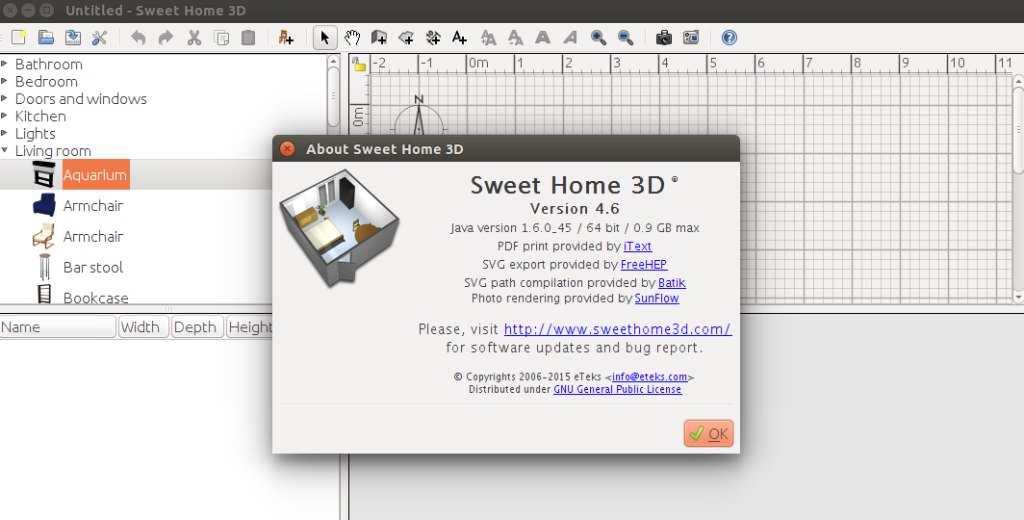 Links
Troubleshooting and Support
If you face any issues while installing or using Sweet Home 3D, you may drop a note using comment section at the end of this article, Or you can post your query in any of the support channels mentioned below.
Image Credits
SweetHome3D
Using Mastodon? Follow us at floss.social/@debugpoint