uGet, the ultimate free and open-source download manager releases version 2.0.7.
uGet is a feature rich and free internet download manager available in Linux. It comes with download queue, resume download from dropped connection, categorization of your downloads, batch downloads features, multi protocol support (http, https, ftp, BitTorrent, metalink), multiple connection up-to 20 simultaneous connection per download.
uGer also have a scheduler for download which you can set to a time, and, an automated clipboard monitor which monitors your clipboard all the time. As soon you copy a download link in browser and give focus to uGet, it will automatically pulls the download link from clipboard and open proper window for download.
uGet is currently seeing heavy development activities, in this month alone there were two releases – 2.0.6 and 2.0.7. The changes includes lots of bug fixes ad enhancements. You can take a look at the change-log here.
How to Install
To install uGet 2.0.7 in Ubuntu (including Ubuntu 6.04 LTS Xenial Xerus), Linux Mint using PPA, run below commands from terminal (CTRL+ALT+T):
sudo add-apt-repository ppa:plushuang-tw/uget-stable
sudo apt-get update
sudo apt-get install uget

After installation you can find uGet in Application menu/Or search uget in dash.
For downloads for other distributions, including android – refer the official download age.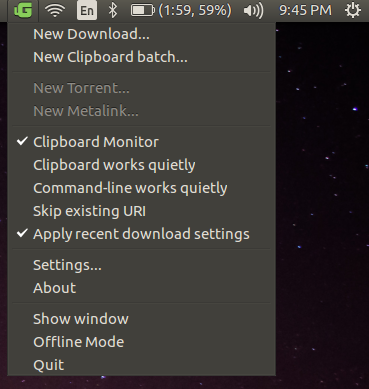 Using Mastodon? Follow us at floss.social/@debugpoint