yEd is a powerful diagramming multipurpose application which can be used to create high quality diagrams. You can create diagrams manually. One of the unique feature of yEd is to import external data for analysis and its automatic layout arranging algorithm.
yEd 3.14.1 Feature Summary
New Features

The new Remove Node Overlaps tool can be used to automatically move nodes so that overlaps are removed and all nodes have a specified minimum distance.
The Hierarchical layout algorithm features new support for grid placement of nodes and edges.
A new layout option provides stacked placement of nodes within the same layer.
Improvements

Many improvements related to the connection handling of the One-Click Layout plugin.
The JREs that are installed by the Windows and Linux installers have been updated to Java 1.8.0_40.
yEd editor in 90 seconds – Video
How to Install yEd
Debian, Ubuntu, Linux Mint, elementary
Download the setup file [60mb+] from here.
Download yEd 3.14.1
Installation via Terminal

$ chmod +x yEd-3.14.1_64-bit_setup.sh
$ ./yEd-3.14.1_64-bit_setup.sh

Run
Type yEd in dash. Click the launcher icon.
For Gnome, go to Applications -> Others -> yEd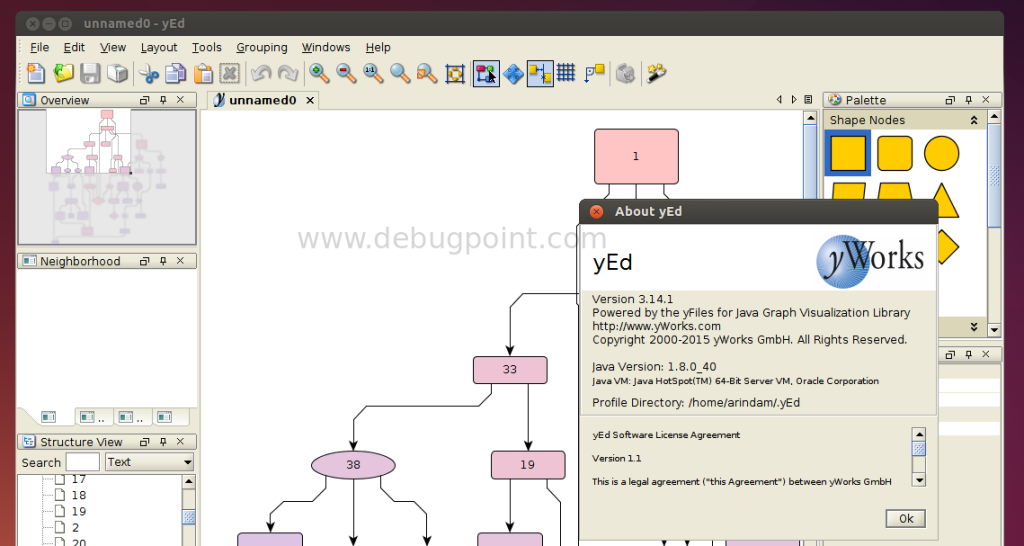 Links
Troubleshooting and Support
If you face any issues while installing or using yEd, you may drop a note using comment section at the end of this article, Or you can post your query in any of the support channels mentioned below.
Image Credits
yEd
Using Mastodon? Follow us at floss.social/@debugpoint